A vibrant addition is on the horizon for Windows 11 users as Microsoft introduces Copilot, a groundbreaking AI chat sidebar powered by OpenAI, Bing, and Microsoft technologies. This innovative tool is set to revolutionize desktop computing by offering an array of functions, including modifying computer settings, launching applications, generating text and images, and even creating one based on the other.
While this Microsoft assistant tool shows immense promise, it's essential to note that it's currently in a preview phase and has some limitations. Notably, its capacity to open apps, control Windows, and access websites is restricted in this early release. Additionally, voice input, while commendable in some aspects, could benefit from wake-word functionality. While there are paid alternatives with more advanced generative AI capabilities, MS Copilot stands out as a free and powerful companion for Windows 11 users, making these capabilities accessible to a broad user base.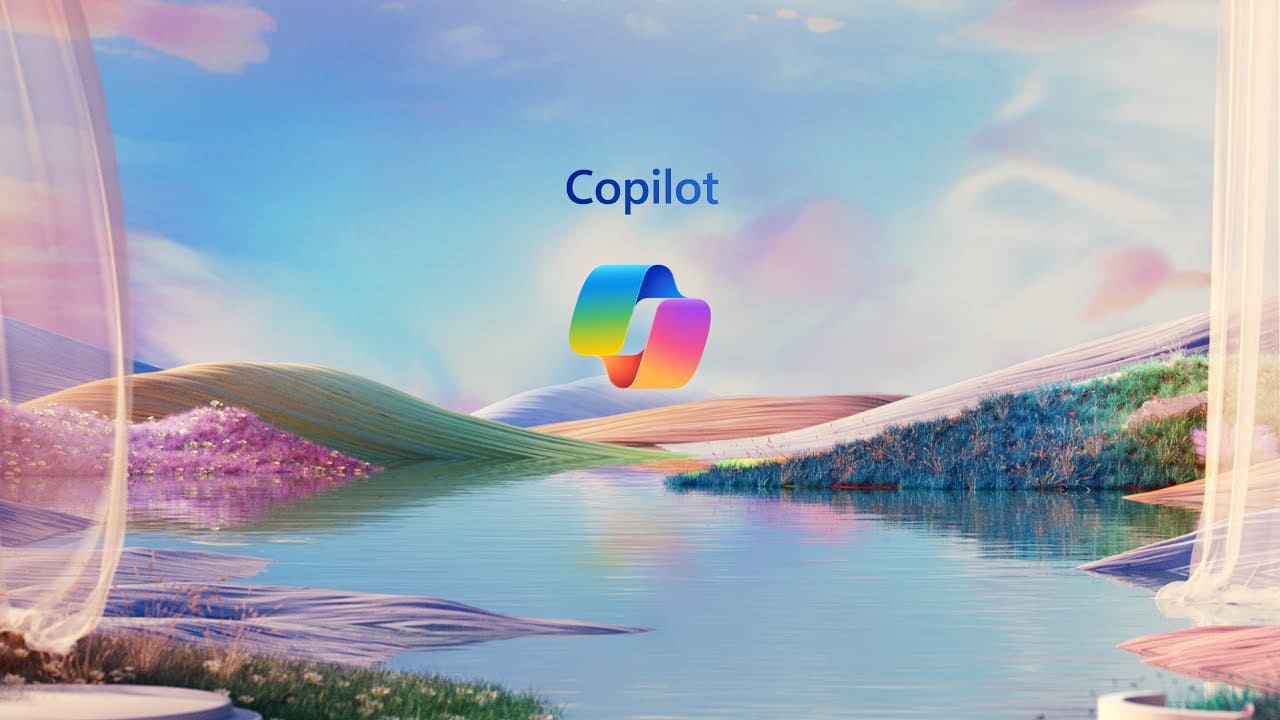 Getting Started With Copilot in Windows 11
To get started with Copilot on Windows 11, ensure that your PC is updated to version 23H2. You'll notice a distinct icon labeled "PRE" next to the search box, or you can access Copilot by pressing Windows Key-C.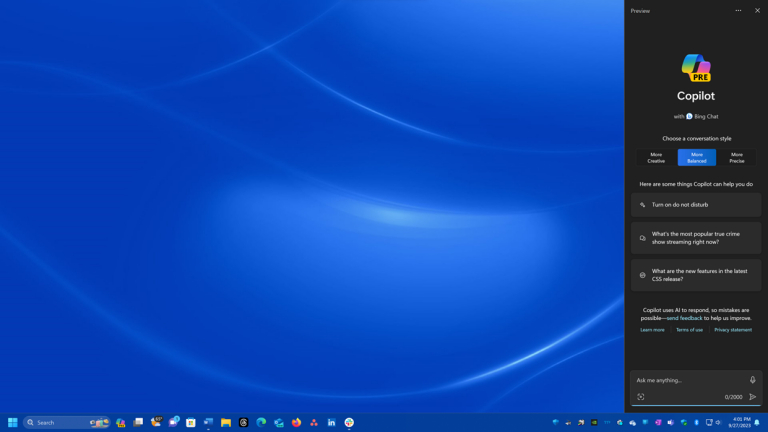 The Windows Copilot panel will appear on the right side of your screen. While this sidebar minimizes overlapping windows, it doesn't always stay on top. It's worth noting that the sidebar isn't resizable, which may pose challenges for certain results. You can scroll through previous conversation entries within the sidebar, and the menu options include terms of use, privacy policy, sending feedback, learning more, and settings.
Copilot's Functionalities and User Experience
Copilot offers three main categories for generating content: More Creative, More Balanced, and More Precise. These categories help you customize the type of results you desire. Below these categories, you'll find suggestions to inspire your queries, which refresh with each use. Copilot acknowledges that AI can make mistakes and encourages users to provide feedback for improvement.
You have a text-entry box at the bottom, preloaded with "Ask me anything," allowing you to type, speak your query, or paste/upload an image for inquiry. With up to 2,000 characters, it accommodates most requests. It's important to note that MS Copilot imposes a 30-question limit during a session, similar to Bing AI Chat.
Responses from Microsoft assistant, Copilot, are typed out in real-time, simulating a human typing experience. It also provides web page links as sources for the information it presents, a valuable feature for research purposes.
Creating Text and Art with Copilot
Copilot's ability to generate text and art is a highlight. It can craft emails, cover letters, web page summaries, reviews, and poetry. However, while the output is clear and concise, it may not match the depth of human insight, as seen in a self-generated review. Copilot's creative capabilities extend to writing short stories, making it an entertaining tool for fiction enthusiasts.
For instance, when prompted with "Write me a science fiction story about rabbits on the moon," Copilot weaves an engaging narrative. It also adeptly crafts a sonnet in the style of Shakespeare on the same topic, showcasing its versatility.
Challenges with Tables and Images
One challenge Copilot faces is creating tables within its sidebar, as they may not display well.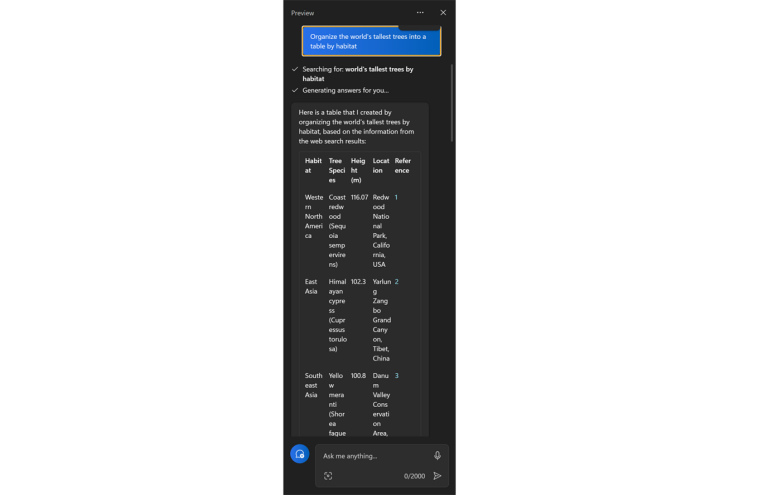 However, users can easily copy and paste the table text into other applications for better readability.
Copilot seamlessly combines text and image generation within a single text-entry box. Users can paste or upload images and ask questions about them. Copilot excels in recognizing images and generating imaginative content based on visual prompts.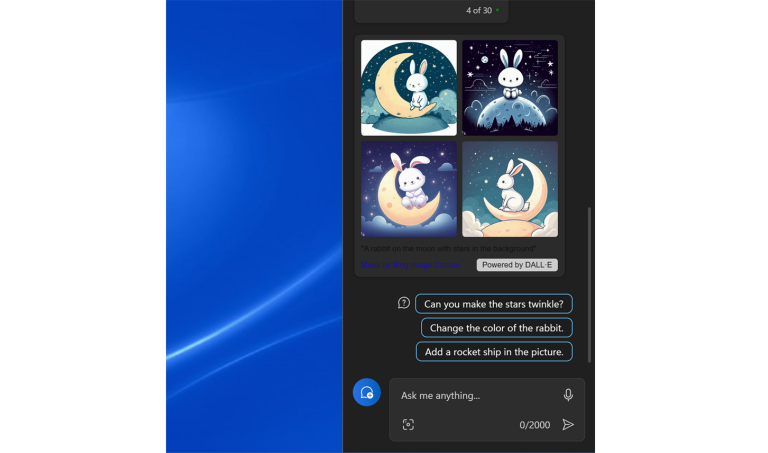 While it offers style and color customization, there are limitations in requesting changes, which may improve over time.
Controlling Settings, Snapping Windows, and Opening Apps
Copilot can modify certain settings, but it may open the Settings app for confirmation. This extra step is a safeguard against unintended changes. However, it may be more efficient to adjust some settings directly from the Windows Taskbar.
The feature for snapping windows, while mentioned in Microsoft's documentation, seems to serve more as a demonstration of Copilot's Windows system control capabilities. For practical window snapping, traditional methods remain faster and more convenient.
Currently, Windows Copilot can only open apps from the Microsoft Store and may require a confirmation step. Future updates might streamline this process and extend support for various apps and web pages.
Summarizing Web Pages
Copilot can summarize web page contents when using the Microsoft Edge browser. It provides concise summaries of articles, enhancing research efficiency. However, image-only web pages may pose challenges, and users may need to utilize workarounds to extract descriptions.
Voice Input and Future Improvements
This Microsoft assistant offers voice input, which is a valuable feature, but it lacks wake-word functionality. Enhancements in this area would make it a more hands-free and convenient assistant. While some capabilities are available in Copilot for Microsoft 365, they are currently limited to corporate customers.
Should You Use Microsoft Copilot?
Copilot offers immediate answers, content generation, and a range of capabilities within a single sidebar, making it a valuable tool for students and anyone needing to create text or images. It excels as a research assistant, providing source links for verification. However, it has room for improvement in settings management, app and web page handling, and enhancing user convenience. Microsoft is likely to refine Copilot's features over time, making it a worthwhile tool to watch for future enhancements.