Getty Images, a global leader in the supply of stock images, editorial photos, videos, and music, has introduced a groundbreaking generative AI picture tool that it asserts is a more secure and responsible option compared to its rivals in the market.
This innovation, aptly named "Generative AI by Getty Images," relies on the advanced capabilities of an AI model furnished by Nvidia, solidifying their ongoing technical partnership. The AI model has been meticulously trained on a substantial portion of Getty's extensive content library, which boasts around 477 million diverse assets, including images, videos, and more. The functionality is reminiscent of popular text-to-image platforms like OpenAI's DALL-E 3 and Midjourney, enabling users to translate textual descriptions or prompts into tangible images, such as "photo of a sandy tropical island filled with palm trees."
Customers engaging with this tool will benefit from Getty image licensing, which includes indemnification against copyright disputes and grants users the rights to "perpetual, worldwide, nonexclusive" usage across all forms of media.
However, it's worth noting that the tool does come with certain restrictions. Getty has implemented safeguards to prevent misuse, ensuring it cannot be employed for disinformation or mimicking the artistic style of living artists. For example, it prohibits users from creating a picture AI depicting public figures like Joe Biden in front of the White House or replicating the artistic style of renowned artists like Andy Warhol. Additionally, all generative images will bear a watermark to signify their AI origin.
Craig Peters, the CEO of Getty Images, emphasized the company's dedication to developing a responsible AI photo generator that instills confidence in users when employing generative AI for commercial purposes.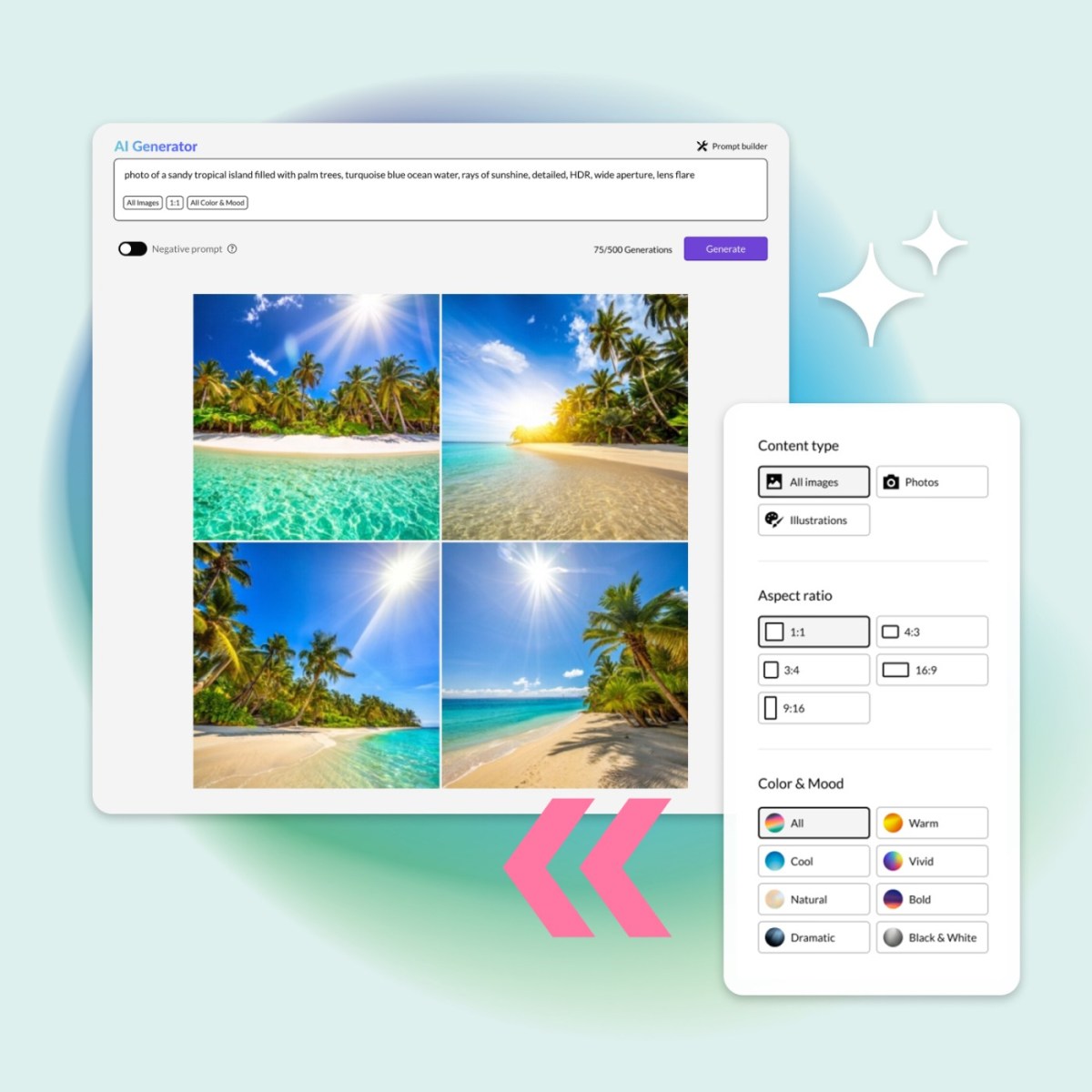 Getty has clarified that the content generated by this tool will not be incorporated into its existing content library for others to license. However, the company reserves the right to retrain its AI model using these generated images. Moreover, the Getty image generator will compensate contributors whose works are utilized to train the underlying AI model, sharing the revenues generated by the tool on both a per-file proportional basis and a traditional licensing revenue basis.
A Getty spokesperson shared, "On an annual recurring basis, we will share in the revenues generated from the tool with contributors whose content was used to train the AI picture generator. There will be a set formula based on several different factors, and accordingly, each contributor will receive different payments in connection with the tool."
This innovative tool can be easily accessed on Getty's website or integrated into various applications and websites through an API. Shortly, customers will have the option to customize it with proprietary data to align with specific brand aesthetics or design language. Pricing will be separate from a standard Getty Images subscription and will be determined based on prompt volume.
Grant Farhall, the Chief Product Officer at Getty, expressed that they have created a service that enables brands and marketers to explore AI creatively while ensuring fair compensation for the AI image creator involved in the training process.
Before launching its own generative AI tool, Getty had been an outspoken critic of similar products, particularly Stable Diffusion, which was trained on a subset of Getty's content library. Earlier this year, this AI image maker initiated legal action against startup Stability AI for allegedly copying and processing millions of images and associated metadata owned by Getty without notifying or compensating Getty's contributors.
Craig Peters drew parallels between the current legal landscape of generative AI and the early days of digital music, highlighting the need to address the intellectual property rights of others. He noted, "We think similarly these generative models need to address the intellectual property rights of others, that's the crux of it," in an interview in January. "And we're taking [legal] action to get clarity."
It's important to note that some companies developing generative AI tools, including Stability AI, argue that their content scraping practices are protected by the fair use doctrine, at least in the United States. However, the resolution of this matter remains uncertain.
Notably, Getty Images is not the sole entity exploring "safer" and more ethical commercial approaches to generative AI. AI startup Bria offers a generative AI art tool trained on content licensed from various partners, including individual photographers, artists, media companies, and stock image repositories. These contributors receive a share of the company's revenue. Additionally, Ascendant Art, a recently launched avatar creator, commits to paying royalties to artists who voluntarily provide their artwork to train its AI models.
This trend extends beyond startups. Getty image AI generator competitor Shutterstock also compensates creators whose work contributes to the training of AI art models. Adobe is actively developing a compensation model for contributors to Adobe Stock, their stock content library, allowing them to monetize their talents and share in the revenue generated by their generative AI technology, Firefly.