Tubi, the free ad-supported TV streaming service under Fox's ownership, is stepping into the future with an innovative mobile feature called "Rabbit AI," powered by OpenAI's cutting-edge GPT-4 technology. This new feature aims to revolutionize content discovery by allowing users to ask content-related questions and uncover exciting TV shows and movies tailored to their preferences.
The primary goal of Rabbit AI is to offer viewers "hyper-personalized recommendations." Users can interact with the AI by inputting queries such as, "Do you have any movies that are funny about sharks?" In response, the AI will swiftly generate a curated selection of humorous shark-themed films, including classics like "Sharknado," all sourced from Tubi's vast library, comprising over 200,000 titles.
To enhance user experience, Tubi OpenAI has included a "bookmark" feature. This allows viewers to save their preferred results in a favorites list, ensuring easy access for future viewing. Additionally, the search history, aptly named "Rabbit Holes," is stored within the feature, permitting users to revisit their previous inquiries at their convenience.
Starting today, Tubi has initiated a beta test of the Rabbit AI feature, an exclusively available Tubi app on iOS mobile. Wider availability is expected in the coming weeks, catering to a broader audience. Furthermore, OpenAI paying subscribers can also access the Tubi Rabbit AI plug-in for ChatGPT.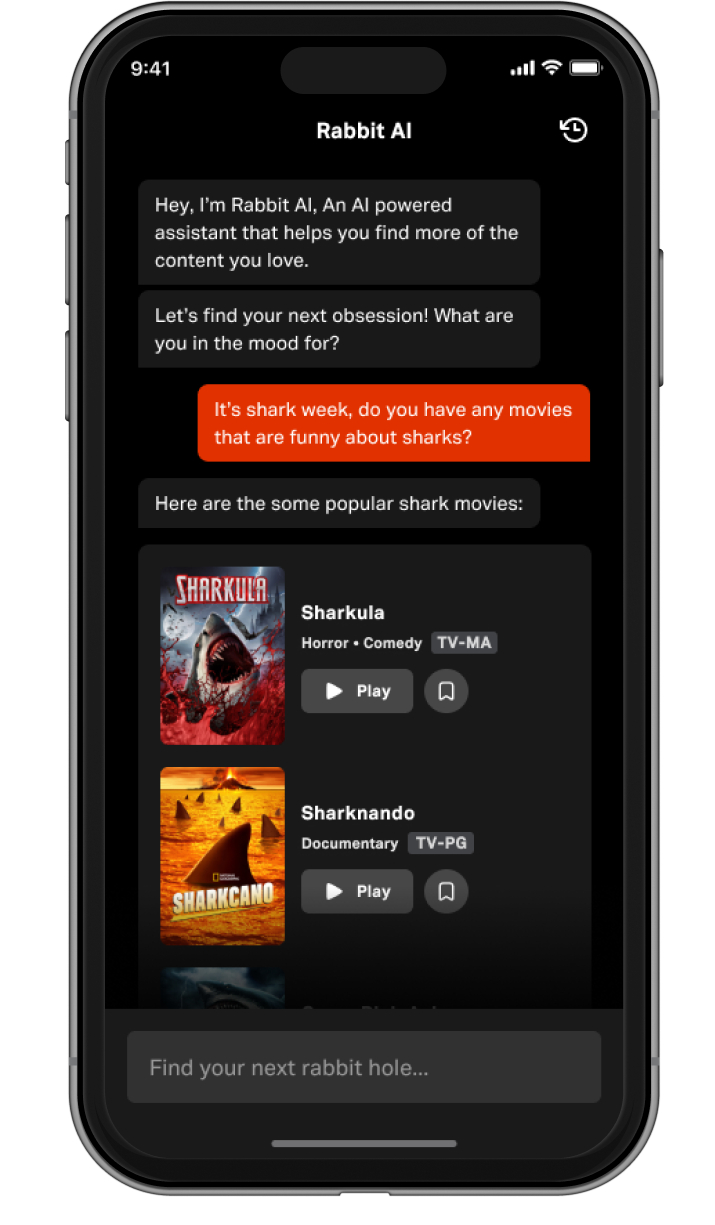 Blake Bassett, Senior Director of Product at Tubi, emphasized the unique advantage Tubi OpenAI holds, stating, "At Tubi, we're uniquely situated to find content for viewers that's specific to the moment they're in because of our large library and our personalization and machine learning algorithms. With Rabbit AI, we're making the content discovery experience fun again."
Tubi's Rabbit AI debut follows OpenAI's recent introduction of voice capabilities for ChatGPT, enabling users to engage in verbal conversations with the chatbot. This demonstrates the continuous evolution and integration of AI in the entertainment industry.
Notably, Tubi isn't alone in embracing AI-powered advancements. Other major media players such as YouTube, Amazon, and Netflix have also been actively investing in AI-driven technologies. YouTube, for instance, recently unveiled a range of AI tools, including an inspiration tool, an AI-dubbing tool, and a generative AI feature for Shorts, along with a new creator app. Amazon, on the other hand, introduced a generative AI experience for Fire TVs, enabling users to ask Alexa open-ended questions about TV shows and movies. Amazon's commitment to AI innovation was further underscored by its $4 billion investment in AI startup Anthropic. Meanwhile, Netflix has been actively recruiting for an AI product manager, signaling its deepening involvement in AI initiatives.
As the entertainment landscape continues to evolve, AI technologies are poised to play an increasingly vital role in delivering personalized and engaging content experiences to audiences worldwide.