With the fast-pacing increase in demand for outsourcing services, more companies worldwide are taking interest in one of the common models – staff augmentation. It's highly significant for business owners to understand the staff augmentation meaning and see all the growth opportunities that this best method can bring.
Atlasiko's team is an expert in IT offshoring and wishes to share the expertise gained in the years of providing tech aid and talents to others. In this article, we'll address the popular question "What does staff augmentation mean?" and other aspects that define this practice.
What is IT staff augmentation?
The best way to start delving into this topic is to outline the staff augmentation definition. To put it in simple words, we define staff augmentation as one of the outsourcing models for the temporal use of an outside workforce provided by a third-party organization to add to a client company's in-house team.
The weight and meaning of staff augmentation rise in the sphere of staffing operations as this strategy has proven to be one of the most efficient for the successful onboarding of skilled professionals. There are many drivers for the popularization of the staff augmentation model, which we'll describe further in the article, but the main one is the lack of personnel with sufficient or some kind of specific skills to complete a project.
Naturally, a brief definition isn't enough to fully explain such a multidimensional topic. So, read ahead to find a more comprehensive answer to the question "What is staff augmentation?".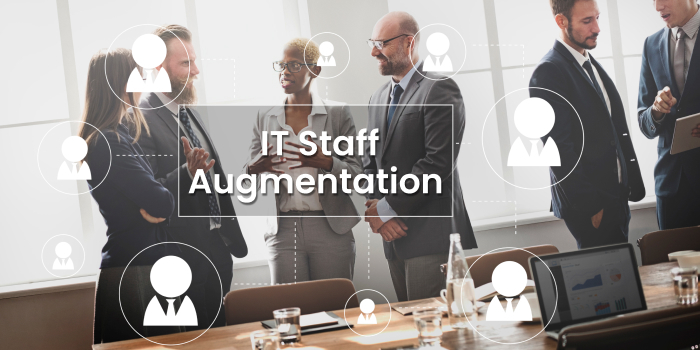 How does staff augmentation work?
We believe the definition of staff augmentation can be completed with a brief explanation of how staffing augmentation usually works to give you a full picture of the process.
After finding and contacting the best service provider for staff augmentation and outsourcing, a client organization leases or contracts out a particular number of employees from the chosen staff augmentation firm.
Both parties then have to agree upon and sign a staff augmentation contract and a statement of work that contains info about a period of time, requirements, costs of conducted operations, etc.
The augmented personnel is included in the on-site department of the client's company and carries out tasks under the supervision of the in-house managers.
After the successful project implementation or the end of the submitted in contract period, the added personnel returns to their initial agency. Sometimes organizations can prolong the team augmentation period or request on-demand support.
In the past years, the workforce augmentation team usually worked at the customer's site, and the latter had to provide the added team members with all the needed infrastructure. Of course, after the COVID-19 outburst, the tech staff augmentation practice switched to being mostly remote as even the in-house employees worked from home. This tendency basically stayed the same even after the pandemic restrictions and regulations were loosened, except for onshore and nearshore staff augmentation. For example, Atlasiko Inc. mostly offers and handles projects of offshore staff augmentation providing our services remotely.
Staff augmentation example
For a better understanding of the meaning, let's take a look at the example of resource and staff augmentation.
Imagine that your entire IT department is currently busy with a big main project, for instance, game development. But you also have some small side projects that have to be carried out in time. Splitting your in-house tech crew isn't an option as then all the established processes in the game creation will be disrupted. That's where you have a variant to look for staff aug companies to get the necessary aid with employees specifically for those small tasks without hiring new personnel.
Another staff augmentation example is when you have an almost complete team but it's lacking one or a few members with a specific set of skills required for a particular operation. Let's say, your game development squad is all set to start working but you don't have a specialist in AI game programming to create an AI-based decision tree for the game. Then you just have to contract out such an expert from staffing augmentation companies.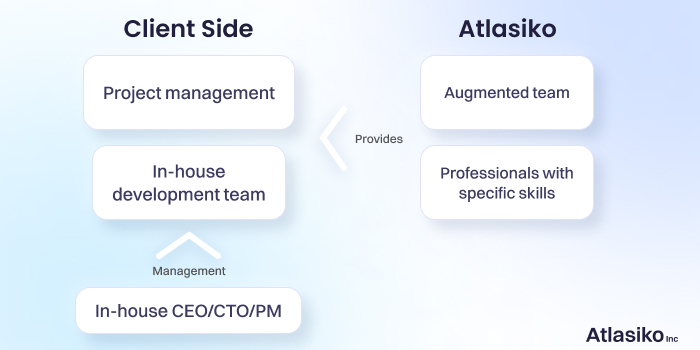 Why staff augmentation is needed
Let's look at the 5 most common needs businesses can have when staff augmentation solutions come in handy and help to deal with a talent shortage.
Need to increase the capacity of your on-site team
To fill the expertise gap or expand an already existing internal team, you can use workforce augmentation. This involves finding experts with a particular tech stack who are knowledgeable in particular IT fields. Such an addition to your staff gives your company more capacity for certain operations without interrupting exciting workflows.
Need to complete the team without disruptions
IT staff augmentation helps to create a bridge for hiring to maintain the continuousness of your processes. It would be a disaster for any business to halt operations while looking for a suitable candidate who meets the requirements. Therefore, the technology is perfect to fill in the gaps in your crew for the time being. Along with that, when it comes to the hiring process, staff augmentation consulting helps you find a professional for the vacant position more quickly. All you have to do is get in touch with the staff augmentation company, browse the provided developers' resumes and conduct an interview.
Need for better teamwork and communication
The augmented team will precisely meet your needs if you desire complete control over your project and to be aware of every team member who would be providing daily reports to you. They will also be a part of your subordinate internal team so it won't be any different for a PM to manage added professionals.
Need for advanced skills
Software developers need time, education, and experience to hone their talents. As there isn't enough time to train junior developers, team augmentation programs rarely include them. An experienced engineer can be employed in the project and working environment more quickly and easily.
Need for specific expertise
In many cases, organizations don't need the whole augmented team but just one or a few professionals with a high level of specialization in a certain area of information technology. If you target specific skills to acquire for your IT department capacity then we suggest opting for Atlasiko's team augmentation.
Types of staff augmentation
Get acquainted closely with the most commonly used types of staff augmentation from our comparison chart.
| Type | Purpose | Characteristics |
| --- | --- | --- |
| Commodity | For tasks that depend more on quantity, your project needs reliable specialists without a specific skill set. | Mostly increases a company's employees. Hiring staff members who may not be highly skilled but who can nevertheless carry out the company's essential duties is involved. |
| Skill-based | When you need a trustworthy team to execute projects requiring certain skills but with a medium level of complexity. | This type of staff augmentation takes place when companies acquire qualified individuals. These people will have more knowledge and experience than ordinary workers, which will enable them to finish jobs faster than other employees. |
| Highly skilled | Extensive training and experience, both of which are crucial, are the only ways to solve the most complex challenges. | Highly qualified employees are hired for specific initiatives from third-party organizations. They carry out specialized activities like creating unique products or resolving challenging issues with current ones. |
Staff augmentation process with Atlasiko
We have vast experience in providing services outsourcing to Ukraine, and IT personnel augmentation is one of the main models our firm supports. Take a look at Atlasiko's staff augmentation process flow to be sure of the meticulousness of our operations.
Determining what you need. You can define your internal team's weaknesses and key goals with the assistance of Atlasiko assistants. You'll be able to specify the qualifications needed for the position and express your preferences. This information will be useful in defining which applicants will best further your goals. As an additional measure to ensure that your concept is safe with us, we sign an NDA.
Choosing candidates in advance. We'll compile a list of suitable candidates for your vacancies. Make sure you hire top-notch personnel following your preferences and requirements.
Rounds of interviews. You can interview the experts we've already chosen for you. You'll be able to hold as many meetings as necessary to assess the knowledge, abilities, and values that work best for your internal team. Of course, it is up to you to decide how many talents are hired in total.
Getting the work started. It's time for personnel onboarding once the list has been agreed upon. Our professionals will work with your firm to find the quickest way to integrate new team members into the workflow. The resources and information they require for their projects will always be available from Atlasiko.
Ongoing assistance. At this stage of the staff augmentation process, Atlasiko offers your offshore staff a variety of management and office support services. Throughout the project, our management will stay in touch with you to address any concerns and assist you in getting the best results.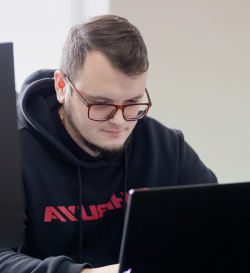 Nazarii
Lead of Software Development
Even though some projects of web development might appear challenging, professionals of our team take it upon themselves to create an unparalleled solution. We develop websites and web-based apps keeping in mind business needs and goals of our clients.
Let's talk
Your form has been succesfully submitted! Please, check if info you provided is correct:
Benefits of staff augmentation
Saving money
Depending on your company's needs, this method of IT department enhancement enables you to reduce the cost of hiring. This is basically one of the main staff augmentation benefits since almost all businesses aspire to shorten their expenses on operations. It's definitely more economical to contract an IT expert temporarily and not hire them full-time if you won't need that expertise after a certain project.
Direct Interaction
This is one of the major differences between staff augmentation vs outsourcing. In the latter, the vendor will handle every aspect if you outsource web development or software development. But, if you decide to use the first option corporate project management solutions will allow you to manually assign work, schedule sprints, and fully control the process. Developers will report to you directly and keep in constant communication.
Flexibility is one of the benefits of staff augmentation
You can hire as many IT specialists as you need in your augmented team, and you can easily scale it up or down. When it comes to budgeting, the model is also flexible: you can agree with the IT staff augmentation company on a payment schedule (weekly or monthly), hourly rates, and other details.
Enhanced quality
Teams usually include highly skilled software developers and other IT specialists. Undoubtedly, their experience and expertise positively influence the quality of final results which is one of the staff augmentation main benefits.
Affordable Pricing
Consider hiring an augmented staff if hiring full-time professionals is outside of your goals and budgeted costs. The price of staff augmentation is determined by hourly rates, which is one of the staff augmentation benefits. The cost generally ends up being less than that of internal development services.
High productivity
An advantageous quality of contracted-out personnel is their great productivity, as they prioritize your project and don't have to disperse their attention on side tasks. As a result, they would be more productive than an outsourcing staff that can handle multiple tasks at once. This is also another point among the benefits of staff augmentation.
Development and adaptation
Flexible hiring enables businesses to test out new operations without committing to a full-time workforce and managing the risk of failing or losing their investment. The ability to hire people on a project basis gives developing organizations more options.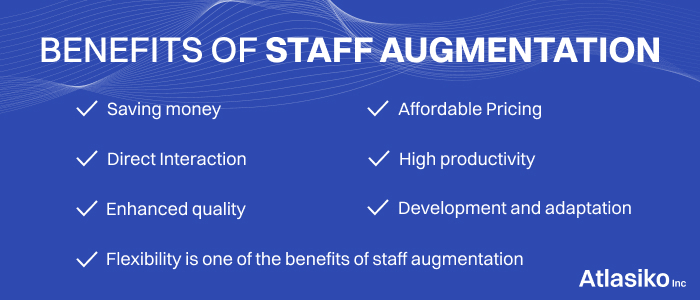 Staff augmentation challenges
Acquiring the necessary expertise
Currently, the USA and Western Europe suffer from a significant talent shortage, which makes it more difficult to find IT personnel with the necessary qualifications. Due to this, many companies choose to hire more IT workers and hire specialized offshore developers in the best IT outsourcing countries including Ukraine.
Management challenges
The success of any collaboration depends on effective management and communication. It's one of the staff augmentation challenges to forge strong bonds amongst your internal team members and new ones, set up communication and collaboration from the management side, etc.
Legal issues
Thorough contract negotiation and formulation are essential since it offers transparency and security to relationships between customers and vendors. A contract that is improperly written can damage the company's results and reputation. It can lead to unanticipated spending, subpar quality assurance, weakened data security, and other challenges.
Security
Ensuring the security of your data is one of the staff augmentation challenges as you'll have to give access to important and unique info to newly hired employees. Any leaks can basically destroy your brand reputation, projects, and plans. To prevent breaches in data safety, make sure your augmented team signs non-disclosure agreements beforehand.
Pros and cons of staff augmentation chart
We analyzed the core staff augmentation pros and cons, so take a look at the summing-up comparison below to make your conclusion.
Pros
Cutting down costs

Efficient and direct communication between in-house management and augmented staff

The flexibility of the staff aug model

The improved quality provided by top-level professionals

Pricing is determined by hourly rates

Enhanced productivity thanks to a single-project focus

Space for growth and scalability for developing organizations
Cons
Finding available specialists with the required expertise is challenging

Possible difficulties of getting along with temporal team members

Mistakes in contracts might lead to legal issues

Data security challenges
Conclusion
We hope this article gave you a comprehensive answer to the question "What is staff augmentation?". The practice has proven that IT projects or businesses of any size benefit greatly from the addition of a professional IT team. That's why staff augmentation meaning continues to grow among IT outsourced service models.
Regardless of the specification of your project, Atlasiko can help you fill in the gaps in your own team and provide strong assistance. You can obtain extra minds and hands with the aid of our adaptable tech staffing solutions, saving a lot of time and work for others. Contact us now to acquire the needed expertise.