The market of outsourcing IT services is thriving globally as the practice has proven to be cost-effective and beneficial for most businesses. Many organizations across the world choose Ukraine IT companies to be their partners for offshoring and outsourcing because they gained a solid reputation as reliable service providers. Lots of IT companies in Ukraine attained global recognition and expanded their operations worldwide. Therefore, in such a vast variety of IT firms with great recommendations customers can easily get confused in their choice. Don't worry, though. We're going to help you with the decision on the best Ukrainian software company for outsourcing.
Atlasiko Inc. has an extended practice in providing services of IT outsourcing to businesses of different sizes and specifications. Thus, we know for sure what expertise and skills most organizations seek in their ideal Ukraine IT company. Here, we'll present you with a list of outsourcing companies based in Ukraine that have the highest ratings. Explore your options and follow our tips.
Best IT outsourcing companies in Ukraine
Let's take a look at the biggest Ukrainian companies that entered the global market of outsourcing services and made their name known. We gathered the essential info with offered services, locations, and reviews in our list of top vendors for IT outsourcing in Ukraine.
| Name | Founded | Locations | Employees in Ukraine* | Reviews |
| --- | --- | --- | --- | --- |
| Atlasiko | 2015 | Vinnytsia in Ukraine, Philadelphia, the USA, London, the UK | 100 – 200 | Overall: 4.9 Clutch: 4.8 Google reviews: 5.0 GoodFirms: 5.0 |
| DataArt | 1997 | Dnipro, Kharkiv, Kyiv, Lviv, Odesa in Ukraine + offices in the USA, the UK, Georgia, Poland, Latvia, Kazakhstan, Bulgaria, Cyprus, the UAE, Serbia, Germany, Switzerland, Uruguay | 2400 | Overall: 4.9 Clutch: 5.0 GoodFirms: 5.0 g2: 4.8 |
| Ciklum | 2002 | Kyiv, Kharkiv, Lviv, Dnipro, Vinnytsia, Odesa in Ukraine + offices in the UK, Spain, Poland, Romania, Pakistan, Israel, Bulgaria | 2410 | Overall: 4.9 Clutch: 4.8 GoodFirms: 5.0 |
| N-iX | 2002 | Kyiv, Lviv in Ukraine + offices in Poland, Bulgaria, Sweden, the USA, Colombia, Malta | 1630 | Overall: 4.9 Clutch: 4.8 GoodFirms: 5.0 |
| ELEKS | 1991 | Lviv, Kyiv, Ivano-Frankivsk, Ternopil in Ukraine but also offices in the USA, Estonia, Japan, Poland, Germany, Croatia, the UK, Canada, Switzerland, Saudi Arabia | 1414 | Overall: 4.9 Clutch: 4.8 GoodFirms: 5.0 |
| Sigma Software | 2002 | Kyiv, Kharkiv, Lviv, Dnipro, Vinnytsia, Odesa, Cherkasy, Sumy, Ivano-Frankivsk, Ternopil, Lutsk, Chernivtsi in Ukraine + Romania, Poland, Hungary, Austria, Chezch Republic, Portugal, Sweden, Israel, the UAE, the UK, Canada the USA, Singapore, Mexico, Australia, Colombia, Argentina, Brazil | 1512 | Overall: 4.9 Clutch: 4.8 GoodFirms: 5.0 |
| IT Svit | 2005 | Kyiv in Ukraine + Estonia, Poland, Germany, France, Spain, Portugal, Sweden, Israel, the UAE, the UK, Canada the USA, Chile, Mexico, Australia, Colombia, Argentina, Brazil, China, Kazakhstan | 100 – 200 | Overall: 4.8 Clutch: 4.9 Google reviews: 4.4 g2: 5.0 GoodFirms: 5.0 |
| Qubit Labs | 2016 | Kyiv in Ukraine + offices in Canada, and Estonia | 100 – 200 | Overall: 4.9 Clutch: 4.9 Google reviews: 5.0 GoodFirms: 5.0 |
| inVerita | 2015 | Lviv, Kyiv in Ukraine, San Francisco, the USA, and Krakow in Poland | 100 – 200 | Overall: 4.8 Clutch: 4.9 Google reviews: 4.7 GoodFirms: 4.9 |
| Yalantis | 2008 | Kyiv, Lviv, Dnipro in Ukraine + branch offices in Poland, Estonia Cyprus | 200 – 800 | Overall: 4.7 Clutch: 4.8 Google reviews: 4.8 GoodFirms: 4.7 |
| Innovecs | 2011 | Lviv, Kyiv in Ukraine + Poland, Georgia, the USA, Israel, the UK, Hungary, Colombia, Australia | 720 | Overall: 4.6 Clutch: 4.7 GoodFirms: 4.5 |
| Luxoft | 2000 | Odesa, Kyiv, Dnipro in Ukraine; Argentina, Australia, Brazil, Bulgaria, Canada, China, Egypt, Germany, India, Italy, Malaysia, Mexico, the Netherlands, Poland, Romania, Serbia, Singapore, Sweden, South Korea, Switzerland, Turkey, the UK, the USA, Vietnam | 1500+ | Overall: 4.8 G2: 5.0 Google reviews: 4.6 |
| SoftServe | 1993 | Lviv, Chernivtsi, Dnipro, Ivano-Frankivsk, Kharkiv, Kyiv, Rivne, Vinnytsia, Odesa, Uzhhorod, Lutsk, Khmelnytskyi, Ternopil, Poltava (Ukraine) + the USA, Canada, the UK, Germany, Singapore, the UAE, Poland, Bulgaria, Romania, Mexico, Colombia, Chile | 1500+ | Overall: 4.9 Clutch: 4.8 GoodFirms: 5.0 |
| Miratech | 1989 | Kyiv in Ukraine + offices in Poland, Sweden, Norway, India, Turkey, Switzerland, Spain, DenmarkThe UK, the USA, Canada, Mexico, Colombia, Cyprus, Brazil, Argentina, Slovakia | 800 – 1500 | Overall: 4.7 Google reviews: 4.7 |
| Avenga | 2019 | Kyiv, Kharkiv, Lviv, Vinnytsia, Cherkasy, Ivano-Frankivsk, Lutsk, Chernivtsi, Khmelnytskyi, Poltava in Ukraine; Germany, Poland, Portugal, Malta, the USA, Argentina, Malaysia | 1077 | Overall: 4.4 Clutch: 4.8 GoodFirms: 4.0 |
| Abto Software | 2007 | Lviv in Ukraine and New York, the US | 200 – 800 | Overall: 4.7 Clutch: 4.8 Google reviews: 4.7 GoodFirms: 4.7 |
| GlobalLogic | 2000 | Kyiv, Kharkiv, Lviv, Mykolaiv (Ukraine); Argentina, Canada, Croatia, Germany, India, Israel, Poland, Romania, Sweden, Slovakia, the USA, the UK | 1500+ | Overall: 4.9 G2: 5.0 Google reviews: 4.8 |
| Perfectial | 2010 | Lviv, Ivano-Frankivsk, Kyiv in Ukraine + offices in the US, the UK, Malta | 200 – 500 | Overall: 4.7 Google reviews: 4.7 |
| Intellias | 2002 | Kyiv, Lviv, Ivan-Frankivsk, Uzhhorod (Ukraine); Germany, Poland, the UK, Portugal, Spain, Croatia, Bulgaria, the US, the UAE, Saudi Arabia, India | 1500+ | Overall: 4.9 Clutch: 4.9 GoodFirms: 5.0 |
| Mobilunity | 2010 | Kyiv, Ukraine | 100 – 200 | Overall: 4.8 Clutch: 4.9 Google reviews: 4.6 GoodFirms: 4.9 |
| Grid Dynamics | 2006 | Kyiv, Lviv, Kharkiv, Dnipro in Ukraine; the US, Mexico, Jamaica, the UK, the Netherlands, Switzerland, Poland, Romania, Moldova, Serbia, Armenia, India | 1400 | Overall: 4.8 Clutch: 4.8 |
| Elitex | 2015 | Lviv, Ukraine; the Netherlands, the UK, Switzerland | 20 – 80 | Overall: 4.9 Clutch: 4.9 Google reviews: 5.0 GoodFirms: 5.0 |
| Exadel | 1998 | Kharkiv, Kyiv, Vinnytsia, Lviv, Odesa (Ukraine) + offices in the USA, Canada, Brazil, Chile, Colombia, Poland, Switzerland, Lithuania, Hungary, Georgia, Germany, Bulgaria | 200 – 800 | Overall: 5.0 Google reviews: 5.0 |
| Program-Ace | 1992 | Kharkiv in Ukraine; Cyprus, Germany, Bulgaria, Canada | 100 – 200 | Overall: 4.8 Clutch: 4.7 Google reviews: 5.0 GoodFirms: 4.8 |
| Infopulse | 1991 | Kyiv in Ukraine + offices in Poland, Germany, Bulgaria, France, the US, Brazil | 1500+ | Overall: 4.8 Clutch: 4.7 GoodFirms: 5.0 |
* Source: DOU.ua
Top Ukraine outsourcing companies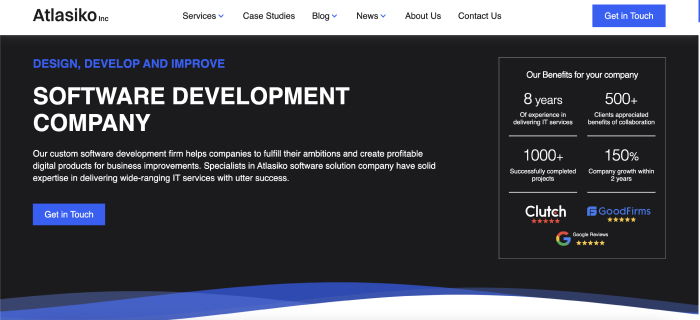 Atlasiko Inc. is an American-Ukrainian outsourcing company that provides wide-ranging services to businesses of many kinds. Our expertise extends to over 60 most efficient technologies used to deliver high-quality solutions for 20+ industries. As the Ukraine IT company, we have taken our part in creating the global-level hub of software development talent offshoring with over 8 years of experience. Despite all the difficulties of working in the war conditions, Atlasiko's Vinnytsia-based office managed to maintain fast tempos in developing our connections with recurring clients and engaging a new customer base. To organize our IT outsourcing services, we offer 100% transparent offshoring models – staff augmentation, dedicated teams, and project-based outsourcing. Contact us to request any of the services to receive a high-performing solution, extensive expertise, and just great communication with professionals.
What services Atlasiko Inc. offers as one of the top outsourcing companies in Ukraine:
Web development
Software development
IT strategy consulting
Ecommerce
DevOps
Web apps development
Web design
Mobile app development
Internet of Things
Atlasiko is the top choice among IT providers for businesses!
We offer impeccable expertise and a wide range of efficient solutions for your business development
Let's talk
20+
Industries represented
97%
Customer satisfaction
Your form has been succesfully submitted! Please, check if info you provided is correct:
DataArt belongs to the type of worldwide IT firms that have offices in numerous countries including Ukraine. The company's specialists assist clients in developing custom software that enhances their operations and expands their market reach thanks to the firm's more than 20 years of expertise, teams of highly skilled engineers located all over the world, in-depth understanding of industry sectors, and ongoing technology research. DataArt works with customers at any scale and on any platform, adapting along with them as they change. These characteristics enable this top Ukraine outsourcing company to provide its clients with reliable, high-quality solutions and long-lasting relationships.
Services DataArt delivers:
Agile software development
Quality and performance Engineering
DevOps services and solutions
Mobile-first systems
Legacy modernization
Cloud application development services
AI and ML services
Blockchain
Data and analyst consulting services
Industry 4.0 software solutions
Security testing services
Managed support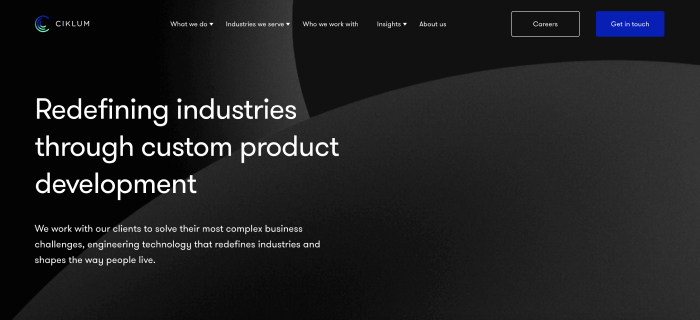 Ciklum is a global provider of digital solutions for multinational companies as well as rapidly expanding startups and businesses worldwide. This one of the biggest Ukrainian companies for custom product engineering outsourcing has over 4000 IT specialists including skilled developers, analysts, designers, and consultants to enhance your staff with their talents and expertise. With the IT firm's services customers can get market-valuable solutions, modernization and improvement of old digital products, IT consulting, and a delivery ecosystem for products. Ciklum also offers efficient outstaffing in Ukraine, as the company has a few established development centers there.
Services by Ciklum:
Product engineering
Intelligent automation
Data and Analytics
Custom engineering and global R&D solutions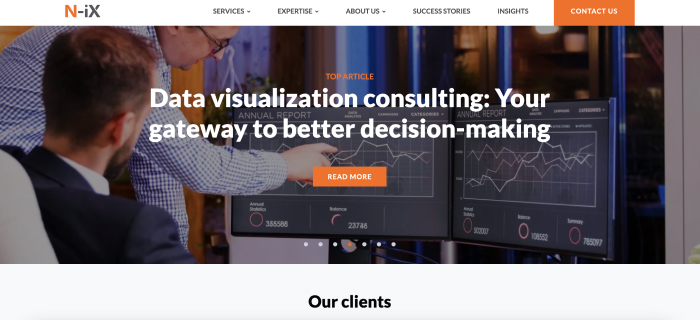 N-iX is a global provider of software development services that aids companies all over the world in enhancing their engineering capacities and creating effective software solutions. With more than 1800 specialists on board, the first-rate Ukrainian software company offers a great variety of services for global leaders in different industries and Fortune 500 companies. Since 2002 N-iX has been proving to be a reliable partner for long-lasting cooperation, including the organization of outsourcing to Ukraine. Their productivity and results led to international recognition and awards as well as the establishment of partnerships with AWS, Microsoft, GCP, OpenText, and SAP.
What the company can do for you:
Team extension
Technology consulting
Product discovery
Custom software development
Cloud-native services
Data analytics
Embedded software
IoT
Machine learning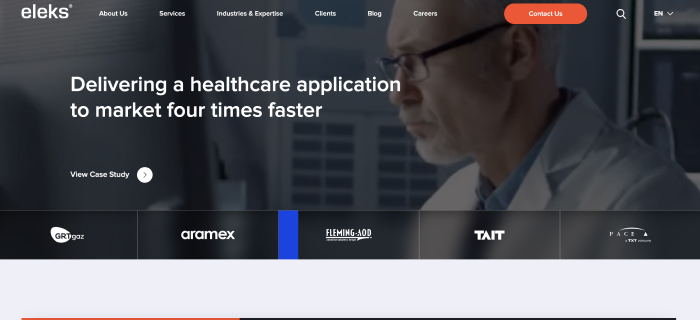 Many of the top businesses and tech firms in the world choose ELEKS as their partner. ELEKS, which has around 2,000 professionals spread out across Europe, the US, and Canada, provides consulting, product design, and software development services to organizations to help them increase their value. In more than 30 years the firm gained a reputation and awards as one of the globally-popular outsourcing companies working in Ukraine. ELEKS provides their offshoring services mostly in the nearshore team models but since the IT company has 18+ offices in major North American and European cities, all operations with clients can be easily organized.
Services ELEKS performs:
Product design
Data science
Cybersecurity
Technical feasibility study
PoC development
Application development
Application re-engineering
Cloud migration
Smart team
Software audit
QA
Support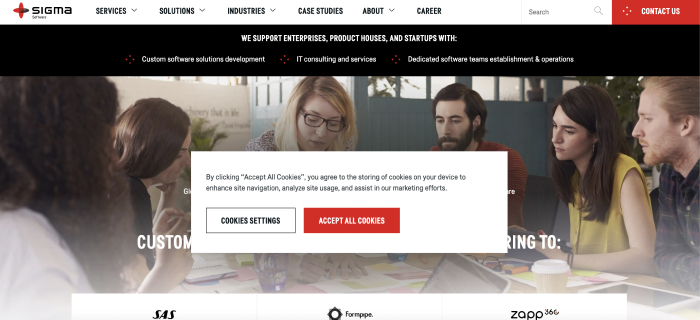 Sigma Software, one of the top Ukraine-based companies, consists of 2000+ IT professionals of various specifications that enable custom software development, high-quality design, and IT consulting. They like identifying creative answers to the customer's business problems and requirements. This Ukraine software development company gained a solid reputation and a place in the list of TOP 100 outsourcing companies in the world. Being on the market for over 20 years and working with miscellaneous Fortune 500 businesses provided teams of Sigma Software with valuable experience and expertise for performing outsourcing services of first-rate quality.
The IT outsourcing company provides services:
Product and app development
Dedicated teams
DevOps consulting
Embedded and IoT
Support and maintenance
UI/UX design
Usability analysis
Software and automated testing
Motion graphics
Quality process and compliance
CTO-as-a-Service
ML development
AR/VR development
Gambling game development
IT security services
Cloud migration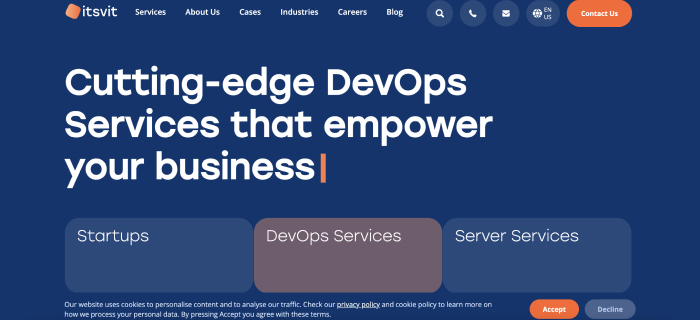 IT Svit with teams of knowledgeable specialists excels at resolving various business difficulties. This top Ukrainian outsourcing company offers end-to-end solutions and support for your organization, ranging from full-stack app development and DevOps services to Big Data analytics. IT Svit accomplished building strong connections with partners and the client base by offering DevOps services that are stable, dependable, and economical to businesses in the USA and around the world. As one of the biggest Ukraine software companies, the organization employs dedicated teams of skilled IT experts and has more than 14 years of experience in IT outsourcing.
What service you can request:
DevOps services
Startups
Server Services
Cloud computing services
Big data services
Data migration services
Product development
Database services
IT staffing services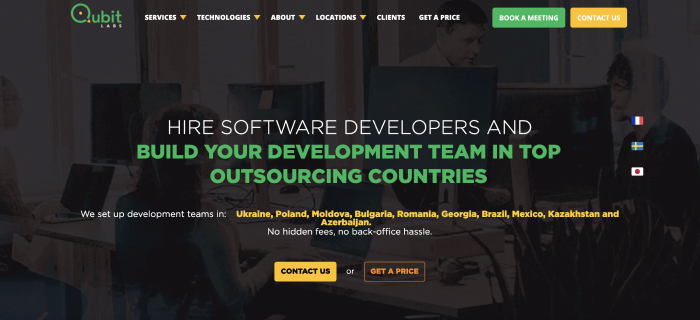 Qubit Labs belongs to the global-level Ukraine IT companies enabling top offshoring services. They assist businesses across the world in building managed full-cycle dev teams offering software developers outsourcing in Ukraine. The outsourcing models they support and provide to their clients are dedicated teams, offshore development centers, R&D centers, IT recruitment and relocation. These services are ideal to create an offshore team of responsible and enthusiastic people who can contribute significantly and sustainably to your in-house team.
Qubit Labs offers:
Dedicated team
Nearshore development center
Offshore development center
Staff augmentation
R&D center
Global IT recruiting
Whitelabel NFT marketplace
Consultation
IT staffing
Talent acquisition and mapping
Tech support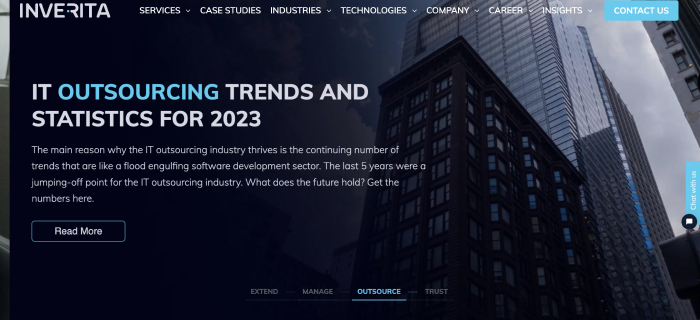 A custom software and staff augmentation firm, inVerita specializes in developing web, mobile, and QA solutions. On both staff augmentation and T&M models, the team of this first-class Ukraine software company completes projects for clients all over the world. They are constantly expanding their expertise, opening up brand-new segments of their services. Now the tech company performs application development, product design, dedicated "smart" team service, and system assessment. Because inVerita is aware of how important flexibility and the capacity to offer choices in terms of collaboration are, the firm is able to develop a customized strategy for each customer.
What services inVerita provides:
Cloud and DevOps services
Mobile app development services
Web development services
Dedicated software development team
Digital product design services
Yalantis is a software engineering and IT consulting firm with 13+ years of experience, development centers located all over Europe, and 500+ qualified experts in their staff. This Ukrainian software company is ISO 9001 and ISO/IEC 27001 certified. As a part of their development team augmentation services, Yalantis performs offsite and onsite team staffing, distributed team management, employee retention policy, and talent nurturing programs. Being one of the best Ukraine outsourcing companies, it also sets up the performance management framework using best practices for productivity as well as adaptive staffing and onboarding processes.
Services of Yalantis outsourcing company:
Custom software development
Development team augmentation
IT consulting and digital advisory
Software reengineering and support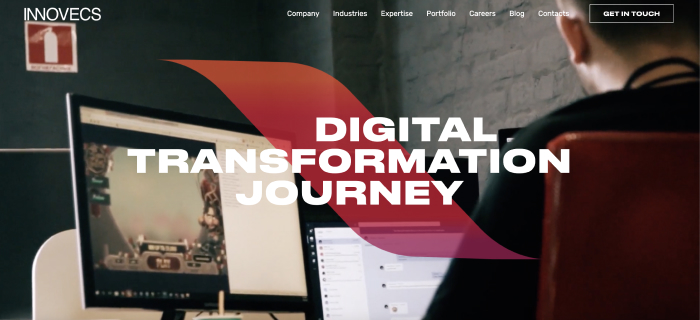 Innovecs is one of the first-rate tech companies in Ukraine specializing in worldwide digital transformation that has offices with more than 850 highly qualified engineers in the US, the UK, Israel, and an R&D facility in Ukraine. To assist organizations in transforming and expanding, this organization develops digital solutions that are fueled by cutting-edge technologies and take advantage of current trends. Innovecs was recognized as one of the Top 100 global outsourcing companies by IAOP (4 years in a row). Their team of specialists has expertise in providing solutions in such fields as distribution and logistics, retail and online sales, AdTech, HealthTech, and many others.
Offered services:
Big data & high load
Blockchain Machine learning and data science
Mobile apps development
Business intelligence
QA and testing
Cloud solutions
UI/UX consulting
DevOps
VR/AR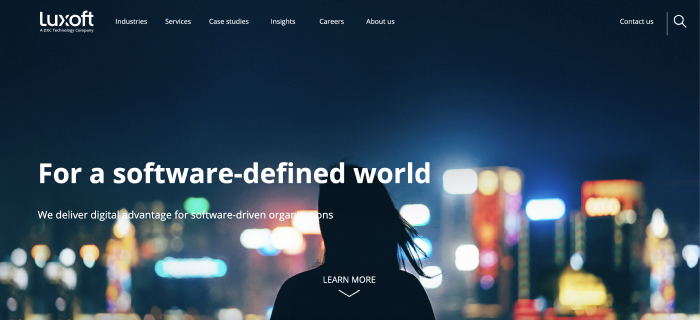 Global IT service provider Luxoft offers state-of-the-art technological solutions that help international corporations see measurable business results. Its capabilities include digital solution engineering, custom software development, and strategic consulting.
By utilizing its cross-industry experience in the financial services, automotive, communications, and healthcare & life sciences sectors, Ukraine IT companies like Luxoft empower businesses to gain competitive advantages.
What services Luxoft provides:
Cloud solutions
Data analytics
Design
Engineering
Intelligence automation
Legacy modernization
Luxoft Beyond
QA automation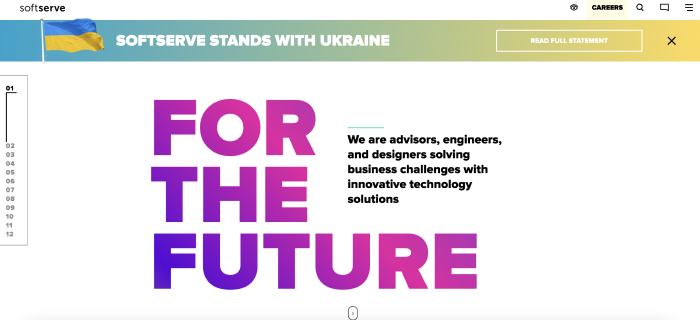 SoftServe is a Ukraine IT company that offers cutting-edge technological guidance and services. They aim their services of outsource to Ukraine at improving the ways how businesses and software firms conduct their operations. With experience in a variety of industries, including healthcare, retail, energy, and financial services, SoftServie builds end-to-end solutions that meet the users' expectations for innovation, quality, and speed.
Services offered by SoftServe:
Engineering services
Cloud and DevOps
Big Data and Analytics
AI and ML
Internet of Things
Expirience design
Cybersecurity
Experience platforms
Extended reality
Research and development
SoftServe innovation platform
Digital strategy and innovation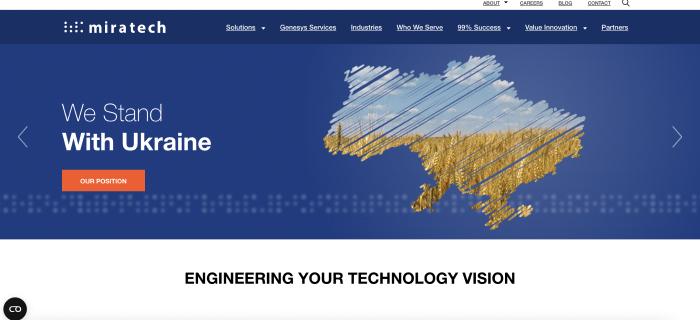 Miratech is an IT services and consulting firm that combines start-up and global enterprise innovation worldwide. Their expertise in Ukraine IT outsourcing assists the world's leading corporations with their digital transformation. Since Miratech's founding in 1989, the Ukrainian software company's culture of Relentless Performance has allowed over 99% of its engagements to be successful by meeting or exceeding scope, schedule, and/or budget targets. IT professionals in Miratech specialize in turn-key solutions, managed engagement, and team extension.
Miratech IT outsourcing company offers:
Smart expertise and Innovation
Miratech talent investment program
Blockchain
Team extension
Cyber security
Customer intelligence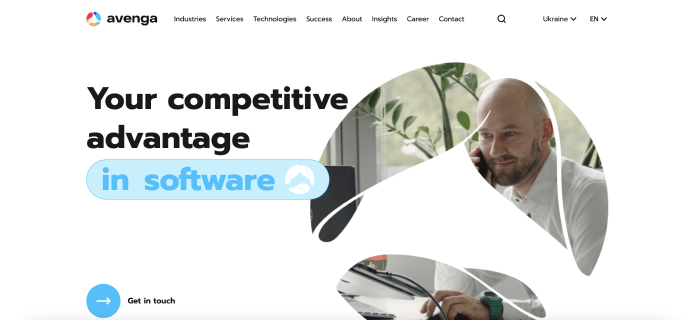 Avenga is a handcrafted unity, that was formed by the union of four IT powerhouses from Malaysia, Germany, Poland, and Ukraine in order to provide the best partner care possible for the creation of custom software. It became one of the biggest Ukrainian companies that provides offshoring. Its outsourcing service offerings have been bringing value to the pharmaceutical and life sciences, insurance, financial, and automotive industries for decades now. Their 3,000+ experts are most confident when working on custom software development and design, product management, technology consulting projects, and turnkey digital transformation services. Avenga enables organizations to outperform their development plans by leveraging the power of a visionary understanding of today's industries.
The IT outsourcing firm provides such services:
Strategy
Solution engineering
Maintenance and support
Staffing services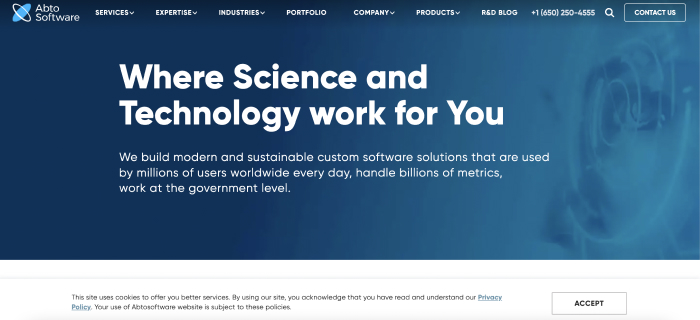 Launched in 2007, Abto Software is one of the top full-cycle custom software companies in Ukraine. With hundreds of projects completed, they have established themselves as a reliable, long-term partner in software development for more than 200 customers in North America and the EU. The company provides enterprises in a variety of fields and industries e.g. Government, Fintech, Healthcare, both real estate and construction, eCommerce, and others, with innovative solutions. With an emphasis on Microsoft technologies and developing enterprise-level software systems, Abto Software's tech stack includes the majority of contemporary languages, frameworks, and development methodologies. In addition, Abto has one of the most highly skilled Computer Vision AI departments in Eastern Europe and enables outsourcing to Ukraine.
What Abto Software can do:
.NET, .NET Core development
AI solutions for business automation
Software product development
AI-driven chatbot solutions
Dedicated teams
Computer vision and Intelligent video analytics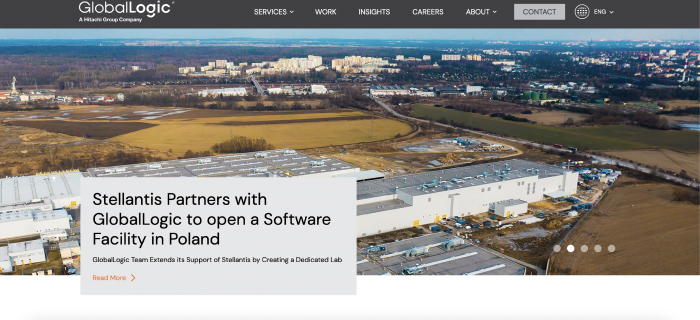 In order to connect makers with markets around the world, GlobalLogic, a leader in full-cycle product development services, combines deep domain understanding and cross-industry experience. The company has offices in the world's key regions with more than 28,000 employees. Ukraine-based branches of GlobalLogic list 6900+ specialists so they always have resources to implement project outsourcing in Ukraine. They engage with customers to demonstrate how strategic research and development can be used as a tool for managing their future using the knowledge gathered through working on new products and emerging technologies.
This outsourcing firm provides services:
Digital advisory and assessments
Experience design
Software and content engineering
Digital accelerators
Cloud adoption
Data and analytics
Atlassian
Contact center experiences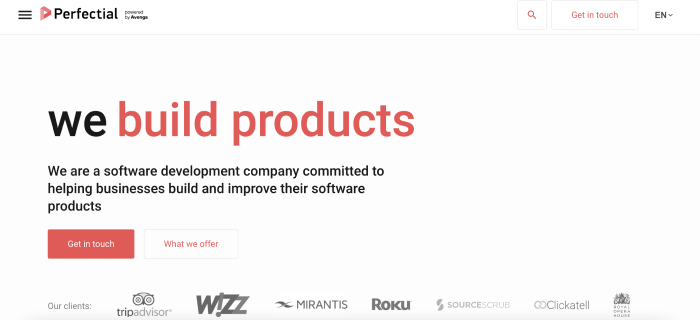 Perfectial is among the top Ukraine outsourcing companies that joined forces with Avenga. It's dedicated to assisting startups, expanding enterprises, and helping them flourish. Perfectial has put creative concepts into practice that have helped companies of all sizes grow, develop, and succeed in a variety of business fields. The Ukraine IT company provides thorough software research, gives the opportunity to outsource software development to Ukraine, and audits services to assist companies in dominating the markets and supplying top-notch technological solutions.
Services by Perfectial:
Dedicated team
Product development
Digital transformation
Cloud and SaaS web applications
Data science
IoT development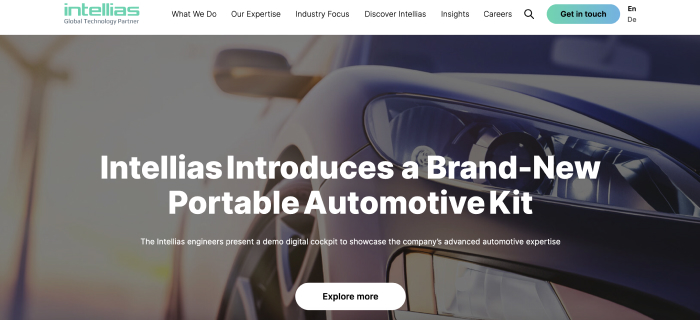 Top-tier businesses and digital natives can accelerate their pace of sustainable digitization with the assistance of Intellias, a global technology partner. For more than 20 years, Intellias has built mission-critical projects and delivered demonstrable results that satisfy the business demands of its clients. Utilizing an in-depth understanding of modern technology, subject-matter expertise, and high-performance product culture, this global-level Ukrainian outsourcing company assists organizations from a wide range of sectors in creating breakthrough digital products and experiences. Intellias improves the product vision, technology use, and production capabilities based on the business's strategic goals.
What expertise you can outsource from Intellias:
Platform development
Cloud services
Cybersecurity
Data engineering
Experience design
Internet of Things
RPA
DevOps
ML & AI
Blockchain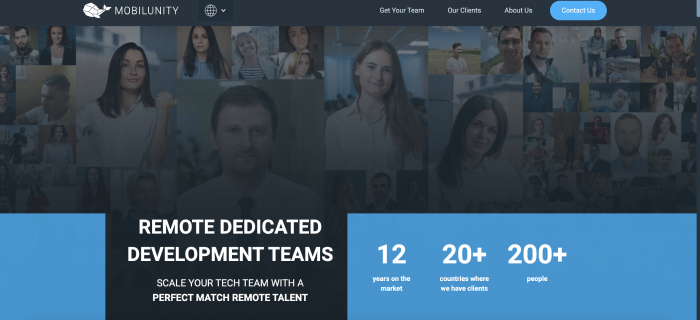 Founded in 2010, Mobilunity is a Ukraine IT company with ingenious development and human resource practices. They provide superior IT technology and software development outsourcing to Ukraine and support for small businesses as well as big-sized organizations. The Ukrainian outsourcing company uses the outstaffing model of work to choose and directly hire the most skilled specialists for clients' projects. Mobilunity offers services for all aspects of collaboration, including IT development and programming as well as hiring, managing, and monitoring each stage of work.
Mobilunity's services:
Dedicated team
Recruiting services
Consultancy services
CTO as a Service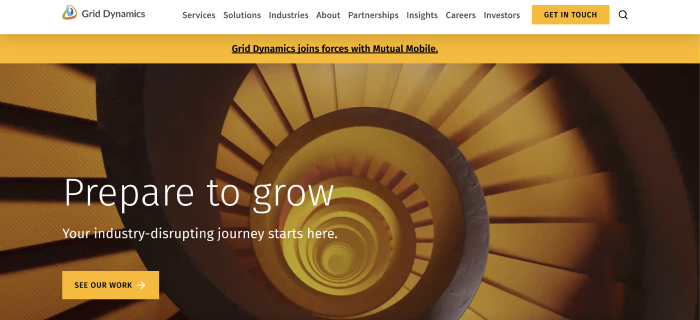 Grid Dynamics is a top provider of technology consulting, agile co-creation, scalable engineering, and data science services for Fortune 500 companies going through a digital transformation. Performing services of Ukraine IT outsourcing the company's team uses the best software development techniques, and top engineering talent to help firms become more agile and deliver breakthrough digital products. In order to assist its clients in increasing market share, reducing time to market, and drastically lowering the costs of digital operations, Grid Dynamics is renowned for designing and executing some of the largest digital transformation programs in the retail, technology, and financial industries.
What services Grid Dynamics provides:
Technology strategy consulting
Solution design
Emerging technology engineering
Distributed engineering
Managed services
Global team augmentation
Elitex is a JavaScript development company based in Lviv that specializes in IT outsourcing in Ukraine. This Ukrainian software company has been successfully completing projects and assembling engineering teams for its customers in the USA, UK, and EU since 2015. As their main focus is on JavaScript development, Elitex professionals have provided services for businesses in FinTech, News & Media, Content Management, E-Learning, Property Management, Telecommunications, and eCommerce. Most of their clients are Fortune 500 & Fortune Global 500 corporations. The goal of Elitex is to establish a long-lasting relationship with each client based on solid knowledge, close attention to detail, effective communication, and productive teamwork.
Elitex offers:
JavaScript development
Quality assurance
Custom software development
Web development
Dedicated teams
UI development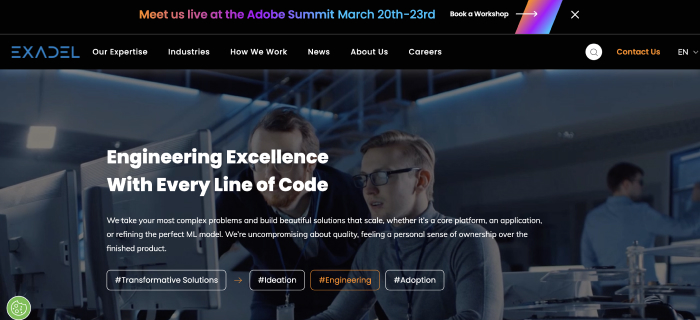 Exadel is one of the highly regarded outsourcing companies Ukraine has with a 95% client retention rate that specializes in developing unique mobile, online, desktop, and business applications. It has 26 locations around the USA, Europe, and Asia (5 of them in Ukraine). Out of 2700+ current employees, the company has 1400+ engineers certified under ISO 27001. Exadel has distributed teams that span different nations and continents and is a Forrester-recognized leader in Agile development. In order to meet clients' demands and advance various sectors, Exadel's experts offer sector-specific services, solutions, and business accelerators.
What expertise Exadel has:
Products &Platforms
Digital experience
Data intelligence
Financial services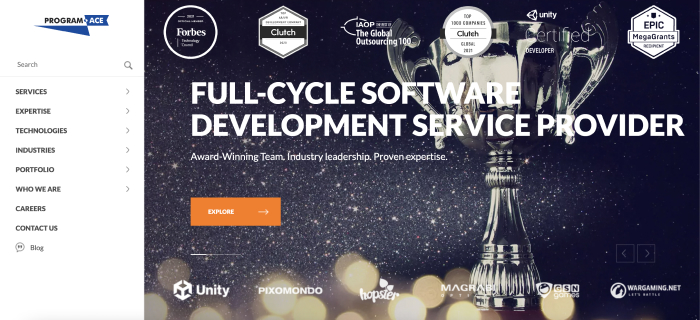 A Ukrainian outsourcing company, Program-Ace provides services for developing custom software that is appropriate for many different business sectors. Among many other Ukraine IT companies, this firm was included in the list of Top 100 outsourcing companies by IAOP. Their team of skilled programmers has finished more than 900 projects using cutting-edge technologies since 1992. As one of Ukraine's outsourcing companies, Program-Ace offers three main team extension options which are dedicated developer and dedicated team models, as well as Ukraine outstaffing and offshore development center.
IT outsourcing by Program-Ace:
Software engineering
R&D and Innovation
Dedicated teams
Development for startups
QA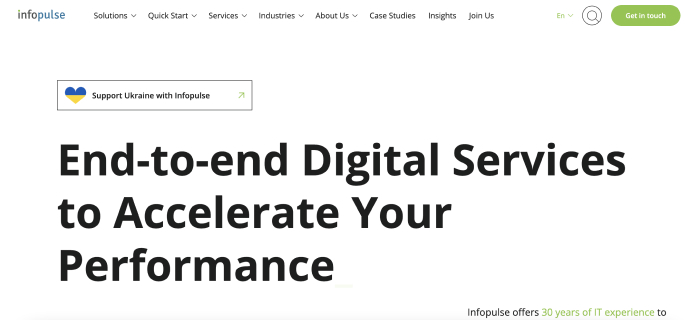 Infopulse offers offshore services to SMEs and Fortune 100 enterprises all over the world in the fields of software R&D, application management, cloud & IT operations, and cybersecurity. It is present in 7 countries in Europe, North and Latin America, and Asia. Infopulse was established in 1991 and now employs over 2,300 professionals with 1500+ that provide IT outsourcing to Ukraine. With 30 years plus of expertise, this Ukraine IT company managed to gain its place in the list of the World's Top 100 Outsourcing companies and finish 3.550+ projects. Infopulse has also established partnerships with customers across 40+ countries (85% of clients are from the USA and the EU).
What services you can request from Infopulse:
Managed services
Business intelligence
Digital experience
Innovation services
Technology & Security advisory
Solution Engineering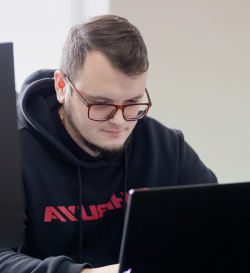 Nazarii
Lead of Software Development
Even though some development projects might appear challenging, professionals of our team take it upon themselves to create an unparalleled solution. We develop programs keeping in mind business needs and goals of our clients.
Talk to Expert
Your form has been succesfully submitted! Please, check if info you provided is correct:
How to choose the best Ukrainian outsourcing company
In our previous article we addressed the topic of benefits and risks of outsourcing to Ukraine, so check it to understand the state of the present-day market to the fullest extent. Out of a large selection of Ukraine software development companies that are outsourcing services providers, opting for one offshoring partner is not easy. Here are some tips on what you have to pay attention to making the decision about the best outsourcing company.
Using our list of companies that outsource in Ukraine, check all and select a few with the most relevant services for your objectives.
Consider the projects and solutions that these Ukraine outsourcing companies have previously delivered before making a decision. Basically, all firms showcase the results of their work in portfolios or on their page with Case studies.
To learn more about the experience of working together, you can even speak with prior clients of these outsourcing software companies in Ukraine. This way you'll have the opportunity to take a glimpse not only at the completed solution but the process, possible shortcomings, and the overall client-side impression of the cooperation with the vendor.
Examine not only the degree of programming expertise but also language proficiency, response time, and general communication. Take into account all skills that your outsourced workers from a dedicated team might need to implement your ideas to life.
Make sure the IT firms' representatives possess the skills necessary to uphold and enhance your brand's reputation. For this, communicate with the chosen Ukrainian software companies thoroughly to ensure they understand the goals of your brand, the organization's vision, and desired outcomes.
Conclusion
The number of Ukrainian IT outsourcing companies that provide high-quality services with great cost-effectiveness grows every year. In this article, we've just taken a look at the tip of the iceberg of the fast-advancing Ukraine IT market. However, we hope that our list of outsourcing companies in Ukraine will give you a better understanding of the potential that Ukrainian IT firms have in terms of offshoring. Many businesses worldwide have already appreciated the benefits of cooperation with tech companies in Ukraine. As you can see in our top Ukraine outsourcing providers, many of them manage to reach the global market and attain recognition because of the high value of their solutions. Likewise, global IT enterprises opt for opening branch offices and R&D centers in Ukraine to hire the best professionals.
Ready to start IT outsourcing in Ukraine? Atlasiko is here to help you to solve all challenges. We perform professional services of IT offshoring with maximum efficiency and execute all our outsourced projects meticulously with years of practice and the best IT experts on board. Contact our team to begin the implementation of your ideas in life.