The main goal of any business is to be profitable. Although expenses are inevitable, organizations must be in full control over their finances to avoid overspending. That's why thorough budgeting is vital when starting any new project. Software development projects are no exception to this rule. When you request professional services of software development for your company, there are many factors you need to consider to form adequate expectations about the possible price.
Specialists at Atlasiko, Inc., who have vast experience in creating various programs and successfully tackling development projects, will help you with calculating software development costs in 2023. In this article, we analyze significant aspects and tendencies in software development costing and present our readers with some tips.
Average cost to develop software
First, let's determine that all the numbers in this article are approximate based on our experience and open-source statistics and intended to give you a general idea of the average cost for software development. Providing precise costs would be basically impossible as every software price is estimated according to a particular project.
In general statistics, the average cost to develop an app can range from $30,000 to over $300,000 depending on the exact software service and different factors such as functionality, size, complexity, and many others that we'll explore later in the article. Here's a brief overview of typical software cost.
| Software | Average software development cost (New software) | Software modification costs | Average cost for software integration |
| --- | --- | --- | --- |
| Base | $35,000 – $50,000 | $3,000 – $10,000 | $15,000 – $40,000 |
| Average | $60,000 – $100,000 | $35,000 – $45,000 | $50,000 – $80,000 |
| Advanced | $100,000 – $300,000+ | $80,000 – $150,000 | $70,000 – $100,000 |
These are summed-up estimates of average software development costs that encompass various aspects influencing the price. Read ahead to find out how these costs are formed.
Software development cost breakdown
It's highly important for business owners to know what exactly they are charged for. Knowing what the software development cost is comprised of will give you more insights into the process and help to form realistic expectations about the price of your project. So, let's look closely at the software development cost breakdown prepared by Atlasiko to define factors that impact the cost of software development.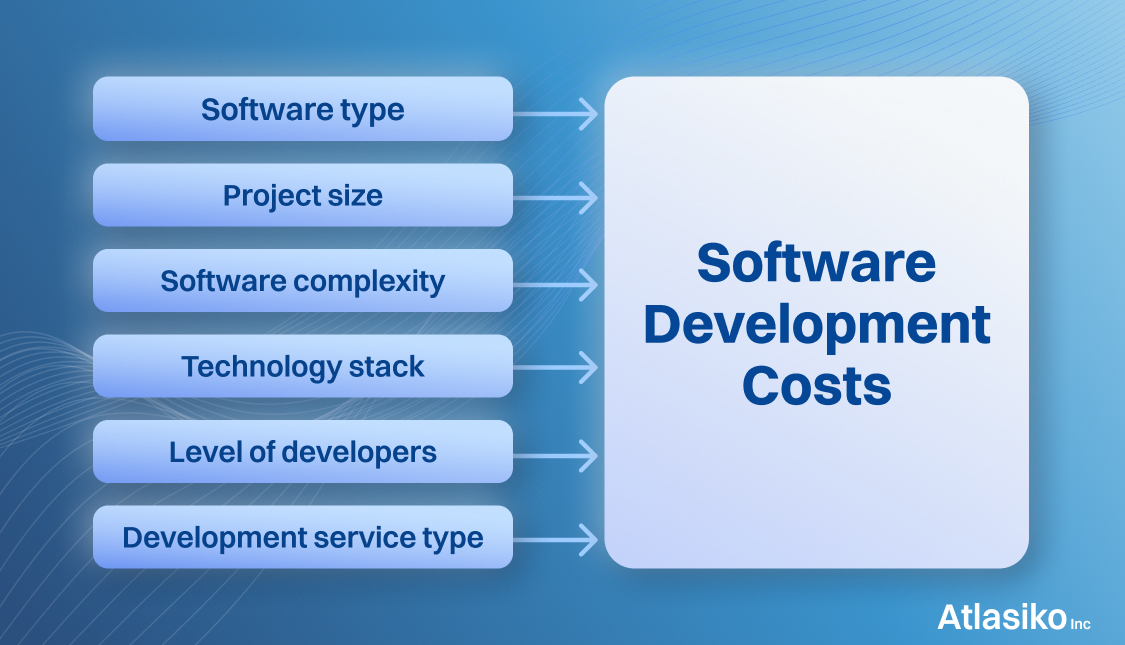 Software costs by type
Depending on the type of software you want to request the costs will change as well. The main reason is that each type has its own set of features, requires different technologies and skills, might take longer to develop, etc. We suggest you look at the most common examples of business programs and systems frequently requested by companies and their typical software costs.
Enterprise resource planning software.
Businesses manage their daily company activities, such as inventory, supply chain, finance, logistics, and risk mitigation, more efficiently with the use of ERP software. Depending on the number of features and the size of the business, the price of developing ERP software can range from $100,000 and more. Large businesses need more high-level functionality in their ERP solutions due to the sheer volume of data they handle. Therefore, the price of developing such a solution can rise to between $150,000 and $500,000.

Content management system.
CMS allows organizations to publish and update numerous forms of material, such as blogs, press releases, videos, etc. Costs for developing software in its basic form with a business-oriented design, a few unique features, configuration, and other characteristics range from $20,000 to $50,000.

Customer relationship management software.
CRM systems are the kind of software that enables companies to monitor and manage customer relationships, draw in new customers, and manage interactions with vendors and partners. The typical price to design CRM software is $100,000 for a platform with a basic feature set and a few custom functions.
Software as a Service.
SaaS is a method of distributing software that uses the cloud. With SaaS, consumers can access applications online through a third-party cloud service provider's hosting. Costs for developing SaaS software range from $25,000 to $100,000, and even higher for advanced SaaS solutions.
Software development prices by project size
Software size is an important factor that influences the overall cost to develop software. This aspect accounts for the number of software features, functions, lines of code, and pages. For instance, software with more than 80 unique pages will cost more than software with only 20. This is due to the fact that creating a creative design for 80 pages requires a larger software development project budget due to the time required to code each page.
| Project size | Lines of code (LOC) | Time | Costs |
| --- | --- | --- | --- |
| Small | 1,000 to 5,000 | 2 – 4 months | $30,000 – $45,000 |
| Mid-sized | 10,000 to 15,000 | 6 – 8 months | $50,000 – $100,000 |
| Large-scale | 50,000+ | 10+ months | $100,000 – $300,000+ |
Development costs by software complexity
The complexity of code and development effort directly impacts the costs of software engineering. Some client requests are more complicated to implement, especially in custom software. For example, you'll need different resources for complex real-time data analytics with many authorization levels compared to a simple online calculator.
In general, we can outline three major levels of software complexity that have significance for the accurate forming of a software development budget.
Simple application – software with a basic set of features, single platform support, and standard User Interface design. The development of a Minimum Viable Product or a simplified version of the software (a simple app with only the most basic functionalities that are enough to carry out intended tasks) approximately costs $30,000 to $100,000 (depending on the project size).
Medium complexity – a program with a single platform support but a more advanced set of features and brand-oriented UI design. The development of a full-fledged application that has an optimal amount of features to satisfy the needs of a client's business costs from $70,000 to $160,000.

Complex application – software that is supported by 2 and more platforms, has high-level functionality, and fully customized UI design. The development of enterprise-level software that handles large numbers of operations and volumes of data usually costs large corporations around $200,000 – $300,000. Of course, the upper limit is unclear since there are many examples of enterprise programs whose software development costs amount to millions of dollars. For example, the creation of Grammarly, a popular platform with extensive functionality based on AI capabilities, costs $2,000,000.
Assessing the complexity of the project, your software development company usually counts the development effort for each individual feature and reflects it in the cost of software. These typical software development features might be a search function (approximately $300 to $500), enabled payments ($1500 to $1800), push notifications ($600 to $900), and others.
Technology stack in product development cost
Technology costs are the expenses associated with using particular stacks or employing specialists in a technology used in software analysis, design, coding, QA, deployment, or monitoring.
The cost will be significantly impacted by deployment across several operating systems. In this case, cross-platform development is the superior option if you want to make an app that works on multiple platforms at once. Otherwise, creating software becomes significantly more expensive and time-consuming since you have to code, optimize, and test for mobile apps on iOS and Android or desktop apps for different OS.
The technology stack that is selected also influences development time, which in turn influences software development costs. Due to the scarcity of experience in this stack, implementing blockchain technology in software development, for instance, is expensive.
Additionally, because of the excessive AWS, Azure, etc. fees, cloud hosting is more pricey than regular server hosting.
Software developer cost by level
The average hourly wage for software developers in the USA is $51/hour. However, the software engineer costs will vary depending on the qualification level of hired professionals. According to the data from Salary.com and ZipRecruiter, here are the typical wages that you, as a business owner, are expected to pay to developers of different levels.


| Level | Average hourly wage | Range |
| --- | --- | --- |
| Junior developer | $36/hour | $34 – $41/hour |
| Mid-level developer | $47/hour | $43 – $52/hour |
| Senior developer | $68/hour | $60 – $77/hour |
It's clear that hourly prices vary depending on seniority. As a result, a team comprised solely of senior programmers will be more expensive than a team with different levels of qualification. We recommend to include both seniors and juniors in your development team. This strategy will provide you with the required high-level expertise from seniors, who can be entrusted to lead your projects and supervise the quality, and a cheaper workforce from juniors, who can be delegated to carry out routine tasks.
Depending on the region, the hourly wages expected by software developers change. If in your location software developer costs are high, we recommend considering outsourcing to one of the top countries.
Gain great competitive advantages by outsourcing to Ukraine with Atlasiko
We use best practices and support the most convenient models of outsourcing
Let's talk
97%
Customer satisfaction
30%
Infrastructure cost savings
Your form has been succesfully submitted! Please, check if info you provided is correct:
Software development price for different service types
In our software development cost breakdown, we also analyzed prices for various types of development to give you more insights.
Custom software development costs
Some companies struggle to find a perfectly fit off-the-shelf solution for their operations and end up opting for custom software. These programs are tailored in accordance with specific requirements of a particular client, have a fully brand-driven design, and provide customized capabilities. In many cases, the creation of this type of product doubles the development effort as well as the cost of custom software development. The final price for tailor-made software depends on other factors that we mentioned before. The range of custom software development prices starts from $5,000 for simple CMS and can go up to $1,000,000 for advanced SaaS products. On average, projects of custom software development cost between $50,000 and $200,000 to design, build, and deliver the program in a usable state.
Web app development pricing
The creation of web-based software also requires specific skills and technologies, so its costs will be different from desktop and mobile apps. Depending on a number of criteria, web software development prices can be estimated from $5,000 (minimum content and interactive elements) to $250,000+ (complex functionality and advanced features). A typical medium-sized web app will cost you from $15,000 to $60,000.
Mobile app development price
Mobile applications have their own range of prices and factors that influence them. In the context of general software development, the costs of mobile app creation depend on the project size, complexity, technology stack, and required labor efforts. According to GoodFirms, a standard mobile app with a basic feature set and design will cost you between $40,000 to $60,000.
Underestimated costs of software development
Aside from the development process, there are other costs that need to be considered from the start to avoid extra spending. Otherwise, you'll be surprised to see that the final price for your software skyrocketed from its planned number. Here are two hidden costs in software development that people often forget to estimate.
Maintenance
Spending money on your software doesn't end with the last written line of code or even launch. You need to ensure proper tech support and maintenance for your program to be sure it performs correctly and gets timely updates. The term "maintenance cost" describes the costs associated with keeping software operational, fully functional, and current with technological advancements. Sometimes, you need to spend twice as much on software maintenance as you did on its development. Most of the money will be spent on web hosting, SSL certificates and a domain name (for SaaS and Web), updates in UX, back-end and front-end technical support, DevOps, and other assistance.

Digital marketing
After launching, you need to present your new software or app to your clients and the target audience and encourage them to use it, which is the main goal of digital marketing. Be ready to give software marketing a substantial amount of budget. Sometimes It's even best to have marketing expenses that are 2–3 times your initial development cost for top-tier effectiveness. Digital marketing costs include spending on search engine optimization services, social media promotion campaigns, email marketing, expenses on PRs and the marketing staff.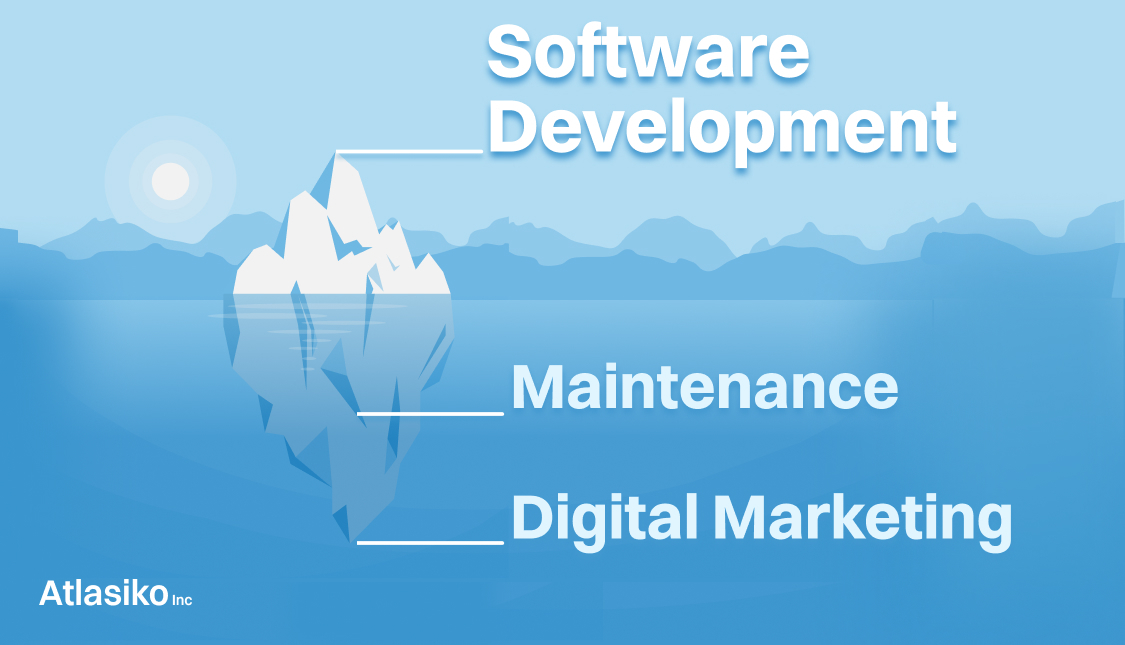 Best software development pricing models
Modern software development firms offer a variety of ways for you to pay for their services. However, not all of them might be convenient and beneficial for your exact project. Here are the top software development pricing models with descriptions to choose from in various cases.
Fixed price
This choice is more appropriate for projects with fixed, clearly outlined requirements. In essence, the entire development cost is paid upfront. Many clients can benefit from this software development pricing model, but there also are significant risks. It's simple to lose control, and there will be little interaction with the staff. Additionally, delays are common when working on a big project.
Time and material
Among other software development pricing models, Time & Material is the more adaptable approach. Instead of receiving payment all at once, payments for services are made gradually. Depending on the terms of the arrangement, you can pay every two weeks, once a month, or at another preferred interval. This strategy gives the team and the development process as a whole more control. It also offers more collaboration with the development team as you can then review the reports, request additional functionality, and provide any comments.
How to reduce software project costs
As experienced providers of software development services, professionals at Atlasiko Inc. can share with you some useful insights and tips on how to decrease your software project cost in an unharmful for the planned functionality way. Therefore, you'll get all features you'd like your software to have at a reduced price.
Choose the most beneficial cooperation model
The three basic types of collaboration in IT projects are hiring in-house teams, contracting freelance developers, and outsourcing. The most expensive option is by far hiring an internal team since the total price will include payments for billable hours as well as paid time off, insurance, sick leave, and other expenses. The cheapest yet riskiest method is generally regarded to be using freelance developers. Outsourcing is the top choice to reduce software project costs as it is less expensive than hiring in-house developers but also gives you more quality guarantees than working with freelancers.
Outsource to Ukraine
It's not a secret that software development services in North America and Western Europe are usually quite costly. The best way to avoid overpaying is to outsource your project to a reliable IT company in another country with more favorable prices. Atlasiko Inc. provides top-notch outsourcing services in Ukraine, one of the best countries for outsourcing in 2023. We offer affordable software development that results in first-class quality IT products.
Start with an MVP
Many overlook the benefits of a Minimum Viable Product for the cost of software project. MVP enables faster product introduction and market entry. It can help you to test the market for your concept without spending a lot of money. You can obtain input from actual users and figure out how to make your program better. Overall, MVP development helps to save money.

Choose a simple design
A UI/UX design actually comprises 15% of the overall software project cost which is around $2,500 – $10,000 (depending on other factors). You can considerably lower development complexity and software development expenses by choosing a simple design.

Software development cost estimation by Atlasiko
We understand that each app is distinct because no two businesses are alike. To make budgeting easier, startups and business owners must understand how much it costs to construct the software.
At Atlasiko, we have a methodical procedure for estimating software development costs.
After you fill out the contact form and submit it, we'll get in touch with you to further discuss your project ideas and needs. We'll also take into account the major objectives and size of your organization. Using the data we gathered, determine the resources required. Within 5-7 days, our professionals will estimate software development cost and deliver you an estimate and an architecture diagram.
Types of cost estimation for software development
We offer several types of software development cost estimation. You can choose any cost estimate form that you find appropriate.
Ballpark Estimate
You can get a quick overview of the expected price of software development using this kind of estimate. This cost estimate will enable you to decide whether you should hire our software development company and whether we can meet your development objectives.
Budget Estimate
You can use the software development budget estimate as a guide to establish the project's overall budget and development approach. It is recommended to keep in mind that any project approach entails time and money risks.
Statement of Work (SoW)
Different project tasks, deliverables, and time frames are described in this cost estimate. This type of approach to calculate software development costs gives you the most accurate estimate.
FAQ
What costs the most in software development?
The largest expense in software development is often labor. The price of hiring and paying programmers, project managers, QA staff, and other team members are included in these costs. Outsourcing is an effective way to reduce labor expenses.
Who estimates software costs?
A software project manager specifies and justifies the target cost of the software before adjusting parameters and size with a client and company's requirements.
Conclusion
We believe this article gives you valuable insight into the major tendencies of software development costs in 2023 and now you know the answer to the question "How much does it cost to develop software?". The software development company and the client must deliberate extensively in order to determine the exact cost of software development. In addition, non-technical aspects may influence how much it costs to develop an app or piece of software. It's crucial to choose the appropriate service provider and have a clear notion of the app in mind.
Our highly qualified team will be glad to research your software ideas and development initiatives and give you a reasonable price. Contact us without hesitation.