During yesterday's Google I/O developer conference, Google Photos revealed the enhancement to its photo editing capabilities with Magic Editor, a new feature that will use generative AI to allow users to make complex edits and reimagine their photos.
Magic Editor will enable users to edit specific parts of their photos as well as fill in gaps in images and reposition subjects to the best spot. The tool will be available for select Pixel devices later this year and will combine the capabilities of previous Google Photos tools, such as the Magic Eraser and corrective Photo Unblur, but with more advanced AI editing techniques.
The company offered a glimpse at the experimental feature, which was demonstrated through examples, such as removing people from the background of a photo or repositioning a subject. Magic Editor will also allow users to cut out the subject in the foreground of the photo, enabling them to reposition the person elsewhere with a drag-and-drop functionality.
At the same time, generative AI will finish editing by filling the gaps that appeared after you repositioned the subject with the appropriate background or parts of the subject. In the example presented by Google, we see that, in the initial picture, a few balloons were cut out but after editing AI added missing parts making them whole as well as it filled in the background.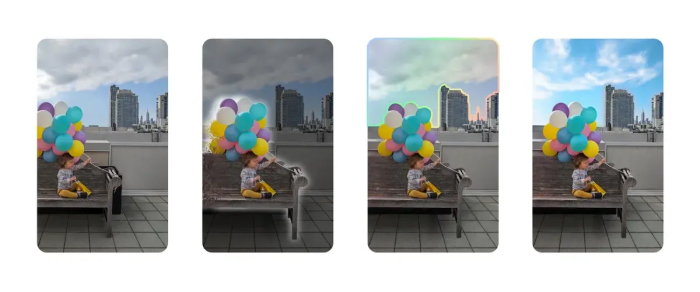 Google has stated that the feature will be demo-released later this year, but still being in the experimental stage, it might not always work correctly. As users edit 1.7 billion photos each month using Google Photos, the company believes tests and user feedback will help Magic Editor improve. It is unclear whether the feature will be chargeable or remain exclusive to Pixel devices. However, Google is set to share more about the AI tech used when it gets closer to the early access release of the feature.
Wrapping up, we can say that this move from Google just fuels the trend of implementing generative AI in image editors. Apart from this Google Photo update, the company also put a lot of work into developing its AI-powered image generator GIFI.
In a span of the last few months, many other companies presented their own image generators or redactors with AI capabilities as well. The most famous example is from Google's AI rival, Microsoft, which added an image generator to its Edge browser.
Adobe is another company that used the capabilities of AI to present a new solution – in March it released the Firefly image generator. In our news section, you can also find more AI-related announcements.