Toronto-based customer service automation startup, Ada, is presenting a new suite of tools powered by generative AI, with the aim of taking automation to the next level. The company has been around since 2016 and has the main purpose to give every client a great experience, expecting that generative AI will assist in getting their customers closer to that ideal. Ada's new tools will enable clients to build once and deploy anywhere across any channel messaging, voice, and more.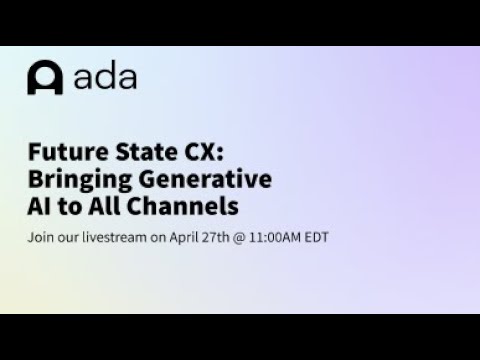 Ada's co-founder and CEO, Mike Murchison said, "The initial build time for the bot is essentially zero because we are generating answers on the fly grounded in your knowledge across your company". However, there is a difficulty inherent in large language models, where it creates words or actions, if it doesn't know what to do from the material in the knowledge base, a real problem arises in its correct responses to users' requests.
Murchison acknowledges that one of the hardest problems to solve with applying generative AI at runtime is the safety problem, but Ada has built a lot of complexity and a lot of IP around its whole AI pipeline to ensure that its solutions provide real, safe, accurate, and relevant answers. He believes that this is a big reason why Ada's customers are so excited about this new product.
Murchison also declares that oftentimes customers need to pass off more intricate tasks to a human who falls off with this product, but Ada integrates with customer service software such as Zendesk and Salesforce when needed. The company has over 300 clients utilizing the platform, namely Meta, Verizon, and Shopify. Ada has raised over $190 million, including a $130 million Series C in 2021.
Summing up, Ada's growth over the last five years has been remarkable, thanks to how effectively it has complemented the agent desktops in this space, such as Zendesk and Salesforce. Ada's goal is to provide a great experience to its customers, making it an exciting option for businesses looking to automate their customer service operations.
Previously we wrote about AI's great energy consumption that resulting emissions so, you can read and be more informed about AI technology.
We propose you overview our report where we wrote about Amazon's innovation for the creation of the next-generation embodied AI agents.
Also, you can take a closer look at Nvidia's advancements that alter the future.