Intro
Ukraine has been putting its best effort into building a stable economy, developing strong ties with countries worldwide, and presenting itself as a reliable partner for economic collaboration. A great part of this strategy is taken by the IT sector. Ukraine developer industry has proven to be one of the most fast-advancing segments acknowledged as a significant pool of IT professionals, a leader in the region, and one of the tops in the world. Unfortunately, at the beginning of 2022, this progress and peaceful life of all Ukrainians were interrupted in the worst way possible by a full-scale war launched by russia and its ally, belarus. Since then, all citizens' lives, including developer life in Ukraine, have been undergoing serious changes, facing dangerous situations and adapting to survive.
However, the russian criminal regime didn't take into account that Ukraine is built different with its undying aspiration for freedom. As Atlasiko has one of its offices in Ukraine, we know what active and courageous spirit Ukrainians have, and their capacity in doing the job under any conditions. This article is inspired by the resilient and creative ways in how Ukrainian programmers continue working being endangered and overcoming challenges.
How Ukrainian programmers continue working while wartime
Changes to the Ukrainian software development and IT services market
Among all other economic sectors, the IT industry experienced comparatively little damage from the conflict. Additionally, despite the economy's 40% fall, the IT sector still contributes money to the government. Due to severe risks (potential mobilization, death of employees, etc.), only 5–10% of clients stopped or paused doing business with Ukrainian software development companies. Despite these exceptional occurrences, the vast majority of clients are still in Ukraine.
A plan for the employees' evacuation was developed by 92% of IT companies with offices in Ukraine even before the war after russian threats to invade Ukraine in February 2022. They swiftly relocated their experts to Eastern European nations or western Ukraine.
IT Ukraine Association revealed data that the IT sector maintained 95% of its operational activity during the major conflict. The same research also shows that the Ukrainian IT industry and rates of outsourcing to Ukraine have kept their pace of development – in times of war, the IT sector reached a record-breaking $2 billion during the first quarter of 2022. In 2021, a comparable amount was $1.44 billion. As a result, there has been a 28% increase in IT exports.
Ukraine outsourcing and the overall IT sector are still operating successfully. Ukrainian programmers continue working from bomb shelters and safer areas to serve clients, the national economy, and the war effort.
What changed for Ukrainian developers
Undoubtedly, developer life in Ukraine has sustained major changes along with other industries. The conditions for software coders and other IT specialists have been transforming through the course of the war. Let's take a look at our analysis of statistic rates provided by Djinni Analytics.
The first issue we want to address is hiring rates. It's not surprising that an actively invaded country, where many facilities are damaged and companies forced into relocation, would experience a major reduction of hires. Naturally, most organizations prioritize ensuring the safety of their old employees and saving equipment than burdening themselves with the hiring processes. Indeed, we could see such a drop in employment rates in March 2022 when Ukraine suffered from the most damage and wasn't adapted to the awful reality. Being a flexible and resilient system, the IT industry in Ukraine was one of the first to start recovering from the shock. Therefore, in April and the following months, Ukrainian developers got more hiring opportunities. Despite the fact that programmers continue working while being bombed, with some adjustments hires in autumn practically returned to the pre-war indices.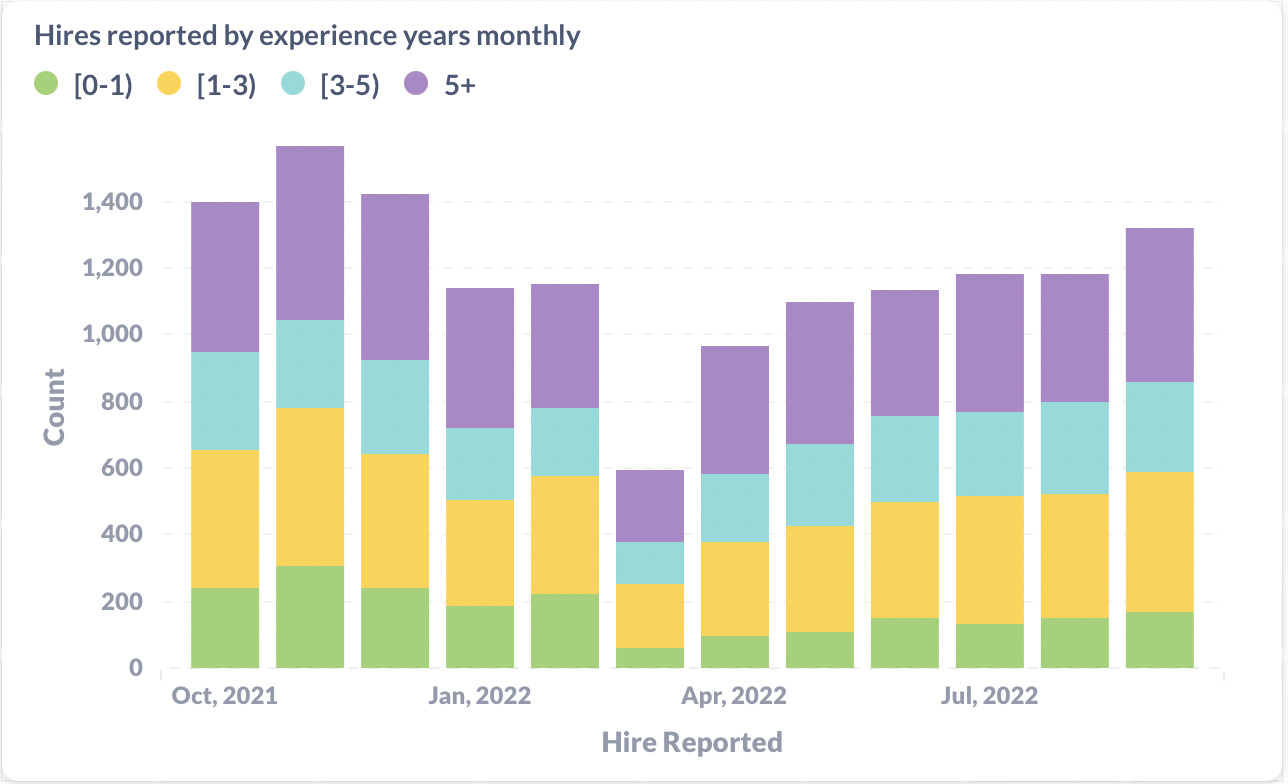 The overall economic crisis left a negative touch on salaries and expectations of revenue. However, the statistics show that such an occurrence doesn't encompass the IT industry. Because Ukrainian programmers continue being a significant force of technical progress and widely demanded providers of Ukraine software developer services, their salaries stayed practically the same as before-war level.
Along with that, more and more Ukrainian software development companies changed their working model to fully remote, even if before that employees worked solely from offices. The main reason for the switch is that to avoid Ukrainian programmers being bombed, many of them had to flee the country as refugees. In other cases, Ukraine companies' buildings and equipment were damaged or completely destroyed by russians.
Most changes that Ukraine software developers experience in their daily working routine are represented by general inconveniences and dangers that operating in wartime can bring. We describe in detail how the lives and work of Ukrainian programmers continue while being bombed from our own experience. Keep reading to find out software developers' news from the warzone.
Our experience as developers in Ukraine
What challenges we face as one of the Ukrainian software development companies
Like many other software development companies in Ukraine, employees of our office here have been experiencing all the difficulties of wartime. Fortunately, Vinnytsia, the town where we're situated, is far away from the frontlines, so we don't have the need to relocate our staff. However, in russian attempts to destroy Ukrainian infrastructure and the state in general, they've been launching thousands of missiles all across the country putting citizens in danger. Regardless of frequent attacks on civilians and other war crimes committed by the aggressor, Atlasiko's Ukrainian programmers continue working while being bombed.
Hiding in the corridor during air raid alarms is a frequent occurrence for our Vinnytsia-based branch office. In the first weeks of the unjustified invasion, it was stressful for Ukrainian programmers to keep working while constantly in danger. It's not an overstatement that rockets and missiles could basically fall on the heads of our software coders and other employees, as the terrorist state often resorts to targeting random civilian objects.
Moreover, in autumn russia started yet another series of war crimes aiming at Ukrainian power plants and critical infrastructure in order to leave the country without electricity, heating, and water supply. After this, Vinnytsia and entire Ukraine suffered from a major blackout and planned electricity outages due to serious damage to the energy infrastructure. They also targeted the local Cell and TV tower to block connection to the Internet and access to the news.
Except for the technical part, from the very beginning of this war, every developer in Ukraine, like any other person would, goes through the stress of worrying about their own safety as well as family and friends. Undoubtedly, when Ukrainian programmers continue working while being under frequent threat to their lives, it influences their well-being.
Despite all of these obstacles, Ukrainian programmers continue working while being in such complicated conditions. Read ahead to find out more about our ways to face down all hardships and ensure the consistency of our work as software developers in Ukraine and a qualified Ukrainian outsourcing company.
How our developer life in Ukraine adapts to the new reality
Fortunately, due to our nature, human beings can adapt even to the most adverse conditions. The developer life in Ukraine has changed drastically. So, the staff of Atlasiko Inc. has come up with reliable solutions how to enable the proper project execution, that Ukrainian programmers continue while being under so many negative influences from stressful situations and inconveniences. To share our experience as a company of IT outsourcing in Ukraine in 2022, we created this list of the most efficient methods that help Ukrainian programmers continue working and cope with the new reality.
What we do during air raid warnings
In the span of the past 10 months, our Ukrainian developers have become quite accustomed to the corridor space of the Vinnytsia-based office. Following the rule of two walls, during all air raid alerts Ukrainian programmers continue working while taking shelter in the hallway (in case of the danger of missile attacks, our employees also have the option to come downstairs to the basement). During these corridor "get-togethers" arranged by the neighboring terrorist state, Atlasiko's programmers continue working even while being bombed. Such an uninterrupted workflow is organized with the use of laptops, brought by our workers from their homes or provided by the firm, and a stable Internet connection. Therefore, we kill two rabbits with one shot – proceed with solving our tasks, providing quality IT services of outsourcing in Ukraine, and ensure the safety of Ukrainian programmers working.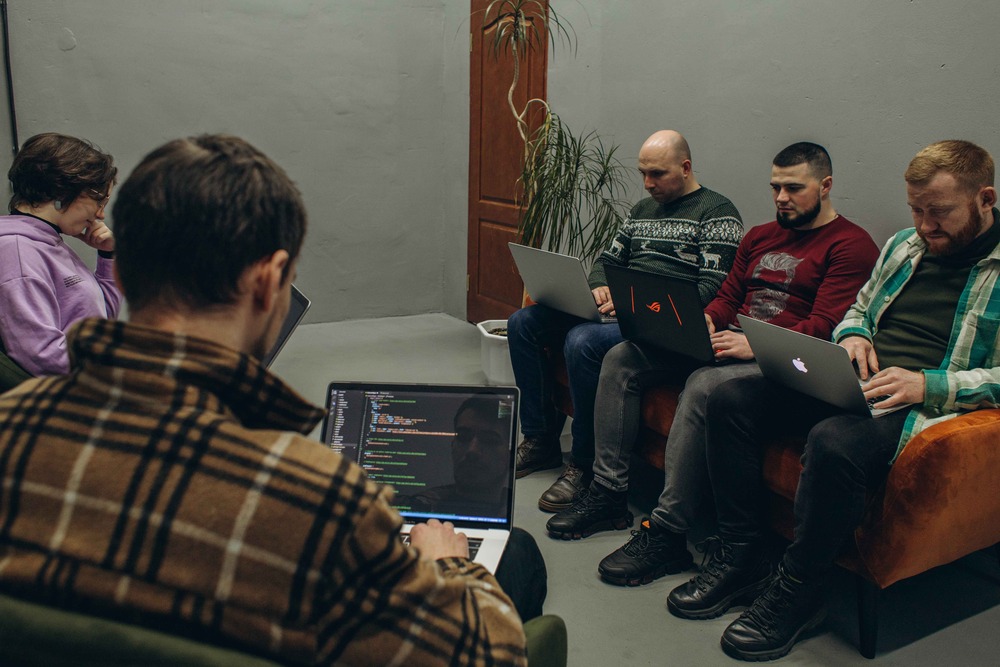 How Ukrainian programmers continue their work during blackouts
Ukrainian critical infrastructure and energy facilities sustained significant damage because of russian deliberate attacks. Therefore, the whole country is forced to overcome the challenges of blackouts. Thankfully, it's easy to deal with this issue by utilizing an electric generator. Our Ukraine-situated company branch has been using one successfully, so the Ukrainian programmers can continue working while electricity outages.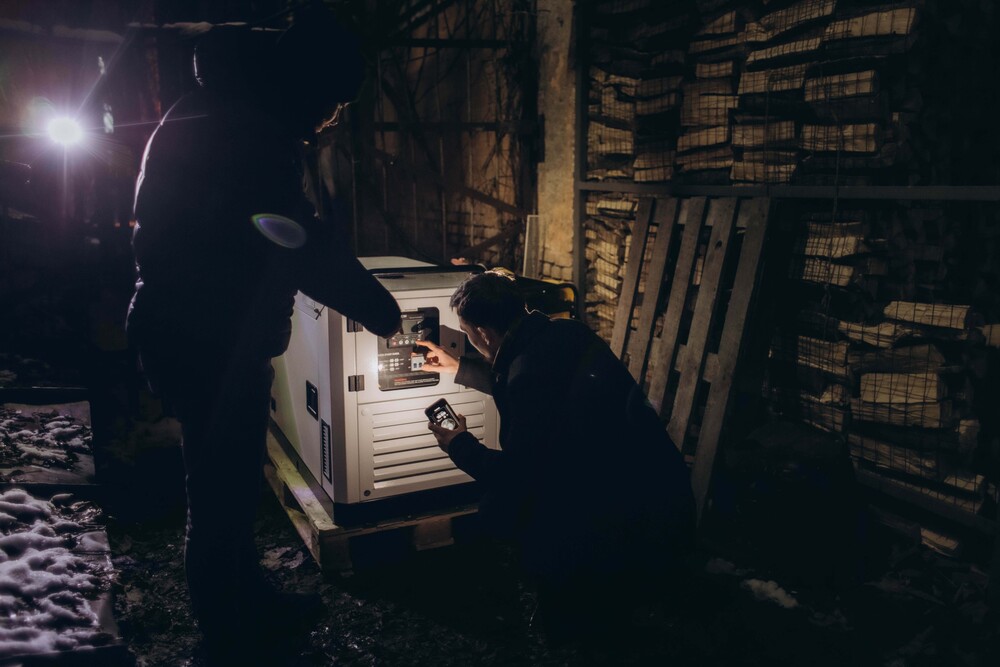 Corporate events in war conditions
During such tough times, it's critical to address the issue of the mental health of employees. Even without air raids, Ukrainian programmers continue working being burdened by heavy thoughts as every day we see awful evidence of russian crimes and many have relatives who fight on the frontlines. Long-lasting stress impacts the common well-being and the overall work capacity. To deal with such an important issue, Atlasiko Inc. takes it upon itself to organize some fun corporate events to cheer up developer life in Ukraine. Communication and enjoyable activities help each Ukrainian continue working productively, distract them from everyday worries and better their emotional state in general.
Ukrainian programmers being volunteers
Most of our aforementioned events encompass voluntary fundraising. Atlasiko Inc. donates money to support the Armed Forces of Ukraine, internally displaced persons, refugees, children of the war, and many others who are in need. Outside of the corporate donations, Ukraine developers in Atlasiko are willing to help the army in the courageous fight against evil. Our software coders and other IT specialists often participate in activities of various volunteer organizations. No money can be more valuable than our strong desire to bring Ukraine closer to peace. You can also contribute to the victory and help the AFU via official websites of such charity funds as "Come back alive" and "United24".
Hire us
The war hasn't changed our aspiration to create responsive IT solutions and provide our customers with various IT services of the best quality. Even in such tough conditions, Atlasiko Inc. develops our organization, hires new specialists, and strengthens ties with partners. Choose our software development company for outsourcing to Ukraine. We will help your business to bring all innovative ideas to reality.
Gain competitive advantages by outsourcing to Ukraine
250 000+
IT specialists in Ukraine
60%
of Ukrainian IT professionals are employed in outsourced companies
2nd place
in the list of Top 10 outsourcing countries
100+
offshored R&D branch offices of large corporations
4x
faster growth of development and IT service market than other countries globally
80%+
Ukrainian developers speak English.
10%
of overall European STEM and computer science graduates are Ukrainians
1st place
in the number of specialists with C++ expertise globally
8th
country with the best software engineers in Europe by SkillValue
11th
country with the best software developers globally by HackerRank
1st
rank in security among countries with the best developers by HackerRank
2021
Ukraine is the Offshoring Destination of the Year by the GSA
Our services of IT outsourcing in Ukraine
IT Strategy Consulting
With the aid of our outsourced service of consulting, develop a comprehensive plan and IT strategy to address contemporary business difficulties.

Software Development Services
Developing specialized and effective software with Atlasiko's outsourcing IT services enhances your organization.

Web Development Services
Make use of our specialists' ideal web-based solutions for CRM, business administration, and other needs by requesting our outsourced web development services.

IT Infrastructure Support
Our IT outsourcing services company will provide outsourced IT assistance for your technological infrastructure.

Managed Analytics Services
Hire experts from Atlasiko Inc. to handle your IT report system and data analysis so you can get analytics findings quickly and accurately to simplify management and outcome evaluation.

Designing Services
To provide your organization the chance to use distinctive visuals, individualized brand logotypes, or a pleasing-looking interface for IT solutions, outsource design work to our outsourcing services company.

QA Services
We, as an IT outsourcing company, perform managed testing to ensure precise quality assurance.

IT Maintenance and Optimization
Utilize the expertise of Atlasiko Inc., a provider of outsourced IT services, to maintain your software and IT systems.

Cybersecurity
By partnering with Atlasiko IT outsourcing company, ensure that all of your websites and applications have the fewest possible flaws, as well as those in your clients' networks.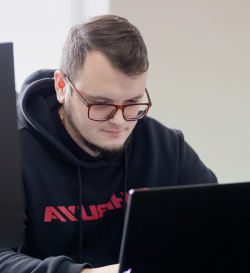 Nazarii
Lead of Software Development
Even though some development projects might appear challenging, professionals of our team take it upon themselves to create an unparalleled solution. We develop programs keeping in mind business needs and goals of our clients.
Talk to Expert
Your form has been succesfully submitted! Please, check if info you provided is correct:
Conclusion
As you can see Ukrainian programmers continue working in Atlasiko Inc. and achieving goals despite all the hardships and obstacles. Undoubtedly, developer life in Ukraine has changed in a negative way after russia started its unjustified invasion. Employees of our Vinnytsia-based office are witnesses to the terrible consequences that the war can bring to the sovereign country. The entire team of Atlasiko Inc. strongly condemns the actions of the aggressor and its allies.
Regardless of the difficulties, the people of Ukraine show outstanding consolidation and bravery. Along with millions of other people, Atlasiko's Ukrainian programmers are working while being in danger but with a great determination to do their work perfectly. We are thankful to those who support the country and our Offshore software development team in Ukraine. Let's unite and strengthen our partnership on the way to victory. If you want to know more about developer life in Ukraine, our services, or how to help our team, contact us.