With each passing year the tech industry shows more and more accelerated dynamics of growth. Together with the global demand for IT solutions, international economies experience an increase in the number of digital service provider businesses. Therefore, the competition grows as well, and customers might find it complicated to choose only the best IT services providers for their projects.
Atlasiko's here to help you with the choice. We have vast experience in performing a wide range of tech services, so our experts know for sure what clients look for. In this article, we present you with the top service providers list to assist you in finding out about popular IT solution companies.
Top IT service providers in 2023
To help you out with the selection of the most suitable IT solutions companies, we created a list of service providers that ensure top performance and first-class IT products. Take a look at the chart with the best IT services providers below.
| Name | Founded | Locations | Best for | Reviews |
| --- | --- | --- | --- | --- |
| Atlasiko Inc. | 2015 | Ukraine, the USA, and the UK | IT outsourcing and custom software development | Clutch: 4.8 GoodFirms: 5.0 Google reviews: 5.0 Overall: 4.9 |
| Innowise Group | 2007 | Poland, Germany, Switzerland, the USA, Italy, Ukraine, Lithuania, Georgia | IT outsourcing and staff augmentation | Clutch: 4.8 GoodFirms: 5.0 Overall: 4.9 |
| Itransition | 1998 | The USA, the UK, Lithuania, Poland, Latvia, Georgia, Portugal | Custom software development | Clutch: 4.9 GoodFirms: 4.6 Overall: 4.7 |
| ELEKS | 1991 | Ukraine, the USA, Estonia, Japan, Poland, Germany, Croatia, the UK, Canada, Switzerland, Saudi Arabia | Custom software development | Clutch: 4.8 GoodFirms: 5.0 Overall: 4.9 |
| iTechArt Group | 2002 | the USA, the UK, Austria, Poland, Lithuania, Ukraine, Georgia, Kazakhstan, Bulgaria, Kyrgyzstan, Uzbekistan | Custom software development and dedicated teams | Clutch: 4.9 GoodFirms: 5.0 Google reviews: 5.0 Overall: 4.9 |
| Netguru | 2008 | Poland, the UK, Germany | Mobile app development and web development | Clutch: 5.0 GoodFirms: 5.0 Overall: 5.0 |
| Simform | 2010 | The USA, Canada, India, | Custom software development | Clutch: 4.9 GoodFirms: 4.9 G2: 4.7 Overall: 4.8 |
| Hyperlink InfoSystem | 2011 | India, the USA, the UK | Mobile app development | Clutch: 4.8 Google reviews: 4.8 Overall: 4.8 |
| Andersen Inc. | 2007 | The USA, Poland, the UK, Ireland, Germany, Lithuania, Hungary, Kazakhstan, Georgia, Azerbaijan | Custom software development | Clutch: 4.9 GoodFirms: 4.9 Google reviews: 4.7 Overall: 4.8 |
| DataArt | 1997 | Ukraine, the USA, the UK, Georgia, Poland, Latvia, Kazakhstan, Bulgaria, Cyprus, the UAE, Serbia, Germany, Switzerland, Uruguay | Custom software development | Clutch: 5.0 GoodFirms: 5.0 G2: 4.8 Overall: 4.9 |
| Geniusee | 2017 | Ukraine, the USA, Poland | Mobile & Custom software development | Clutch: 5.0 GoodFirms: 5.0 Google reviews: 5.0 Overall: 5.0 |
| The Software House | 2012 | Poland | Custom software and Cloud development | Clutch: 4.8 Google reviews: 4.8 Overall: 4.8 |
| QBurst | 2004 | The USA, the UK, the UAE, India, Singapore, Japan, Australia, Canada | Custom software development | Clutch: 4.7 GoodFirms: 4.9 Google reviews: 5.0 Overall: 4.8 |
| Synergo Group | 2005 | Canada, the USA, the UK, Denmark, the Netherlands, Germany, Romania | Web and mobile development | Clutch: 4.8 GoodFirms: 4.9 Google reviews: 5.0 Overall: 4.9 |
| BairesDev | 2009 | The USA, the UK, Canada, Argentina, Brazil, Colombia, Mexico | Custom software development | Clutch: 4.9 GoodFirms: 5.0 Overall: 4.9 |
Best IT service provider companies
As an experienced IT provider, Atlasiko Inc. offers various services to different types of businesses. Our knowledge encompasses more than 60 of the most effective technologies that are used to provide top-notch solutions for more than 20 sectors. We have contributed to the foundation of a global talent hub for software development with more than 8 years in the global market. Throughout the years of our work, we have successfully completed more than 1000 projects of different sizes and specifications. Moreover, a considerable percentage of those projects were requested by recurring clients who appreciated our services the first time and chose us again to implement their ideas into efficient digital solutions. For any of the services, contact us to acquire a high-performing solution, our vast expertise as one of the best IT services providers, and simply pleasant communication with the masters of their trade.
Services:
Web development
Software development
IT strategy consulting
Ecommerce
DevOps
Web apps development
Web design
Mobile app development
Internet of Things
Atlasiko is the top choice among IT providers for businesses!
We offer impeccable expertise and a wide range of efficient solutions for your business development
Let's talk
20+
Industries represented
97%
Customer satisfaction
Your form has been succesfully submitted! Please, check if info you provided is correct: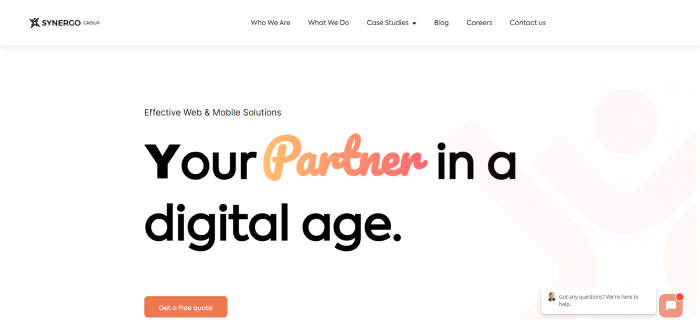 An international full-cycle development service provider company, Innowise Group has offices all over the world and important delivery facilities in Eastern Europe. Around 800 excellent IT professionals make up the team of this IT provider, and they use their knowledge of software engineering to help the clients' businesses grow. The IT services company takes on projects of any complexity and scale by fusing strong technical talents with business expertise amassed through time and across numerous industries. It also adheres to the highest quality coding standards and chooses the philosophy of sharing intelligent advances.
Services:
IT consulting and advisory
UI/UX design
Web development
Mobile development
Custom software development
Cloud development
3D design
Software testing and QA
Business analytics
DevOps
IT staff augmentation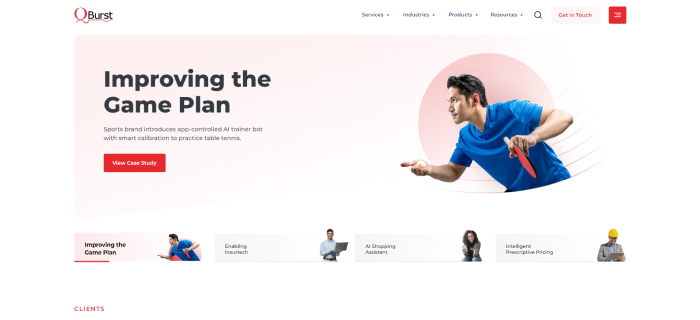 Itransition is one of the top technology service providers that has been offering full-cycle software development to clients in more than 30 nations since 1998. The tech innovation effort and delivered projects by Itransition were recognized as first-class by many industry authorities. This IT services provider is one of the leaders in creating, modifying, and integrating sophisticated web and mobile applications, complicated enterprise-level solutions, and a well-balanced mix of technical expertise, industry knowledge, and practical experience. The IT service company has over 3000 specialists on its staff with high proficiency in programming and other essential skills that tech services providers should have.
Services:
IT consulting
Product development
Software engineering
Application services
Web portal development
Managed IT services
Smart teams
Digital expertise
Digital commerce
eLearning
Data management
Artificial intelligence
Internet of Things
Augmented and virtual reality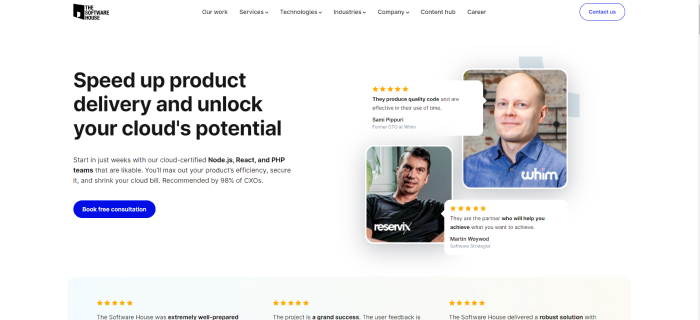 Many businesses and tech firms in the world note ELEKS as their partner. ELEKS provides consulting, product design, and bespoke software development services to organizations to help them increase their value. This IT services provider has more than 2,000 professionals spread out across Europe, the US, and Canada in 18 offices. Throughout its functioning time, the ELEKS IT solution provider company has completed 700+ end-to-end projects which resulted in gaining international recognition.
Servies:
Product design
Data science
Cybersecurity
Technical feasibility study
PoC development
Application development
Application re-engineering
Cloud migration
Smart team
Software audit
QA
Support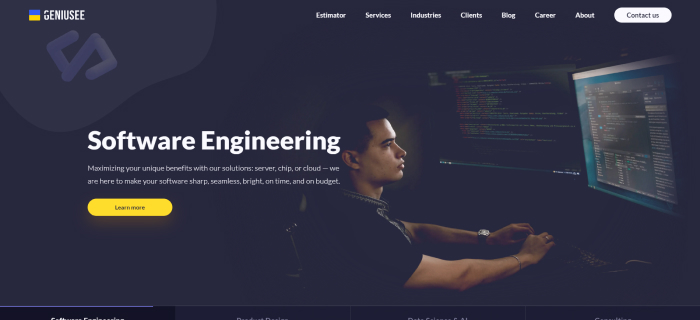 For more than 20 years, iTechArt has provided technical expertise at the pace and scale that venture-backed startups and established companies alike require, when they need it. With more than 3,500 engineers, consultants, and specialists on staff, this top IT solution provider has assisted in 21 client IPOs and over $13 billion in acquisitions for clients like Classpass, Freshly, and Dealcloud. Whatever the project concept, iTechArt teams have the stack fluency and in-depth knowledge to transform your idea into reality. The IT services provider company assures that they establish long-term relationships and provide creative, safe, and effective solutions
Services:
Software development
Web development
Mobile development
Startup services
Cloud services
Blockchain
AR/VR
Salesforce
Artificial intelligence
Internet of Things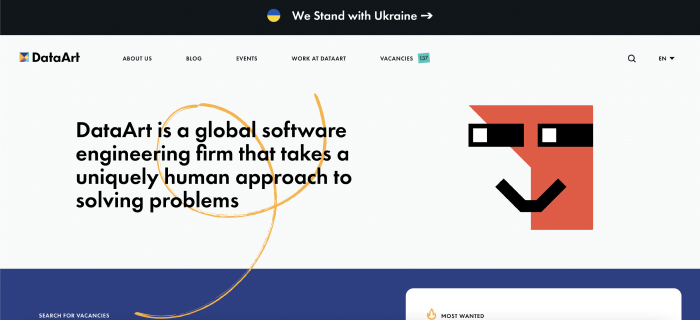 Netguru creates efficient IT products that enable individuals to act in innovative ways. The staff of this IT solutions provider company works to develop a ground-breaking digital product to solve challenges. Netguru's team consists of more than 700 professionals who have successfully implemented around 700 projects. The fast pace of growth of this organization among other best IT solution providers was acknowledged by the Financial Times and Forbes.
Services:
Ideation and evaluation services
Product design
Web development
Mobile development
Machine learning
Support and management services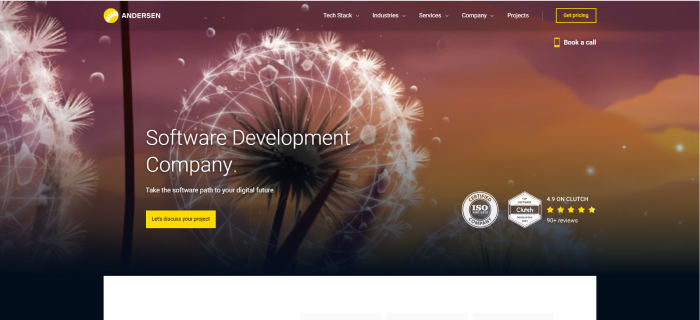 Simform is a first-rate technology services company that provides IT talent solutions and digital product engineering with the goal of overcoming challenging issues. Its team of 1000+ experts has been assisting businesses to increase their value since 2010. Using tried-and-true technological methodologies like DevOps, cloud-native development, and testing services, the IT services provider aids in identifying and resolving the most important business concerns. Engineers from Simform's remote agile teams assure to be fully committed to projects while upholding the client's corporate culture and pursuing strategic objectives.
Services:
Digital product engineering
Cloud engineering
DevOps engineering
Data engineering
Performance engineering and testing
Digital experience design
CTO as a Service
Application modernization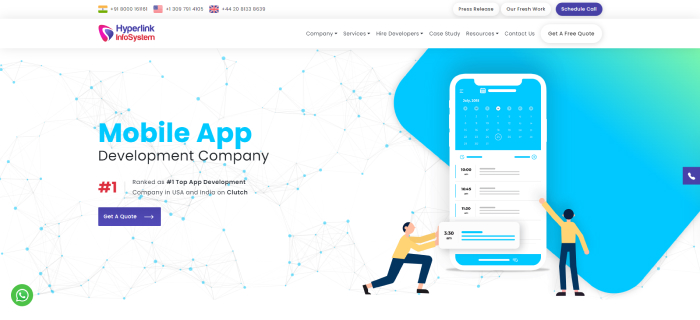 Hyperlink Infosystem is a well-known service provider company in India with ISO 9001:2008 certification. Since its establishment in 2011, Hyperlink InfoSystem has worked to develop innovative and cost-effective solutions for its customers. Hyperlink Infosystem is widely considered to be one of the well-known IT services providers. The expert organization is structured to provide usable outcome solutions that can be used in a variety of businesses, facing issues in the IT sector. Hyperlink InfoSystem has rapidly developed into one of the top mobile development service provider companies in India with customers in both their countries and across the world.
Services:
Mobile app development
Web and CMS development
Ecommerce development
Blockchain development
Game development
Salesforce solutions
AI & ML
IoT & Embedded
DevOps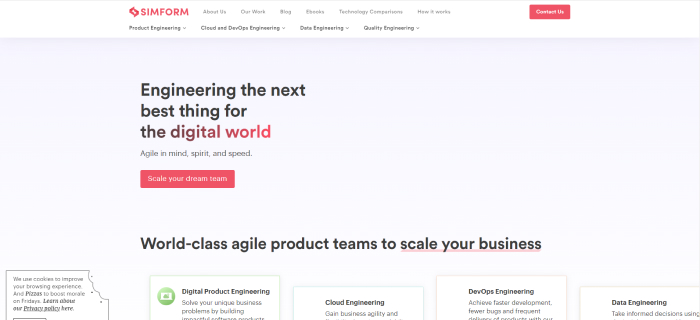 An international IT services provider, Andersen Inc., specializes in developing unique software for businesses that rely heavily on innovative technology. The IT solution provider company has established more than 10 development centers and 10 delivery offices worldwide since it was founded in 2007. Web and mobile applications, as well as corporate IT solutions, are developed, customized, and integrated by more than 3000 highly skilled professionals. Almost a thousand projects have been finished by Andersen, and they have garnered hundreds of favorable reviews from clients all over the world. .NET, C#, Java, Python, PHP, Node.js, TypeScript, C++, JavaScript, HTML, and more programming languages are all part of their tech stack.
Services:
Mobile and Web development
Cross-platform development
Custom software development
Staff augmentation
Managed delivery
Dedicated team
UI/UX design
Application maintenance and Support services
DevOps services
Quality assurance
Project management
Solution architecture
Business analytics
Discovery Phase
Data science & MVP services
Cloud development
IT security management
IoT development services
SaaS
Database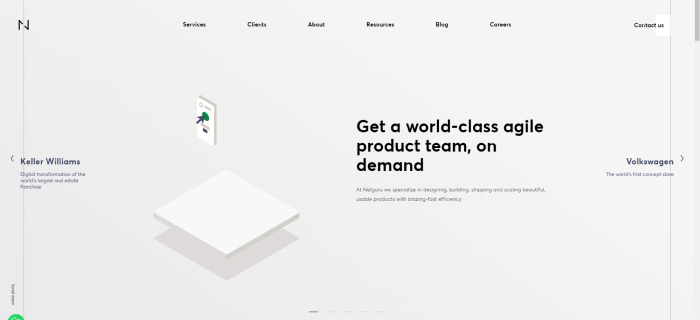 DataArt is a multinational software engineering company and one of the top services providers that assist clients in developing custom software. This information technology provider offers solutions to enhance operations and expand the market reach of their clients. The DataArt service provider company is recognized thanks to more than 20 years of expertise, teams of highly skilled engineers, an in-depth understanding of industry sectors, and ongoing technology research. Their IT services providers work with customers at any scale and on any platform, adapting along with them as they change.
Services:
Solution design
Legacy modernization
Educational technology
Mobile-first system
Agile software development
AI and ML
DevOps
Data, BI and Analytics
Cloud
Blockchain
UI/UX
Industry 4.0
Managed support
Security
Quality and Performance engineering
Development squads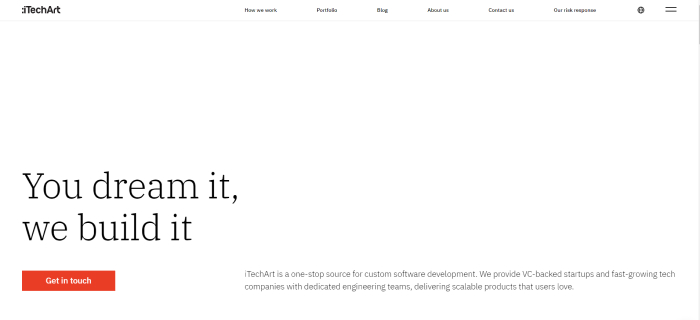 Geniusee is a software and IT product development organization that became one of the renowned examples of successful service providers. It was established in 2017 in Kyiv, Ukraine, and now boasts 200+ highly qualified individuals that have already completed 100+ prestigious projects in the FinTech, EdTech, Retail, and other sectors. Geniusee's certification as an AWS Consulting Partner, Advanced Tiery Service Partner, and AWS Lambada Service Delivery Designation provide evidence of their proficiency. Geniusee is constantly expanding and enhancing its goods and services, which is why this IT services provider was awarded the ISO 9001:2015 and ISO 27001 certificates for quality management and information security management, respectively.
Services:
Consulting
Software engineering services
Product design
Tech support
Outstaffing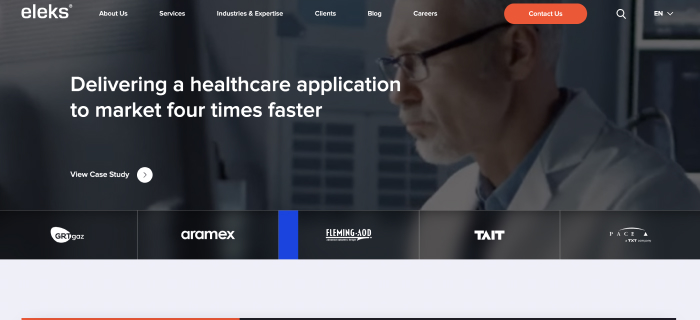 As one of the top-rated IT providers, The Software House offers assistance to managers of technology-focused businesses who want to accelerate the delivery of software and realize the full benefits of cloud adoption and development. With the help of the IT service company's employees, 160+ technology-focused organizations exceeded their objectives. They have maintained excellent growth for five years running thanks to the business-oriented approach, and Deloitte named this IT solutions provider one of Central Europe's fastest-growing IT firms. The organization has already assisted clients from the United States, the Middle East, Western Europe, and Scandinavia.
Services:
Digital product design
Web development
Agile development teams
Software architecture
Quality assurance
Data engineering
Cloud engineering and DevOps
Mobile development
App modernization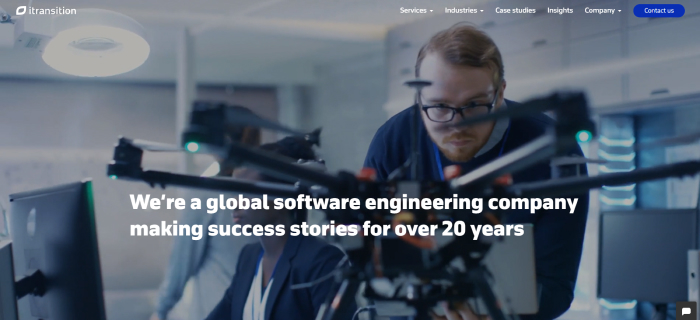 QBurst is one of the first-class IT services providers that carry out projects in web and mobile applications development. There are more than 850 people working with QBurst, including designers, UX engineers, quality assurance specialists, business analysts, and project managers. Over the course of 10 years, the IT services provider company successfully completed more than 650 projects, building a reputation and name of a service provider of high-quality yet reasonably priced offerings.
Services:
Cloud enablement
Data & AI
End-to-end development
Digital marketing
Digitalization
SaaS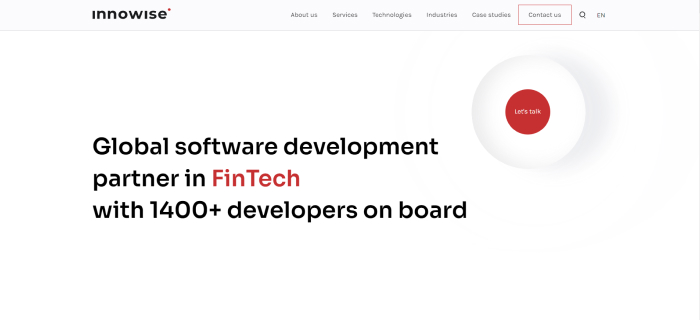 Synergo Group is a Canadian IT service company with numerous branch offices in other countries that develops specialized software. The firm takes care of all stages of its IT products' development – concept, design, development, deployment, and support. Being at the top of the IT service provider list, Synergo Group performs top-notch front-end and back-end development, UI/UX design, and QA automation. The company has been offering technology solutions for businesses of startup level and corporate innovation teams since 2005. Synergo's service provider industry specialization includes health care, education, insurance, government, travel, banking, utilities, investments, and more.
Services and technologies:
Web and mobile applications
Machine learning and Artificial intelligence
Business intelligence
IoT
Big data
Data science
DevOps
RPA
APIs
Integrations
Chatbots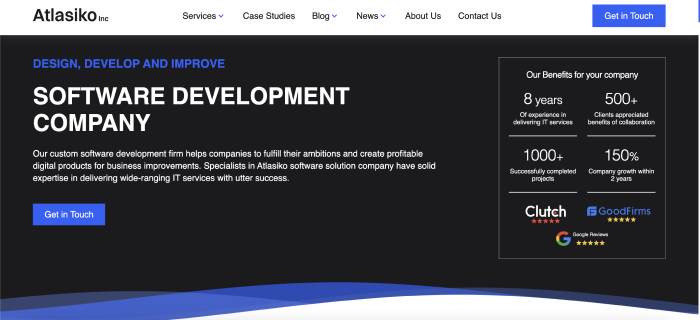 BairesDev is the top IT services provider of Nearshore Technology Solutions. To perform quality services of digital transformation and acceleration, this IT services provider company utilizes its technological know-how and cross-industry experience. The firm offers time zone-aligned services to empower Fortune 500 companies and top brands with 4,000+ professionals in 40+ countries. BairesDev has been redefining the tech environment for more than 10 years while working for customers like Google, Rolls-Royce, Johnson & Johnson, Pinterest, and ViacomCBS.
Services:
Custom software development
Software testing and QA
Mobile and Web development
Cloud computing
Blockchain consulting
Maintenance and support
Data science
Internet of Things
UI/UX design
AI & ML
Ecommerce
Applications and Architecture update
Cybersecurity
ERP & CRM
Agile development
How to choose the best IT service provider
Decide on your tech needs
Knowing what your business requires now is the first step in choosing a service provider for your company, whether it be for IT or any other service. Be clear about the organization's needs and technological strategy. Setting expectations and ensuring that the conversation is more than a straightforward sales transaction are made possible by being prepared with your defined needs and budget. Being honest about your spending plan is not just acceptable but required, too.
Create an option list of top IT solutions providers
It's pretty complicated to select just one IT service provider out of thousands. To narrow the circle of search, use our service provider company list. As it already has a brief description of each company, their ratings from the review platform, and offered services, we facilitate the research and selection processes for you. You can also find out more about the best outsourced IT services providers from our previous article.
Stick to your requirements
The majority of services providers won't be a good fit for your business. There may be discrepancies or, in many situations, a complete mismatch depending on your needs and the service providers' areas of expertise. Many IT service providers have focus on a specific technological setting. To ensure centralization they should have alliances with vendors and other services providers that allow them to meet your requirements even if they lack the necessary expertise internally. Choose a service provider who can satisfy all of your IT needs. If you don't have to spend time collaborating with multiple service providers, IT administration will be much simpler.
Pay attention to the security means
IT solutions provider companies have emerged as top targets for cybercriminals aiming to expand their attacks in recent years. The last thing you would want is for your IT services provider to be involved in a data breach. So, you must be confident that your IT service provider has the top security measures in place. Ask the IT solutions provider about their internal security procedures, data privacy policies, and client interest management when evaluating them. Ask for details regarding their risk management procedures, corporate governance, and vendor management programs.
Choose simple plans with scaling opportunities
No matter the size of the business, the cost is always a major factor in choosing an IT services provider. Yet, not every budget can be assessed in the same manner. Quality can be sacrificed in order to save money, but this can have a significant effect on the organization's long-term viability. Avoid using services from companies that provide intricate contracts and subscription plans. Complex subscription plans provide plenty of potential for additional fees and expenditures. Moreover, get clarification on flat-fee costs as they frequently have restrictions like separate pricing for engineering or project hours.
Seek for culture and values compatibility
It is essential to establish strong bonds with services providers if you plan to collaborate closely with them on a daily basis. Conflicts in administration and attitude peculiarities brought on by a lack of cultural fit will cause disruptions and delays. So, you should make a point of researching the corporate culture of your chosen service provider. Ensure their communication methods and company values are compatible with those of your business.
Conclusion
We hope this article helped you to find out more about the best IT services providers that you can cooperate with to carry out your projects and cover business needs. Our comprehensive description in the list of service providers will assist you in selecting a perfectly compatible IT solutions provider company to enhance the operations and management processes of your organization.
Subscribe to our blog to not miss more information about the world's innovative tendencies, the IT industry leaders and their solutions, explore the top technologies, and whatnot. You can trust Atlasiko Inc. with keeping you informed just as much as presenting you with top-notch IT services.