When AR appeared in the world's tech vocabulary, nobody could imagine this technology would become so popular and easily accessible. The main reason why such a progressive idea turned out to be a successful solution is that forward-thinking businesses managed to discern all benefits of augmented reality and make investments at the right time. Now, the AR market amounts to billions of USD and is growing literally every minute.
Specialists from Atlasiko Inc. with first-class expertise aspire to help you evaluate augmented reality benefits and challenges, find out more about the meaning of this technology and augmented reality uses. Read ahead to get our list of pros and cons of augmented reality.
Benefits of AR technology for business
Before we take a look at the augmented reality advantages that have led this solution to worldwide recognition, let's answer the question "What is AR technology?" and explore the meaning of AR for commercial and non-commercial organizations and its concepts.
Essentially, augmented reality refers to the technology that makes it possible to combine digital 3D objects, pictures, messages, and other elements with the actual world using specialized AR programs on mobile devices. All users have to do is direct the camera of their smartphones at a certain scenery using the AR application and they'll be able to see the virtual info or 3D models in their real size, color, texture, etc. The AR computer algorithms incorporate specialized sensors to deliver a combined experience of the digital and physical worlds. They use cameras to detect the current location of physical items, then overlay virtual ones over the real ones. The technique then displays the finished image on a device's screen. Moreover, what adds to the advantages of augmented reality is that app users can interact with AR objects in many ways. Such a feature of augmented reality benefits the popularity rates of this technology as it opens an enormous field of possibilities for businesses of different industries.
The aim, features, and interface of each AR software may vary depending on the business objectives and the specification of a particular market. Many organizations have already recognized AR technology's meaning and admitted augmented reality advantages by adopting such solutions and promoting them. Thus, it's safe to say that the AR industry managed to make quite a name and is in demand among enterprises. We've already described the use of augmented reality in business with statistics and facts in our previous articles. Read our blog for further info to know why augmented reality is a major tech tendency.
Main augmented reality benefits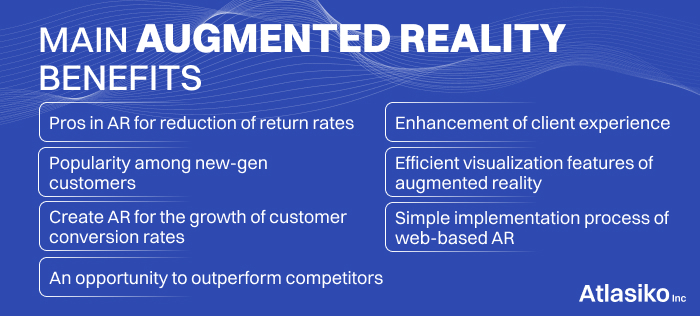 Enhancement of client experience
One of the most fundamental benefits of augmented reality is the development of distinctive digital experiences that combine the greatest aspects of the physical and digital worlds. Basically, solutions of AR have a strict requirement to be enjoyable for users unlike other software aimed at providing operational functions.
Let's look at some frequent ways companies use the benefits of AR for the improvement of customer experience.
Overlaying virtual objects with unique appearances to showcase products in their original form, size, and proportions.
Providing quick informative messages, user manuals, instructions, etc. in interesting forms with efficient visualization.

Immersiveness of digital content to hold the attention of AR application users, entice them to explore other articles of products, and spend time exploring available capabilities.

Customization of virtual 3D content with the ability to create AR designs considering the target client base.

Monitoring and reporting systems that allow gathering data on user satisfaction with the augmented reality software for other AR strategy building.

Constant improvement based on the reports and innovations in the technology and content trends to keep up with a growing interest in the uses of augmented reality and competition for clients' attention.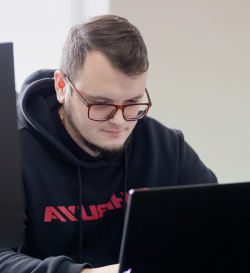 Nazarii
Lead of Software Development
Even though some development projects might appear challenging, professionals of our team take it upon themselves to create an unparalleled solution. We develop programs keeping in mind business needs and goals of our clients.
Talk to Expert
Your form has been succesfully submitted! Please, check if info you provided is correct:
Pros in AR for reduction of return rates
Frequent returns are an important issue to be addressed for most commercial online businesses. For this matter, the ecommerce augmented reality niche has a lot of solutions to provide to increase customer satisfaction with purchased products and prevent disappointment that results in returns.
Through AR experiences, customers may learn much more about a product than they could from a still image or even a video. Users can test things while buying online thanks to AR virtual try-on and AR product demos.
By empowering customers to make knowledgeable purchases, augmented reality benefits businesses helping them to become more profitable. Moreover, as one of the pros AR gives, it ensures the enhancement of reviews and overall brand rating.
Create AR for better customer conversion
Getting people to visit your website is only a small part of the work. For businesses, more important to convert those visitors and leads to long-standing customers or permanent users of services. You must grab their interest, entice them to discover your offerings, and eventually persuade them to become paying clients.
Beneficial features of augmented reality make your website more attention-grabbing and engaging, encouraging visitors who may otherwise leave right away to linger on the page and explore the AR-enabled product experiences.
The immersive product experiences, that top augmented reality companies like Atlasiko Inc. develop and provide to businesses, give people a clearer understanding of what they are watching. People are more likely to become customers when AR is used. By doing this, you can be sure that bringing in additional consumers will increase your sales and encourage repeat business from current ones.
Popularity among new-gen customers
The Snapchat report claims that users are adopting augmented reality to redefine the digital experience. Because consumers can quickly personalize, view, and comprehend the efficacy of a product from all angles with the aid of augmented reality. The number of AR users will rise daily if the audience is pleased with what they see. As we can see on the graphic, most of the clients who appreciate the benefits of augmented reality are Millennials and Gen Z. In the future rates of customers of Generation Z will only grow, so it's important for businesses to attract their attention and establish trustworthy relationships.
Augmented reality benefits and facilitates customer relationship management with new-gen clients. Generation Z consumers are harder to engage with because they view online shopping as something more than just a transaction. They are looking for fun, creativity, involvement, and clear communication, all of which an AR-enabled 3D experience offers.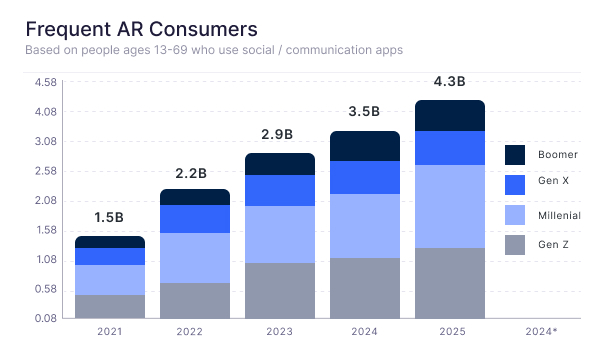 Efficient visualization features of augmented reality
Online purchasing can occasionally leave consumers dubious of what will suit them or their surroundings better in person. One of the benefits of AR is that it can be the ideal remedy for this problem!
By enabling AR, you may give your customers the ability to visualize or try on any digital goods before they buy them. Our augmented reality software company can professionally create AR solutions for visualization purposes. Here are some of the most common visualization pros in AR.
AR inventories save firms a ton of money because they don't require traditional product photos or even models, which reduces the cost of transportation and other specific equipment.
AR visualization and product customization functionality. Businesses can let customers personalize a product to suit their needs while allowing them to see it in 3D or their actual surroundings.

Virtual try-ons enabled by AR positively influence the decision-making process on purchase and customer satisfaction as visualized products allow buyers to choose the most suitable product.
Simple implementation of web-based AR
Businesses tend to address top augmented reality companies for web-based AR solutions. Web augmented reality benefits organizations as implementing this technology on any browser is straightforward. Basically, you just need to add the Web AR's produced link or QR code to your website. When clients interact with your web-based augmented reality experiences, add a call to action to lead them to a specific page (such as a shopping cart or discount page).
Benefits of augmented reality to outperform competitors
It's critical for brands to stand out in a market where everyone else is selling the same things at the same price point. Companies have traditionally distinguished themselves through usual advertising channels. Now, they have far more creative options available, and the uses of augmented reality are perfect examples.
Among the benefits of augmented reality is the capability to enable the launching of more innovative marketing campaigns and take a unique position in a congested industry. The use of AR in social media e.g custom filters with brand logos and interactive content also helps in promoting the brand and making it more recognizable.
Challenges and disadvantages of augmented reality
Time-consuming content creation
You might misjudge how long it takes to make realistic-looking augmented reality content if you've never made a photorealistic copy of a real-world object before. We've generated a ton of models for our augmented reality apps, and while it wasn't an agonizingly long process, it required time. And this only applied to generic 3D models; not to digital clones that were an exact match.
Security issue
Concerns about security or privacy may arise as one of the disadvantages of augmented reality. AR processes data in a live, real-time environment before giving the user results. Sometimes it requires access to your info, captures the current location and places you visited, updates it if necessary, etc.
Because big data is then used by others and has an impact, it raises legal questions about the privacy of individuals. Thus users have to be aware of all the negative aspects of newly developed technology.
Risky behavior
Many organizations of different industries have appreciated the benefits of AR, especially when it comes to employee training, onboarding, and creating user manuals. As good as this technology is, it still can have flaws and issues so workers shouldn't fully rely on augmented reality while working. The overdependence on features of augmented reality can be a cause of risky behavior.
Affordability
The development of augmented reality is expensive, so you can't expect to get a good-quality solution for small money. Depending on how intricate you want your app or marketing campaign to be, the price of an app will range.
Limitations of mobile AR
The performance of AR apps on mobile devices quite heavily depends on the technical characteristics and capabilities of gadgets. To use all benefits of augmented reality with your smartphone, you need it to be compatible with the software and have the required AR kits. Here are some other disadvantages of augmented reality for mobile phones that you need to keep in mind:
Battery draining. Apps of augmented reality can eat battery power with noticeable speed, especially on older models of smart devices.
Lack of precision in placement. Even with modern technologies spacial recognition of AR solutions has room for development to enable precise placement of virtual 3D objects.

Z-depth issue. Lack of z-depth perception impairs visual localization for easy content placement.

Pros and Cons of augmented reality
AR Pros
Improved client experience and satisfaction with products

Decrease of returns and a better brand image

Acceleration of customer conversion

Prefered by new-generation customers

Product visualization

Advantages in competition

Easy adoption of web AR technologies
Cons
Creation of digital content takes time

Overdependence on augmented reality can cause risky behavior

Quality augmented reality products are costly

Features of augmented reality for mobile devices are limited
Conclusion
Don't pass up the chance to use all benefits of augmented reality for your business to get a competitive edge as the AR market grows. It will help you speed up procedures, draw in customers and improve their experience, simplify management, and increase the effectiveness of marketing through visualization. Organizations are given a near-endless range of capabilities via augmented reality.
As a proficient provider of AR development services, Atlasiko Inc. has witnessed firsthand how augmented reality may revolutionize industries. Get in touch with us if you want more information about our products or services. For more information about the pros and cons of augmented reality, read our blog.