Intro
An extraordinary experience is what drives the progress of modern marketing. More and more business owners resort to using innovations in the IT industry to ensure competitive advantages for themselves and new opportunities for their clients. Among the most recent tendencies that enable such quality profits, we can distinguish the utilization of augmented reality in business. The knowledge of how to use AR solutions allows companies to improve CRM, sales, inner management processes, etc., and basically stun their customer base with interesting capabilities.
Atlasiko Inc., providing the services of an AR tech company, knows a lot about how AR works in favor of organizations and their engagements with clients. We'd like to share our outlook on using augmented reality for businesses. In this article, we regard the definition of business AR, the popularity of solutions, and AR work in practice with characteristics.
What is AR in business?
Most people already know what AR is and at least some basics of how AR technology works. Even those not involved in the IT industry have been trying out the capabilities of augmented reality using filters on Snapchat, Instagram, TikTok, etc. It's only natural that such an innovative solution opens a far-reaching space for the development of business-oriented features.
If we consider the common definition of AR, it refers to the technology that enables the real-time addition of virtual 3D objects, text, or other graphic elements on the screen of your smart device by aiming a camera at a real-world scenery.
Augmented reality in business represents special solutions of AR technology that are designed to enhance operations and business processes in various fields. It grants opportunities to attract the attention of potential customers, and keep the established client base entertained by ensuring fascinating experiences. AR business solutions are also frequently used to facilitate internal management operations like onboarding and education. These examples are the slightest representation of how AR works for the improvements of commercial organizations. Read ahead to find out more about augmented reality business utilization.
Business augmented reality in statistics
The overall AR business segment grows literally with every passing day. It's not an overstatement as we can see the progression in statistics. Let's take a close look at some numbers and facts about the augmented reality business.
The first important thing to overview is the global market size. The significant increase in the number of augmented reality vendors, services, and AR business solutions perfectly indicates the growing demand for the technology and its capabilities. Statista presents us with the overall statistics that show the 2021 indices of value and the predicted market size in USD for all technologies of extended reality (AR, VR, and mixed reality). As we can notice, the assessed XR market is forecasted to increase drastically reaching a value of $252B in 2028.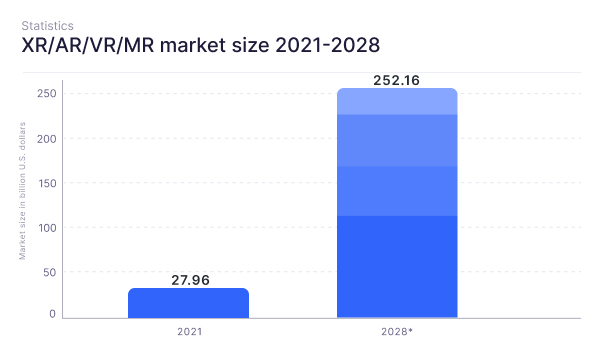 Another statistical study by Grand View Research shows more detailed data on AR work in the US market. Till 2030 the predicted CAGR (Compound Annual Growth Rate) of the AR business market is evaluated to be almost 41%.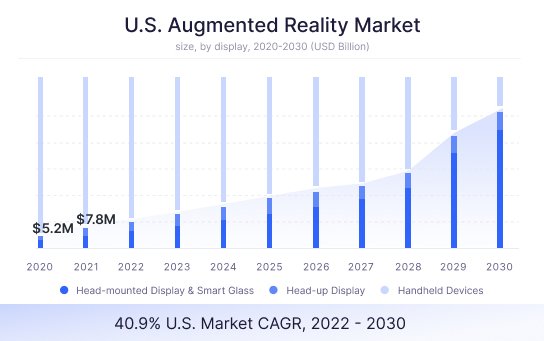 Statista also provided us with numbers of AR users worldwide to demonstrate the heightening interest in augmented reality. Progressive dynamics indicate that more people get involved with AR and know how augmented reality works in practice. The popularity among end-users makes solutions of augmented reality for businesses a profitable investment.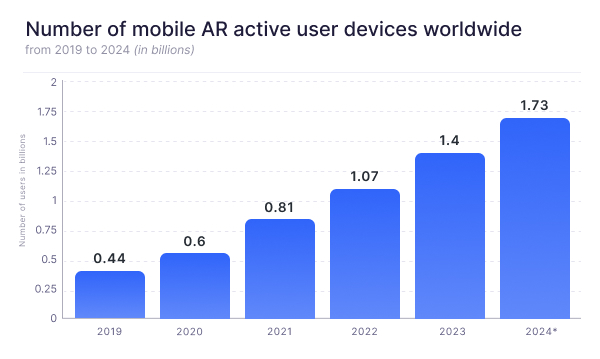 What changes AR business technologies bring
Improved ways of visualization
Used in augmented reality images belong to the high-leveled visualization means. The utilization of AR in business helps employees and customers to envision the product, view the steps of production, try out features, etc. Such visual overlays encourage productivity and engagement with clients.
Enhanced communication
Most AR business solutions enable efficient content sharing and translation of experiences. Once the targeted audience has access to the AR capabilities, businesses are able to get quick feedback and improve their decision-making mechanisms.

Remote expertise and experience
Share your expertise remotely and provide users with essential info via business AR applications. AR works for both internal and external operations allowing to manage the work off-site. Customers can experience products without shipping. It reduces travel and delivery spendings.

Better service
About 61% of customers would choose businesses that provide AR experience for sales because it enhances service. In order to attract clients with good customer service use feature-rich business augmented reality software.

Agility of training
Business AR technologies provide a great variety of solutions for training and onboarding. Thus, companies of different industries can use augmented reality for their business advancement in the process of teaching new employees or instructing end-users.

Augmented reality for business in practice
There are many creative ways how augmented reality is used in business. Each firm chooses an AR business solution that meets its objectives and goals. Atlasiko Inc., one of the leading augmented reality companies, can provide your organization with a custom AR application to satisfy the needs of your business. Here are some common cases of the utilization of augmented reality in business.
User manual
In modern marketing and production, creating an AR version of a user manual is an excellent method to introduce products to customers. With the capabilities of business AR applications, potential clients can see the goods in detail, experience the functionality, try out products in real-world settings, etc. Such opportunities enable reducing of bottlenecks for both parties of sales deals – customers see what issues can occur with the purchase in real time; business owners can troubleshoot their production and optimize the user experience. The less time consumers spend on figuring out the principles of work, issues, and details of one piece of goods, the more chances that they will consider another one from your stock. Augmented reality in business surely accelerates this process as you don't have to ship the exemplar of your products to the client and wait for feedback.
Information cards
Create interactive product information cards with the technology of augmented reality for business. This AR solution facilitates the showcase of your goods, services, and overall information about a company and its goals. The augmented reality business info card displays detailed descriptions that allow clients to get acquainted with offerings. However, in comparison with old-fashioned catalogs, AR makes the browsing process far more interesting and effective. Clients can literally try products as if they are real and see the results of cooperation. Such an innovative approach will help your organization to differentiate itself from others ensuring a stand-out reputation and recognizable brand.
Design capabilities
Many apps of AR for business offer design features. This way clients can customize the product i.e. choose colors, size, add or take away some components, view in AR the final product, etc. These characteristics positively influence decision making. Of course, design technology in AR software also enhances customer satisfaction as they receive the result that is the most fitting to their expectation.
Training for employees
Onboarding and training are much easier and faster when new employees have a visual and interactive representation of the processes they have to learn. This is the reason why progressive companies choose augmented reality for business acceleration. Training with AR doesn't require constant supervision so experienced workers can do their tasks without disturbance. Moreover, using AR for business onboarding significantly diminishes damage to real production or business operations that trainees could cause if practiced without augmented reality. Business owners can also organize training with augmented reality for their business not just for new hires but for the entire staff in order to acquire new skills.
How to decide if you need AR for business
Target customer base
Even though the awareness of augmented reality in business grows fast, there are still apparent age frames. To decide if your company needs AR for business operations, analyze the current and potential customer base. Surely, it's appropriate to adopt augmented reality in enterprise organizations if most clients likely would engage with it. The survey by GWI shows that the main age category to be oriented on is from 16 to 45 y.o.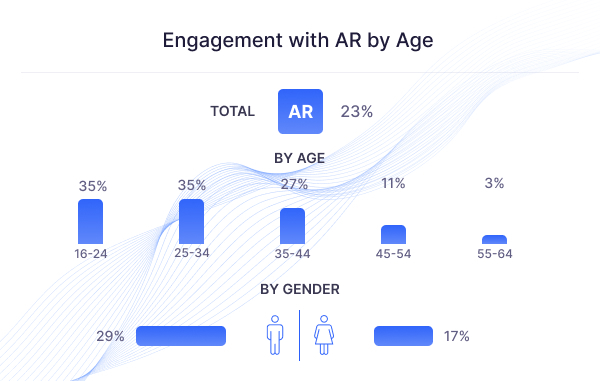 Objectives in marketing
Augmented reality images are considered to be highly shareable so they are suitable to popularize the brand, spread information, and increase engagement. This technology is also proper for giving an interesting description of your services, events, and innovations in a compelling and entertaining form.
Competition
It's important to not overlook the opportunity to prevail over your competitors. Be the first in your industrial segment to use all advantageous features of augmented reality for businesses. If other organizations already use it, address our AR tech company to get a unique, feature-rich solution provided by Atlasiko's augmented reality services. This way, your organization can keep up with the growing competition and make itself recognizable.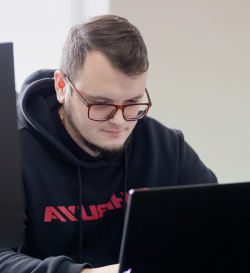 Nazarii
Lead of Software Development
Even though some development projects might appear challenging, professionals of our team take it upon themselves to create an unparalleled solution. We develop programs keeping in mind business needs and goals of our clients.
Talk to Expert
Your form has been succesfully submitted! Please, check if info you provided is correct:
How to incorporate augmented reality in business
Research
The selection process always starts with thorough research of possible AR business solutions and their use. To ensure the proper results, use the expertise of our specialists. The augmented reality services by Atlasiko Inc. include AR strategy and consulting. Before developing the perfect app, we analyze the industry, competitors, and requirements of the market.
AR development
Our dev team is an expert in AR making and knows everything about how to program augmented reality to be an advantageous solution for your business. As soon as the development plan is established, you can relax and wait for the desired AR software to be ready for implementation.

Support and analysis
Atlasiko AR technology company provides services of integration to ensure wide-ranging capabilities, and proper incorporation in your project management systems and CRMs. We also analyze the performance, fix all occurring issues, and maintain responsiveness and updates of your business augmented reality.
Conclusion
We hope this article gives you an extensive answer to the question "How is augmented reality used in business?". As the market size of AR increases, don't miss the opportunity to gain your competitive advantages by implementing augmented reality in business. It will assist you in accelerating processes, attracting clients and enhancing their experience, facilitating management, and making marketing more efficient via visualization. The capabilities granted by AR to organizations are almost endless. All your company needs to successfully enable an augmented reality adoption are a creative approach, qualified analytics, and expertise.
As Atlasiko Inc. is an experienced provider of AR development services, we've seen in practice how augmented reality can be game-changing for businesses. Don't hesitate to contact us for further details about our services or solutions. Follow our blog to receive more insights from the world of augmented reality.