Intro
Online shopping has become an inseparable part of our everyday life. The development of this segment is actively fueled by progressive IT solutions like AR tools. The technology of augmented reality in ecommerce takes a significant niche in solving issues of marketing, advertising, customer engagement, sales conversion rates, and many others.
Atlasiko Inc. has extensive expertise in providing augmented reality services. We help businesses to make their online stores immersive and efficient with augmented reality technology. Our experience in developing AR for shopping grants us many insights into the AR market that we're willing to share. In this article, you'll discover the beneficial characteristics and different types of augmented reality used in ecommerce, global AR statistics, and common ways of augmented reality use. Let's explore the potential of AR in ecommerce together!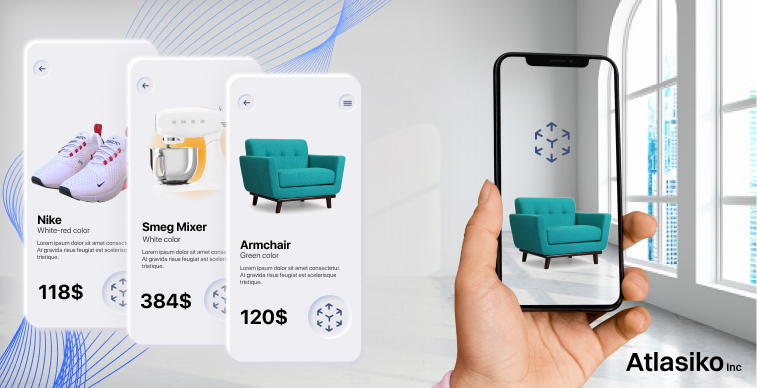 What is augmented reality in ecommerce?
To start delving into the topic, let's have a look at the meaning of augmented reality in ecommerce. The fundamental principles of the use of augmented reality for ecommerce are the same as for any other industry. For a more graphic illustration of the implementation of augmented reality for businesses read our previous article.
Ecommerce AR refers to the technology that enables the combining of virtual 3D objects, graphics, texts, etc., with the real-world environment through specific AR applications on smart devices. The main purpose of such uses of augmented reality is to enhance client engagement with an ecommerce brand, entice buyers to browse the assortment of products and make purchases online with a reduced level of returns.
How AR experiences became a part of the ecommerce industry
The augmented reality industry had its start as entertainment for social media users. In 2015, Snapchat released a set of features that allows adding of visual effects and filters in real time. That still is the most popular way people engage with augmented reality technology in everyday life. Of course, with the growing recognition of social media AR, businesses couldn't miss the opportunity to adapt augmented reality features to their needs and gain a competitive edge.
Nowadays, the utilization of mixed reality technology in online shopping is becoming the #1 novelty that retail businesses adopt. However, if we compare augmented reality and virtual reality, ecommerce AR solutions prevail. The general reason why AR is preferable is the tech factor – to access augmented reality experiences customers only need to have a smartphone that supports AR products. For VR they have to use special glasses and other gadgets which are much more pricey.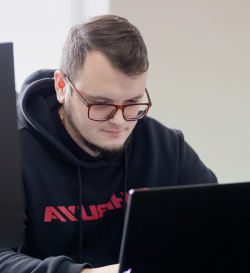 Nazarii
Lead of Software Development
Even though some development projects might appear challenging, professionals of our team take it upon themselves to create an unparalleled solution. We develop programs keeping in mind business needs and goals of our clients.
Talk to Expert
Your form has been succesfully submitted! Please, check if info you provided is correct:
Types of AR used in online retail
As they offer a few slightly different types of capabilities, there are various types of AR technologies. Modern ecommerce businesses find creative ways to use different types of AR solutions. The most specific categories of augmented reality applications are summarized below:
Marker-based AR application. For augmented reality to work, a user must scan a specific marker. It might be a trigger image or a QR code.
Markerless AR. Without the need for markers, AR can be activated by any application that scans the environment and sets virtual items on a flat surface.
Location-based AR. A sort of markerless augmented reality called location-based augmented reality employs geographic location to show digital content in specific areas.
Web-based AR experience. Through a web-based augmented reality platform, a user can access augmented reality capabilities. It is not necessary to download and set up specific AR applications.
Atlasiko Inc. provides the development of ecommerce augmented reality as a service, so you can contact us to get any type of augmented reality software for your online merchandise business.
Ecommerce AR statistics
For most commercial organizations statistics play a key role in making decisions on the adoption of any innovations. Numbers don't lie, and we can clearly see the positive dynamics of augmented reality in ecommerce. Let's take a look at some most representative ecommerce augmented reality stats and general development of the AR market.
| Source | Augmented reality statistics |
| --- | --- |
| Retail Perceptions | • 77% of users claim to use augmented reality to see product variations, including possible differences in colors and styles. AR in ecommerce allows them to do this up close, from a variety of perspectives, and in their own space. • 71% of consumers said they would purchase more frequently if AR were available. According to 55% of respondents, augmented reality makes shopping more fascinating and fun. • 72% of customers who used augmented reality while shopping said they ended up making unplanned purchases as a result of the encounter. • 40% of consumers said they would be more prepared to pay more for a product if they could use augmented reality to test it first. |
| Statista | • By 2025, around 34% of all US consumers will have used augmented reality for shopping online. • Adoption rates among Gen Z are predicted to be substantially greater than the overall expectation of 28% of customers using AR for ecommerce in the US.• By 2025, it's forecasted that 41% of Gen Z businesses will be employing augmented reality tools to some extent. |
| Grandview Research | • In 2019, the AR shopping market was estimated to be worth $1.24 billion globally. But through 2027, this market is projected to expand at a staggering CAGR of 47.1%. • Due to growing retailer expenditures in AR technologies and developments, North America owns the greatest revenue share of augmented reality in shopping market (37.8% in 2019). |
| Think with Google | • 66% of consumers would prefer to adopt augmented reality tools to improve their online shopping experiences. Using a smartphone app and camera, it may be possible to virtually try on products like apparel or makeup before making a purchase to assist with shopping. • Over 90% of buyers say they would consider using augmented re |
What benefits augmented reality in ecommerce brings
With augmented reality in ecommerce, your business will acquire new opportunities for advancement and interesting features to offer to clients. Here are some profitable aspects reported by companies using augmented reality.
Customers are willing to make purchases from businesses that let them use augmented reality more and more frequently because it's easier and less time-consuming.
By making it simpler to display items and giving the customer a greater grasp of the thing they're purchasing, AR can help close the gap between shopping in-person and online.
Before purchasing a product, consumers can test it out which positively impacts the decision-making process.
Clients appreciate the possibility of not having to go to a physical point of sale. A safety assurance, given the COVID-19 pandemic, also adds to the winning points.
AR technology gives your business a reputation for innovation and gives it a market advantage.
Most popular augmented reality ecommerce solutions
Let's take a look at the cutting-edge AR trends in solutions that are often utilized in the ecommerce industry.
AR try-on
The most common reason why customers may be hesitant to shop online is the lack of opportunity to try a product on so they'd know if it's fitting. For example, even in regular stores, not every garment that looks great on the hangers turns out good on a certain body type or the color is not it, and so on. Online shopping may become a disappointment for clients if purchases don't meet their expectations. For that matter, AR try-ons come in handy to increase conversion rates and customer satisfaction. This augmented reality ecommerce technology grants shoppers the ability to virtually see visualized 3D models of goods on themselves. Trying on AR products isn't just entertaining but also influences decision-making a great deal.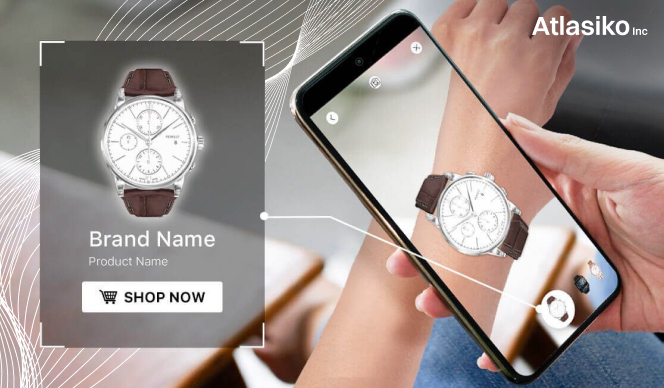 Digital showroom
Retail businesses use AR to showcase products, especially big-sized ones, and provide clients with the opportunity to see them in their environment in real proportions. Customers of online augmented reality stores don't need to wonder how the couch would look in their living room because on ecommerce AR websites or apps they can visualize its 3D model.
Immersive user manual
An interactive user manual could be a great AR application for your augmented reality store if you sell a product that requires some learning before it is simple for new users to use. This solution will help users understand how your product works. When utilizing software, a website, or an application, an interactive user manual provides on-page contextual guidance in response to user activities. Numerous AR user manual apps scan the item and, using graphical signs and animations with text, point out the buttons in the actual environment.
A brief guide on how to employ AR ecommerce solutions
1. Make your company's goals clear.
You must be clear on the goals you have for the customer experience. Before diving into the technical components of your AR application, establish your vision and objectives. Choosing the methods and tools you'll use to get there will be simpler once you know where you're heading.
2. Choose the augmented reality applications you want to employ.
You may start identifying the tools you need to employ once you have a clear idea of what you want to accomplish.

If money is tight, you might want to go with an AR platform that provides a free license. There are numerous AR solutions that offer both free and paid licenses. The free edition won't be as feature-rich as the full software, so keep that in mind.
Make sure the tool you select can handle the hardware for your app, whether you intend to run your augmented reality software on mobile devices, PCs, or AR glasses.
If you plan to create apps for a variety of OSs, ensure sure the platform you select is compatible with each OS you intend to use.
Make a thorough assessment of each platform to see if it offers the functionality you require. For instance, not all platforms enable geo-location, therefore those won't help you if you're going to develop location-based AR software.
3. Promote your newest augmented reality tool.
You'll want to spread the word about your tool now that you've worked so hard to create it.
Create demonstration videos for your app that are both promotional and informative.
Give consumers clear instructions so they know what to do to get the most out of your app.
Allow consumers to tell their friends and social media connections about their AR experience.
Challenges of AR technology implementation
Creation of 3D product models
This is likely one of the most significant obstacles to using augmented reality technologies in ecommerce because it is difficult and expensive to create 3D models of products. The number of products that need to be converted into 3D models and your company's profit margin should both be taken into account. It will be challenging for you to recover the cost of putting such a scheme into action with low-margin mass products.
Designers of Atlasiko Inc. AR technology company have great experience in creating realistic 3D models for augmented reality applications and solid expertise in working only with the best AR products to ensure quality results.
Adding augmented reality features to your online store, or other systems.
Our specialists easily solve the challenge of integrating augmented reality in ecommerce platforms that your company uses. Visitors of your web store or mobile app will get access to all useful and interactive features of augmented reality. Do not be concerned about the augmented reality projects working with your CRM or other management tools. With the help of our augmented reality service, your business can successfully integrate new platforms or quickly migrate from using augmented reality in legacy apps. Ask the augmented reality software business Atlasiko to make an AR app for you, and we'll guarantee an easy integration process.
Conclusion
We hope that this article has provided you with all the knowledge you require regarding augmented reality in ecommerce. The online shopping industry is an intriguing one to explore utilizing AR since the effects can be seen in real numbers, with real-time customer feedback, and viral exposure due to its novelty. Positive statistics and successful use cases of ecommerce AR solutions speak for themselves. We anticipate even more incredible augmented reality initiatives, and we believe that AR technology will fast become an essential part of the modern marketing toolkit.
Get in touch with us to receive your ideal AR ecommerce application and to learn more about your options for expanding your company. We create high-caliber solutions that satisfy the demands of your organization.