Intro
With vast levels of competition in the retail industry, it's essential to stay ahead of the curve. This is why retailers actively monitor and chase all IT innovations to provide customers with new attractive experiences and increase sales. One of the most cutting-edge tendencies, which still grows its force and popularity, is augmented reality in retail. Many companies that implemented this technology, consider it a game-changing decision.
Using our own expertise in augmented reality services, we analyzed all opportunities that AR can provide in retail. So in this article, you will find information about the most recent tendencies and popular use cases of augmented reality in shopping, business advantages, and examples of AR retail solutions. Continue reading to find out more peculiarities of retail augmented reality.
What are augmented reality retail solutions?
AR isn't a new technology and most people experience it on a regular basis. It can be in the form of filters on social media or games like the once-popular Pokemon Go. However, with the advancement in the IT industry, there are more and more solutions and use cases of AR for business. We've already addressed this topic, so you can find further information in our previous article from the blog.
Now, let's delve into the spacious field of opportunities that can be provided by augmented reality for retailers. By definition, augmented reality in shopping is represented by solutions that enable overlaying digital objects or informational content on real-world scenery. Thus, you can see and experience products by directing the camera of the smart device to suitable surroundings or settings. The main purpose of augmented reality shopping software and gadgets is to enhance customer experience and encourage engagement with the retail business.
With augmented reality in retail stores, the industry can take a new turn and advance much faster in creating new marketing prospects for improvement. Besides, retail AR is advantageous not only for client relationship management and sales but for overall business processes and procedures. In the following passages, we compiled facts and statistics on how augmented reality in retail impacts this business segment.
Why retail augmented reality is an excellent investment: global statistics
Augmented reality in retail is used globally and gaining more and more recognition among shoppers and retail stores at an increased pace. The statistics from The Impact of Augmented Reality on Retail report by Retail Perceptions show the growing demand for the technology of AR in retail. Let's take a look at some major stats about retail augmented reality.
According to 77% of users, augmented reality is used to see product variances, such as potential variations in colors and styles. They can do this up close, from various angles, and in their own room thanks to AR in retail.
If AR were available, 71% of consumers stated they would shop more frequently.
55% said that using augmented reality in shopping makes the process more enjoyable and interesting.
According to 61% of respondents, they would favor shopping at stores with augmented reality retail capabilities over those without it.
72% of consumers who utilized augmented reality during their shopping stated they made unplanned purchases as a result of the augmented reality shopping experience.
40% of consumers stated that they would be willing to spend more on a product if they could first try it out using augmented reality.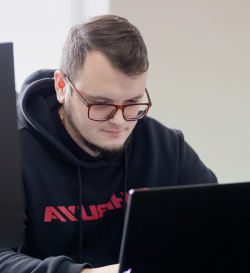 Nazarii
Lead of Software Development
Even though some development projects might appear challenging, professionals of our team take it upon themselves to create an unparalleled solution. We develop programs keeping in mind business needs and goals of our clients.
Talk to Expert
Your form has been succesfully submitted! Please, check if info you provided is correct:
Most recent trends in AR for retail
Solutions for in-store experiences
Space visualization and AR retail store tours
Customers can virtually tour using mixed reality in retail before making a real visit. With AR in retail stores, they can receive a sense of the location and become familiar with the important aspects in advance thanks to the use of augmented reality. Moreover, applications of augmented reality in retail enable store guides. Clients can find their way around the augmented reality store by following digital marks and signs that show the direction on their smart devices.
In-store augmented reality display
Some firms are setting up in-store displays that provide customers with a wide range of interactive experiences in order to enable augmented reality in retail locations. For example, clients can choose the product from the catalog on the display and customize it.
AR tags
Many companies don't have specific stores where they sell their goods. Instead, their products are displayed alongside other goods on the shelves of retail establishments, thus they require some distinctive qualities to stand out. Such businesses often employ AR tags to designate their merchandise. Customers can use their smartphones to read the augmented reality layer of a tag and obtain more details about a certain product without approaching a salesperson.
Product showcase
Big-sized products shopping
Furniture and electronics companies are now heavily utilizing augmented reality advantages to enhance their point-of-sale by enabling buyers to see the size, color, and appearance of the products in their location See how Atlasiko is enabling shops to conduct business more efficiently by using our augmented reality app for retail.
Solution for increased client engagement
Web augmented reality
The technology of augmented reality in retail helps to make the content on your website engaging. Consumers today detest having to quickly scan through lengthy text to comprehend a product's features. Retailers may use WebAR to integrate the best AR features into their websites so that clients can view the styles and fittings of clothing and accessories in AR technology without having to download any additional apps.
Engagement with the brand
With the help of interesting and interactive experiences, several businesses are already adopting augmented reality to increase client engagement. Such methods of using augmented reality for retail are basically aimed at entertaining customers but unusual experience makes them memorize and recognize the uniqueness of the brand.
Experientialism in marketing
Outfit visualization
Apps that address the issue of picturing how the garments hanging on store hangers would appear in real life are examples of augmented reality in retail. Customers can decide whether a garment will fit by viewing how it will appear on models with various body types and sizes.
Fitting rooms in retail AR
Customers no longer need to try items on to see how they fit thanks to augmented reality in shopping. To select the outfit that fits them the best, they can use a virtual changing room. Famous brands have set up in-store augmented reality displays where guests can examine a reflection of themselves and try on several outfits.
Try-on via augmented reality for retail
Customers can try things without physically visiting the stores thanks to AR-powered virtual try-ons. Top clothing and eyewear retailers now allow their consumers to virtually try on various items at home before making a purchase.
AR configuration of products
Color matching
Apps for augmented reality shopping are frequently used to coordinate colors and develop the best color scheme for a space or clothing. With AR retail configurators consumers can choose the new wall color for their house, pick a lipstick color that matches an outfit, and so on.
Design capabilities
Retailers can design interactive product catalogs that let buyers explore each product in a digital format. Some progressive retailers have already been using augmented reality technology to let clients completely customize their purchases simply by looking through product catalogs.
What businesses gain using augmented reality in retail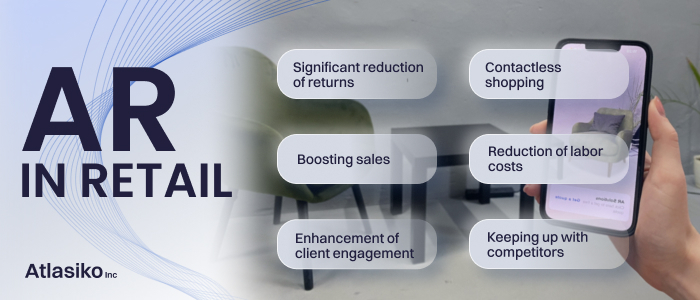 Boosting sales
Customers can virtually test out products before they buy them thanks to AR technology. For example, they can see how new furniture will look in their home or place of business as well as how precisely clothing will fit them. Whether a customer purchases something physically or online, retail augmented reality technology shortens the customer journey and boosts retail conversions.
Significant reduction of returns
Customers may choose the things that are best for them and avoid disappointment with the aid of AR in retail. As a result, return rates for both physical stores and online retailers frequently decline.

Keeping up with competitors
Using augmented reality in retail is an excellent method to keep pace with other companies' advancements. Retail AR solutions will assist you in distinguishing your brand from others.

Enhancement of client engagement
Customers' interest in products is sparked by the digital experience that augmented reality in retail gives while also giving them all the additional product information they could require. Customers that are well-informed frequently return and shop for additional items whenever they have the chance.

Contactless shopping
The use of AR for retail helps to decrease contamination hazards and sanitation problems in a post-pandemic society.

Reduction of labor costs
Users of AR apps can find out in-depth information about the objects they are interested in. Additionally, augmented reality in retail aids customers in navigating the store, minimizing the need for human sales associates.

Famous use cases of augmented reality for retailers
IKEA
IKEA created the Place App to enable customers to use augmented reality with their phone camera to place furniture products into their homes and see exactly how the item would look in their environment.
Nike
Nike employs both virtual and augmented reality in the brand's stores. Customers can enter a VR world to experience the many phases in Nike's supply chain so they can learn how and where products are created, or they can scan items like shoes or apparel to access information.
L'Oreal
In partnership with Facebook, L'Oreal and other famous cosmetics brands (Maybelline, Giorgio Armani, Lancôme, Yves Saint Laurent, and Urban Decay) now provide augmented reality-enabled makeup try-on experiences. The top cosmetics companies in the world are available for customers to try out via AR in form of filters.
WatchBox
Customers are able to try on several watch sizes with WatchBox using a retail augmented reality solution to choose the ideal watch and ensure that it looks fantastic on their wrist.
BMW
With the help of their tablets or phones, car buyers may modify cars in dealerships utilizing BMW's augmented reality experiences. Alternately, customers can don virtual reality goggles and experience what it's like to operate the vehicles, giving them a better understanding of their alternatives and enabling them to select the ideal vehicle for their needs.
Asos
In order to examine how clothing appears on various body shapes, Asos now has simulated models on their website that you can dress up using augmented reality. We'll probably have our own avatars in the future, allowing buyers to scan our bodies and test our own avatars in the virtual world.
Employ our AR solutions
Atlasiko Inc. has developed innovative augmented reality applications suitable for retailers. You can use our AR app in your retail business to showcase goods, provide customers with information about products, enable interactive instructions, or just entertain them with interesting digital experiences. Choose your best solution to stay ahead of the curve and keep your business moving.
Conclusion
We hope this article gives you the necessary information about the use of augmented reality in retail. Because the outcomes can be seen in real numbers, with real-time customer feedback, and viral publicity due to its novelty, the retail industry is an appealing one to study using augmented reality. The aforementioned use cases and features of retail AR solutions speak for themselves. We predict more amazing augmented reality retail efforts, and we think this technology will quickly establish itself as a key component of the marketing technology arsenal.
Contact us to receive your perfect AR retail application and get all the opportunities for business progress. We develop quality solutions that meet the objectives of your partners.