Intro
The fast-advancing DevOps industry offers a lot of opportunities for growth to modern IT businesses that want to transform and innovate their software development processes. With the increase of DevOps services and tools, it's quite difficult to choose a reliable and qualified DevOps service provider out of numerous DevOps companies to entrust with the task of setting up DevOps IT infrastructure, automation, CI/CD pipeline, and other important components.
Atlasiko Inc., as a DevOps consulting company, has excellent experience in delivering DevOps as a Service. Our DevOps consultants have expertise in arranging DevOps processes and tools, communicating with clients, and all peculiarities of management. Together we analyzed various features that successful DevOps companies have, the most common services that DevOps consultancies provide, and reasons businesses tend to adopt DevOps practices. Thus, in this article, you'll find a brief guide on selecting the most suitable DevOps solutions provider and a detailed list of the top DevOps companies.
Best 14 DevOps services companies
To help you with making the right choice among different DevOps consulting firms, we did our research and created a shortlist of the best DevOps companies. Read ahead to find out the characteristics and DevOps services these DevOps solution providers offer.
| Name | Years of experience | Locations | Rating |
| --- | --- | --- | --- |
| Atlasiko Inc. | 8+ years | the USA, the UK, Ukraine | Overall: 4.9 Clutch: 4.8 GoodFirms: 5.0 Google reviews: 5.0 |
| ScienceSoft | 33 years | the USA, Finland, Latvia, Lithuania, Poland, the UAE | Overall: 4.9 Clutch: 4.8 G2: 5.0 GoodFirms: 5.0 |
| Appinventiv | 8+ years | The USA, the UAE, The UK, AU, India | Overall: 4.7 Clutch: 4.7 GoodFirms: 4.7 |
| Genuisee | 5+ years | Ukraine, the USA, Poland | Overall: 5.0 Clutch: 5.0 GoodFirms: 5.0 |
| Aspired | 14+ years | the USA, Pakistan, the UAE | Overall: 5.0 Clutch: 5.0 GoodFirms: 5.0 |
| IT Svit | 17+ years | the USA, Ukraine | Overall: 4.8 Clutch: 4.9 Google reviews: 4.4 G2: 5.0 GoodFirms: 5.0 |
| Protonshub Technologies | 4+ years | India, the USA | Overall: 4.9 Clutch: 4.9 GoodFirms: 5.0 |
| Quema | 2+ years | Estonia | Overall: 5.0 Clutch: 5.0 GoodFirms: 5.0 |
| Alpacked | 5+ years | Ukraine | Overall: 4.8 Clutch: 5.0 GoodFirms: 4.7 |
| iTechArt | 20+ years | the USA, the UK, Austria, Poland, Lithuania, Ukraine, Georgia, Kazakhstan, Bulgaria, Kyrgyzstan, Uzbekistan | Overall: 4.9 Clutch: 4.9 GoodFirms: 5.0 |
| Stackoverdrive.io | 8+ years | the USA | Overall: 4.5 Clutch: 4.5 |
| CloudHesive | 8+ years | the USA, Chile, Argentina | Overall: 5.0 Google reviews: 5.0 |
| MSys Technologies | 15+ years | India, the USA | Overall: 5.0 GoodFirms: 5.0 |
| nClouds | 10+ years | the USA | Overall: 4.0 G2: 4.0 |
Top DevOps consulting companies
Our DevOps services company helps development and operations teams of companies using DevOps, that addressed Atlasiko Inc., to collaborate effectively, regardless of their industry. By automating end-to-end delivery pipelines and setting up continuous integration and development, Atlasiko Inc., a DevOps services provider with over 8 years of expertise, provides assistance to businesses and startups in improving software development. Businesses can use the DevOps lifecycle, and its beneficial solutions by working with experienced DevOps service providers like Atlasiko Inc. as we've completed many related projects and successfully employ DevOps concepts ourselves. Explore the services of our DevOps consulting company as well as other top-notch DevOps solutions and request them for your business enhancement.
DevOps services Atlasiko presents as an experienced company:
DevOps Consulting
CI/CD Services
DevOps Transformation
DevOps Automation
Managed DevOps Services
Infrastructure Management
Operational Management
Release Management
Cloud Management
DevSecOps
Third-party Integrations

Transform your dev process with the top DevOps service provider
We apply the best DevOps practices to help you save costs and launch quickly.
Let's talk
30+
DevOps projects completed
20%
Increase in development efficiency
Your form has been succesfully submitted! Please, check if info you provided is correct:
ScienceSoft was founded in 1989 and started employing DevOps methodology in 2013 among other DevOps companies in the USA. This DevOps consulting firm offers effective DevOps practices to harmonize your development, test, and production operations. ScienceSoft has over 900 cloud projects in its portfolio. With ScienceSoft's DevOps services, businesses can automate IT operation inefficiencies, produce quick and dependable releases (significant releases every two to three weeks, up to 100 safe daily commits), and create long-lasting, high-quality solutions.
Services the DevOps consulting company offers:
DevOps launch consulting
End-to-end DevOps implementation consulting
DevOps project recovery consulting
DevOps tech consulting
Appinventiv
Appinventiv is a globally trusted DevOps services company that delivers innovative product engineering solutions. With almost a decade of industry experience, a team of nearly 200 DevOps professionals, and 600+ cloud engineers, this firm orchestrates collaboration, automation, and continuous integration, leading businesses on a path of constant innovation and modernization. This service provider has completed nearly 300 DevOps implementations and designed over 200 cloud architectures, empowering businesses to build robust software and stay ahead in the race of digital disruption. Some of Appinventiv's biggest cloud and DevOps clients include KFC, The Body Shop, Virgin Mobile, Asian Bank, and Avatus.
Appinventiv's suite of DevOps services includes:
DevOps consulting services
- DevOps roadmap and strategy
- DevOps maturity audits
- Use case-driven platforms, tools, and services advisory
DevOps professional services
- DevOps automation and implementation
- DevOps CI/CD services
- DevOps for mobile application services
DevSecOps services
- Cloud infrastructure security audit
- Cloud applications automated security audit services
- Cloud security implementation services
Genuisee is one of the international DevOps consulting companies that possesses high-level knowledge needed for DevOps as a Service. In order to achieve meaningful results based on metrics, their cloud DevOps experts systematize and automate all development and operations processes. Genuisee monitor team velocity, stick to sprint-based execution and use transparent time logging to ensure transparency in DevOps evaluation. It was founded in 2017 in Kyiv, Ukraine, and now boasts 200+ highly qualified individuals that have already completed 100+ prestigious projects in the EdTech, FinTech, Retail, and other sectors.
DevOps services in the offer:
CI/CD
Migration to the cloud
IT assessment
Infrastructure as Code
Security analysis
Infrastructure support
Highload optimization
By carefully choosing the top candidates from the world's talent pool, Aspired assists its clients in hiring and developing a remote autonomous dedicated workforce. The team of experts locates new or developing tech centers and matches the best engineers of their DevOps agency with organizations working to solve challenging problems. Like other DevOps companies, Aspired offers full operations and services so that businesses can enjoy all the advantages of a new office without the burden. The DevOps services provider uses a comprehensive approach to remote autonomous development and delivery together with a conservative pricing strategy. The business has operations in Pakistan and the UAE in addition to its West Palm Beach headquarters.
Services that Aspired performs as a DevOps solution provider:
CI/CD
Cloud consulting
Safety management
DevOps consulting
Infrastructure automation
Infrastructure management
Source code management
IT Svit founded in 2005 works now as a DevOps consultant and service provider to offer remote system administration services. The company has expanded to include a staff of more than 60 software developers, DevOps engineers, and Big Data architects that provide end-to-end solutions for corporate projects of various sizes. Competing with other DevOps as a Service companies, IT Svit has amassed a wealth of experience in resolving a variety of problems, as well as ready answers for the most common problems, thanks to more than 800 successful projects.
What services the DevOps solutions provider performs:
DevOps consulting
GCP managed services
CI/CD services
SRE services
Infrastructure as a Service
DevOps transformation
MS Azure managed services
Container management
Software as a Service
Functions as a Service
AWS managed services
Blockchain DevOps service
Docker container services
Platform as a Services
Large applications may be delivered at the enhanced speed thanks to Protonshub's leading DevOps consulting and services company. As one of the experienced DevOps service companies, it helps to automate the CI/CD of IT solutions that are diversified into well-organized, predictable, and consistent ecosystems and defined workflow. Currently, Protonhhub has a team base of 100+ experts that provide DevOps and other services working on the international market from offices in India and the US.
Services provided by this DevOps service company:
Configuration management
Infrastructure management
Continuous integration
Continuous monitoring
Environment setup
Build automation
Test automation
Continuous delivery
Quema OU, as an IT company, focuses on offering DevOps services that are essential components of the modern software development. To construct both the product and the IT infrastructure, experts in this DevOps consulting company work on establishing close collaboration among the teams involved in DevOps transformation and SDLC. Quema, like other popular DevOps companies, supports their clients in creating a scalable and secure IT infrastructure that will enable them to launch and operate their products at the highest level. This DevOps solutions provider offers DevOps services to businesses of every size.
Services of DevOps by Quema:
Cloud consulting services
DevOps as a Services
Container management and orchestration
Alpacked is a DevOps agency that provides cloud computing and DevOps solutions as innovative ways of development and management. This DevOps consulting firm assists other companies using DevOps in keeping up with the rapidly evolving digital landscape. As DevOps vendors, they have assembled a top-notch team of cloud DevOps services specialists with more than 8 years of proven expertise. The company states they currently concentrate on DevOps and Cloud best practices to offer clients the most cutting-edge IT solutions for resolving their pressing business issues.
Services of Alpacked as one of DevOps companies:
Continuous integration and deployment
Infrastructure as Code
DevOps as a Service
iTechArt has been assisting startups and quickly expanding IT enterprises in the development of feature-rich products that users like since 2002. There are 1800+ smart brains at iTechArt who are experts at implementing DevOps best practices. The DevOps engineers of this firm get to the heart of the DevOps philosophy while guiding their clients and utilizing best-in-class tools and processes, such as CI/CD pipelines, microservices, containers, IaaS, and others.
Services delivered by iTechArt DevOps consulting company:
DevOps consulting
Assessment
Tooling and automation
Process transformation
Cross-functional collaboration
A consulting firm with offices in New York called StackOverdrive.io focuses on DevOps, infrastructure design and strategy, cloud migrations, and round-the-clock managed services.
The DevOps engineers at StackOverdrive.io assist clients with their move to the cloud by designing and deploying specialized enterprise-grade cloud solutions that are adaptable, completely scalable, and highly available. With the help of specialized CI/CD pipeline creation and configuration management tools, their DevOps consultants also offer total administration and automatic deployment of your apps.
Their DevOps service offer:
Consulting in DevOps
Infrastructure automation consulting
Automated monitoring
CI/CD
Docker DevOps
Kubernetes consulting
Chef DevOps and automation
Ansible consulting
Puppet and DevOps consulting
Auto scaling
Spring boot consulting
Cloud infrastructure strategy and design
Jenkins CD/CD
The most well-known and fastest-growing vendor of DevOps solutions is CloudHesive. Although it has its headquarters in Miami, Florida, Amazon Web Services (AWS) Advanced Consulting and Managed Services Partner operate globally. It offers services designed to help businesses increase productivity while lowering their effective expenses. It helps with increased security and controls for public, private, and hybrid clouds. Enhancing their DevOps use, CloudHesive, as one of the best DevOps companies in the USA, aids customers in increasing scalability.
What services the DevOps firm performs:
Continuous integration/Continuous delivery
Configuration management
Streamlined repeatable process
Continuous improvement
MSys Technologies with advanced skills in DevOps tools like Chef, Jenkins, Puppet, Vagrant, and Packer attracts companies using DevOps to address it as their go-to DevOps services provider. For all DevOps initiatives, MSys maintains a rigid CI process, allowing teams to spend more time developing new features rather than addressing defects.
With over 15 years of experience, their experts are proficient in implementing development and operations methodology so DevOps speeds up output, which increases throughput and value at a faster pace.
MSys Technologies offers services as DevOps solution providers:
DevSecOps
SRE services
Docker
Kubernetes
Infrastructure automation
Infrastructure monitoring
CI/CD services
Infrastructure governance
Environment management
CMS
DevOps automation services
AWS DevOps service
Azure DevOps services
Google Cloud
DevOps services
DevOps monitoring solution
Industry-leading frameworks, resources, and services are available from nClouds to create workable configurations for delivering high-quality software quickly. Their clients get programmed software distribution development processes to advance collaboration, monitoring, management, and reporting through DevOps as a Service solution by this DevOps consulting firm. They create structures that are entirely protected from outside dangers and that will increase your capacity for innovation and level of work attentiveness.
nClouds provides:
Infrastructure build-out and automation
Containers, microservices, and serverless
CI/CD pipelines
Monitoring, logging, security
DevOps consulting services
DevOps managed service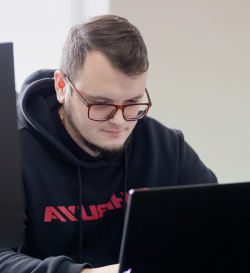 Nazarii
Lead of Software Development
Even though some development projects might appear challenging, professionals of our team take it upon themselves to create an unparalleled solution. We develop programs keeping in mind business needs and goals of our clients.
Talk to Expert
Your form has been succesfully submitted! Please, check if info you provided is correct:
Why you need services of DevOps providers
Reasons why companies might need the help of professional DevOps consultancies differ for each case. Mostly the question of finding DevOps vendors occurs when a software development company shows slow progress velocity, lower rates in comparison with competitors, production and management issues, etc. In accordance with the needs of each particular company, the objectives of the DevOps service will alter. Here are some significant results that businesses aim for requesting DevOps consulting and services.
Automation
The DevOps solution is perfect for the automation of software development processes. With a great variety of innovative DevOps tools, you can reduce the amount of manual work to the minimum. Automation brings acceleration of time to market, transparent and reliable results.
Continuity of delivery processes
With the well-organized Continuous Integration and Continuous delivery pipeline, it's easy to set up uninterrupted software development and deployment processes. Automated CI/CD tools enable rapid updates and quick bug fixing. One of the reasons why businesses address DevOps consulting companies is to establish such continuity and be able to deploy applications and other IT solutions in small releases.
Better communication
One of the main DevOps principles is to achieve the maximum level of communication and collaboration between development and operations departments for enhanced productivity. Experienced DevOps service providers like Atlasiko Inc. always pay close attention to establishing this connection. Moreover, transparency granted by DevOps consultancies also improves communication with clients.
Time and cost-efficiency
DevOps companies aim their services at providing businesses with mechanisms for reduction of time to market, efficient budgeting, and expense control. Flexible DevOps strategy planning and automation of processes set up by professional DevOps services providers allow firms to deliver high-quality solutions way faster than a traditional SDLC. With the help of DevOps services companies, you can organize a significant acceleration of IT product development and save money simultaneously.
Quality improvement
Companies using DevOps experience more positive reports and reviews from their customers due to quality enhancement. Automated testing guarantees software safe from bugs and less possibility of failures. Rapid upgrade deployments also improve the quality of final products.
Flexible failure response system
Professional DevOps companies always make certain that their services ensure top-notch risk management and a versatile system of failure response. This way developers and operations teams can easily and promptly fix all kinds of issues without any serious damage to the production and end-user experiences.
Enhanced management
DevOps as a Managed Service regulates not only dev processes but inner management as well. DevOps philosophy concludes collaborative management concepts inbuilt into DevOps strategy and tasks allocation. The transparency of all processes also allows managers to organize the productive workflow and monitor progress.
Security
DevOps services providers often offer security management as one of the managed DevOps services. DevSecOps is an integral determinant of the successful adoption of DevOps as it secures processes of software creation, delivery, and post-deployment use.
How to choose the best DevOps consultancy and DevOps services provider
With such an abundant amount of cloud DevOps firms, some might get lost in their choice. To select the right DevOps consultancy that meets all of your expectations and delivers outstanding services, you'll need a little guidance. For that matter, we compiled a few tips and criteria that you should keep in mind choosing your DevOps service providers.
Defined objectives and expectations
Before you start searching for a DevOps services provider, think through the goals of the DevOps transformation of your company. With specified objectives, you'll know what DevOps services you exactly need and what characteristics in a DevOps company to look for. Clearly defined expectations will help you to establish the criteria for the selection of DevOps consulting firms.

Experience check-up
Undoubtedly, before hiring any DevOps solution providers, make sure they have the required skills and experience to carry out your projects. Look over their certifications, previous projects, and reviews from former clients to get assurance in the qualification of the DevOps companies you consider.
Price equals quality
Don't expect professional DevOps companies with great experience to have a low cost for their DevOps service. The pricing must be adequate to the quality of services that you count on receiving from selected cloud DevOps consulting firms.
Technologies matter
It's a solid requirement for top DevOps consultancies and service providers to utilize only the most innovative and relevant systems. Reliable technologies ensure great quality of provided solutions.
Security and professional ethics
To build trustworthy relationships with your DevOps services company, you have to entrust the chosen DevOps agency with the security of your data and be sure that the confidentiality of the project activities will not be infringed upon during execution. With modern rates of competition, it's highly important for DevOps services providers to be able to ensure such safety for your business ideas.

Conclusion
We hope this article will help you to select a suitable DevOps service provider out of a great variety of experienced DevOps companies. The results of your DevOps transformation initiative highly depend on the course of this collaboration as well as the understanding of your needs and expectations by the chosen DevOps consultancy.
Ensure the success of implementing DevOps best practices and their proper performance with DevOps consulting and other services by Atlasiko Inc. You can also browse other articles in our blog to find out more about the DevOps model, benefits, tools, and many other characteristics of this software development and management concept.