Practically every small, mid-sized business and big enterprise at some point in its development comes across the issue of efficiency in document processing. Modern markets of all industries demand it to be accurate, quick, and cost-efficient for a successful organization of internal and external operations. That's why firms opt for implementing intelligent document processing (IDP) to facilitate significantly this highly important task.
Now, organizations have an excellent option to take advantage of AI assistance. The IDP technology is proven beneficial, so its market grows every day. We conducted our own analysis of the IDP meaning for present-day businesses and the ways how they manage their documents and data. Read ahead to find our all-encompassing answer to the question "What does IDP mean?".
What is Intelligent Document Processing (IDP)?
Let's start with a comprehensive IDP definition to bring clearance about this technology and answer to "What's an IDP technology?".
Intelligent Document Processing is a machine learning (ML) and artificial intelligence technology that enables businesses to automate data extraction from complicated, unstructured documents and transform them into useful data. This software uses a variety of technologies to gather, analyze, and classify pertinent data. IDP systems must be trained on numerous distinct document examples before they can be used. The intelligent document solutions then automatically extract the relevant data. After training, if the algorithm is unsure whether the data is accurate, it will request human validation in order to keep getting better results. IDP can be an excellent time and cost saver for firms that still manually extract data from papers.
Basically, we can define IDP as the next-generation AI-driven solution for the powerful processing of different kinds of business documentation. It effectively assists in organizing full-cycle document management and minimizes the involvement of manual work. Read our further explanation to compile the complete picture of the IDP meaning for businesses.
Atlasiko is the top choice among IT providers for businesses!
We offer impeccable expertise and a wide range of efficient solutions for your business development
Let's talk
20+
Industries represented
97%
Customer satisfaction
Your form has been succesfully submitted! Please, check if info you provided is correct:
How does AI document processing work?
To give you a better understanding of how AI-based document processing works, let's take a look at the main stages that a responsible AI tool performs. There are 5 essential steps in the AI document processing cycle.
Step 1. Pre-processing
This phase of processing documents with AI is characterized by a few techniques that prepare the file for further classification.
Binarization (converting colored images into black and white to create a binary of only 2 types of pixels where black is a text and white is a background).
Noise removal (disposing of any unwanted spots/dots on the document to avoid confusing them with symbols ).
Deskewing (correcting the skew of scanned images for a better alignment).
Step 2. Smart document classification
The next important phase is to categorize the document to ensure successful document recognition.
Document format identification (the AI-based document understanding solution classifies the document by its file format e.g. PNG, PDF, JPG, etc.).
Structure identification (smart OCR distinguishes if the file data is structured, semi-structured, or unstructured).
Type identification (AI document processing solution determines the document type e.g. purchase order, invoice, contract, etc.).
Step 3. Intelligent data extraction
The most significant part of intelligent document processing is AI data extraction. It consists of 2 parts – key-value pair extraction (values from key identifiers) and table extraction (table content).
Intelligent OCR (recognizing characters, detecting and segmenting errors in words and characters).
Rule-based extraction (the best for structures and semi-structures files).
Learning-based extraction (extracting data on the basis of deep or machine learning techniques enhanced by OCR).
Step 4. Data validation
This stage is dedicated to detecting all the inaccuracies in the extracted data.
Domain-specific validation (flags for correction fuzzy logic, regular expressions according to domain-specific rules).
Enhanced validation (validates the accuracy of intelligent data extraction with the help of RPA extraction technology).
Step 5. Human-in-the-loop Supervision
The final step involves human supervision over the learning process and a review of the result of AI document processing.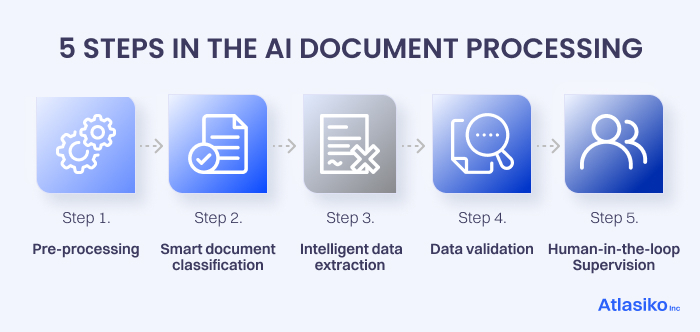 Benefits of intelligent data processing
Time to value is short.
With as few as 200 labeled examples, you may create high-quality custom machine learning models; this is a much smaller amount of data than is needed for standard AI solutions.
Deployment and use are both straightforward.
Using a simple user interface and machine learning, accurately capture and validate data from the actual world.
Extremely scalable.
Numerous unstructured content use cases are addressed by a single platform that is implemented by your process specialists, not IT or data scientists and is used throughout the organization.
Fourfold growth in process capacity.
Scale important procedures without raising costs, and provide remarkable cost efficiencies for back-office tasks.
Decrease of 85% in process cycle time.
Improve client satisfaction and realize quicker time to market for new projects.
Intelligent document processing market
The efficiency of the IDP technology is proven not just in theory but practice too. We can clearly see it in the positive growth dynamics of the intelligent processing market. It is growing as a result of consumers' increased acceptance of innovative goods and technologies, particularly intelligent document processing solutions. So let's overview some core statistics about the global market of IDP solutions utilization and adoption.
The previous-year market report by

Markets and Markets

revealed that in 2022 the IDP segment was estimated to amount to $1.1B and was expected to increase in CAGR by 37.5% in the 2022-2027 period globally.
Allied Market Research reports on the state of the IDP market in North America. Two of the top nations in this region for intelligent document processing are the United States and Canada.

The same source provides information about the state of intelligent document automation in Europe. The exposure of data integrational facilities to their productivity has been prompted by the increased support for foreign direct investment in digitalization, notably in nations like Germany, France, and the UK. Therefore, Europe has actively supported the region in encouraging the use of intelligent document processing in various digital communications in the recent past, and this trend is expected to continue.
Research and Markets company gives us the report on the Asia Pacific region. The intelligent document processing market there is expected to grow at an outstanding rate as a result of the existence of fast digitalizing economies like India and China.

Intelligent document processing market by Region
| North America | Europe | Asia Pacific Region |
| --- | --- | --- |
| The largest revenue producer, the U.S., contributed $359.42 million in 2021 and is anticipated to grow at a CAGR of 20.9% to $2,302.35 million by 2031. | The market for intelligent document processing in Europe had a value of $315.45 million in 2021 and is anticipated to grow at a CAGR of 21.5% to $2,131.69 million by 2031. | The Asia Pacific intelligent document processing market is anticipated to see market growth of 31.2% CAGR by 2027. |
| By 2031, Canada is projected to reach $384.17 million, representing a large CAGR of 19.8%. | By 2031, Italy is predicted to reach $392.23 million, representing a substantial CAGR of 21.7%. | The Asia Pacific Small & Medium Businesses intelligent document processing market was dominated by China, which helped it reach a market size of $120.2 million by 2027. |
| | Throughout the projected period, Germany and the UK are anticipated to experience significant CAGRs of 21.9% and 21.8%, respectively. | The CAGR for the Japanese market is 32.6% by 2027. |
| | | The Indian market is also anticipated to expand at a CAGR of 34% over the coming years. |
IDP solutions vs other document processing solutions
When it comes to specific AI technologies, there might be a lot of confusion with older automation solutions. We've already mentioned at least two of them – OCR and RPA – that often get mixed up with IDP. However, you don't have to worry about not being able to distinguish these document processing services from one another after reading our brief comparison of intelligent document processing solutions vs other similar technologies.
Difference between IDP and OCR
Contrary to the wide-ranging IDP functionality, optical character recognition solutions have a narrow specification. They are only capable of converting scanned images with texts into textual form. Intelligent OCR is a part of the IDP workflow.
Because of its numerous shortcomings, conventional optical character recognition technology is not suited for extensive use as an individual solution. In recent years, standard OCR software has left a void that the IDP system has been able to address by delivering solutions driven by artificial intelligence and machine learning, which are becoming increasingly well-liked.
Intelligent document processing vs. RPA extractor
Robotic process automation is a solution that basically replicates the actions of workers in carrying out day-to-day tasks. Unlike IDP, it only helps to automate mundane operations with documents but can't decide based on what it learned from previous inputs.
RPA extractor is fundamentally just a rules engine that can't handle unstructured data. This solution only addresses the issues associated with structured data or at most semi-structured data.
Intelligent document processing vs automated document processing
IDP and automated document processing are both similar technologies, although they work fundamentally differently. Paper documents are typically converted to digital formats through automated document processing. They can be converted into digital counterparts to be indexed and searched in databases.
Intelligent document processing is capable of scanning and indexing paper documents, but it also goes a step further by extracting useful data from them and offering insights rather than just computerized access to them.
IDP solution use cases
Many forward-thinking business owners didn't hesitate to implement this highly-effective technology creating various intelligent document processing use cases. Explore possible variants where you can implement a top-notch IDP solution.
Where to apply document intelligence
Recognition of scribbles and challenging content. The advancement of OCR, Intelligent Character Recognition, uses AI to accurately recognize challenging textual features without issues.
Facilitation of the supply chain documentation. Manifests, invoices, and other documents can all be processed using IDP to speed up supply chain activities from order processing to accounts payment procedures.
Assembling reports and papers. Produce detailed reports, intricate legal papers, and much more by automating document generation utilizing data pulled from various sources and document templates.
Get the appropriate information. With the help of intelligent capture technologies, you can easily extract the data you need from documents for processing, archiving, and use in other applications.
Management of data and documentation. Documents should be stored, arranged, and archived for simple retrieval or compliance with record retention laws.
Making paper documents digital. For optimum performance, use IDP document scanning to transform paper-based documents into file formats that can be read by computers.
What industries use intelligent document automation
Finance. The processing of invoices and other accounts payable tasks can be automated with document intelligence solutions.
Human resources. The processing of resumes, employment screening, employee surveys, and other data can be carried out faster and more accurately by using IDP.
Government. With the use of AI-powered document processing software, gov. organizations have the capability to manage permits, produce electronic papers, and handle applications.
Insurance. Intelligent document automation is used by insurance businesses to handle claims, identify fraud, and prioritize insurance policies.
Law. With the use of the IDP systems, law firms can process, store, and handle legal data more precisely than they could with manual document processing.
AI-powered document processing with different types of documents
Invoices. The use of AI doc processing allows businesses to lower the costs of invoice processing (classification and data extraction) by around 85%. IDP systems can also be easily integrated with your existing RPA for scalable automation.
HR documents. Utilize IDP for collecting and managing data from resumes, performance metrics, recruitment and exit documents, etc.
Purchase orders. Process documents of purchase orders with useful intelligent document processing solutions while integrating them with your ERP or CRM systems for cost reduction by 90%.
Shipping and receiving documents. Facilitate and make 80% cheaper the bill of lading document processing by using the power of IDP solutions.
Insurance claims. Gather, classify, and process insurance FNOL claims and other related forms efficiently with AI-powered software for document handling.
Loan applications. Organize seamless processing of loan applications gathering all the important data about income and assets with one IDP solution.
Contracts. Use the IDP solution to deal with any format of contract during processing and review thanks to the impeccable intelligent document recognition feature.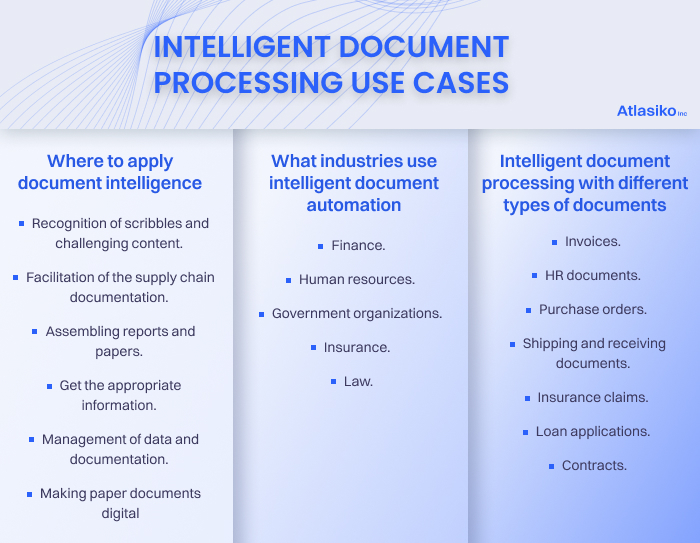 How to choose the best IDP software
Selecting the top IDP software for your business need might be complicated due to the emergence of more and more technologies. To help you, we analyzed the most common needs and AI document processing service offerings and compiled a brief guide on what features to pay attention to and what questions you should answer while choosing.
1. IDP software: Is it powerful enough?
The software must be able to handle the common and actual issues that arise during document processing. To do this, it needs efficient technologies. The software's ability to automatically learn from and improve upon the papers it processes depends on the use of high-performance AI technology.
Both handwritten and computer-generated text can be captured and processed by the software.
The solution comprehends the context of the documents, captures and processes structured, semi-structured, or even entirely unstructured documents.
The solution handles low-quality image formats while enhancing quality.
2. Is it simple to incorporate the IDP software into the current infrastructure?
The days of setting up legacy solutions taking weeks or even months are long gone.
AI document processing will function in a cloud-based system.
It is simple to incorporate the software into current infrastructures.
The software works with RPA and other business tools.
The solution is applicable to all industries.
3. Is the IDP software easy to use?
A good IDP solution today needs to be user-friendly.
The IDP solution follows the no-code methodology so employees can utilize it without having significant IT knowledge.
The software has undergone significant testing.
It ensures sufficient user interface usability.
Fresh use cases can be developed instantly.
4. IDP software: Does it increase company value?
The ability to use the IDP software to accomplish the desired business goals is most likely the most crucial question.
The IDP is easily scalable and able to grow with the business.
The solution can be used to increase the amount of straight-through processing.
The software can boost productivity.
The solution is capable of end-to-end automation.
If you still struggle with finding your perfect IDP, don't hesitate to reach out to us and request our professional IT Consulting. Atlasiko's experts will help you to analyze your options and offer the best technology.
Conclusion
We believe this article has helped you to find the detailed answer to the question "What is IDP?". After our thorough research on this new type of solution, there's no doubt that AI technology brings the automation of practically all processes to a whole new level. Positive IDP results are just another example of the successful enhancement of legacy software. As the researchers predict great changes with artificial intelligence in the future, the IDP solutions surely will be improved as well, so keep an eye on them to not miss the opportunity for your business. For more interesting analyses of tech innovations, follow our blog.