Intro
In recent years, artificial intelligence assistance has proven to be one of the best solutions for automation, and the skyrocketing popularity of chatbot software is among the most representative examples. Many present-day businesses in various domains use the best AI chatbots to enhance customer engagement management, support services, marketing, sales, and other purposes.
With the heightened demand for chatbot services, modern chatbot solution companies focus on the development of cutting-edge platforms and apps to offer to client organizations and end-users. As more and more business chatbots emerge, it becomes more difficult to navigate through this market searching for the best chatbot platform with AI capabilities. In this article, Atlasiko will assist you in finding the most appropriate solution by providing a comprehensive AI chatbot list and explaining all peculiarities of use. We also added a brief AI chatbot FAQ where you can find answers to the most popular queries.
Best chatbots powered by AI
| Name | Price | Best for | Rating |
| --- | --- | --- | --- |
| Chat GPT | Free plan; ChatGPT Plus – $20/month | Used as an AI conversational bot | Overall: 4.8 G2: 4.8 |
| Tidio | (annual billing) Free plan; Communicator – $15.83/month; Chatbots – $32.50/month; Tidio+ – starts from 240.83/month; free trial available | Used as the best chatbot builder without coding required | Overall: 4.8 Capterra: 4.8 G2: 4.8 GetApp: 4.7 Software Advice: 4.8 |
| ProProfs Chat Bot | Monthly plan – $29.99/operator/month; Annual plan – $19.99/operator/month | Live chat and chatbot for support automation | Overall: 4.7 Capterra: 4.8 G2: 4.5 GetApp: 4.8 Software Advice: 4.8 |
| Manychat | Free plan; Pro – starts at $15/month | Facebook AI chatbot | Overall: 4.7 Capterra: 4.7 G2: 4.6 GetApp: 4.8 Software Advice: 4.7 |
| Landbot | (billed monthly) Website: Sandbox – free; Starter – $39/month; Pro – $99/month; Business – from $300/month; WhatsApp: Pro – $169/month; Business – from $300/month | Used as the best chatbot builder with No-code technology | Overall: 4.6 Capterra: 4.5 G2: 4.7 GetApp: 4.5 Software Advice: 4.5 |
| DeepConverse | Not provided by the chatbot company | Automation with customer support bots | Overall: 4.6 Capterra: 4.5 G2: 5.0 GetApp: 4.5 Software Advice: 4.5 |
| Haptik | Not provided by chatbot vendors | Omnichannel customer experience management | Overall: 4.5 Capterra: 4.5 G2: 4.5 GetApp: 4.5 Software Advice: 4.5 |
| Zoho SalesIQ | (billed yearly) Free plan; Basic – $7/operator/month; Professional – $12/operator/month; Enterprise – $20/operator/month; 14-day free trial | Customer engagement management | Overall: 4.5 Capterra: 4.5 G2: 4.4 GetApp: 4.5 Software Advice: 4.5 |
| Podium | (annual) Essentials – $249/month; Standard – $409/month; Professional – $599/month; free trial – 14 days | Marketing and communication AI chatbots platform | Overall: 4.4 Capterra: 4.3 G2: 4.6 GetApp: 4.3 Software Advice: 4.3 |
| REVE Chat | Live chat pricing (annual):Standard – $13.5/agent/month; Advanced – $22.5/agent/month; Enterprise – $45/agent/month; Chatbot price (yearly): Standard – $44; Advanced – $224; Enterprise – $449; Custom plan; Free trial | Customer communication and engagement management | Overall: 4.4 Capterra: 4.4 G2: 4.5 GetApp: 4.4 Software Advice: 4.4 |
| Botsify | (Billed monthly) Do it yourself – $49/month; Done for you – $149/month; Custom plan; Free trial available | Sales and customer support with an automated chatbot | Overall: 4.4 Capterra: 4.4 G2: 4.3 GetApp: 4.4 Software Advice: 4.4 |
| SurveySparrow | Not provided by chatbot vendors | Omnichannel experience management | Overall: 4.4 Capterra: 4.4 G2: 4.4 GetApp: 4.4 Software Advice: 4.4 |
| Ada | Not provided by the chatbot vendor | Customer service automation | Overall: 4.4 Capterra: 4.4 G2: 4.5 GetApp: 4.4 Software Advice: 4.4 |
| Boost.ai | Not available | Customer experience with conversational AI | Overall: 4.3 Capterra: 4.4 G2: 4.1 GetApp: 4.4 Software Advice: 4.4 |
| Zendesk | (annually billed) Suite Team – $49/agent/month; Suite Growth – $79/agent/month; Suite Professional –$99/agent/month; Suite Enterprise – $150/agent/month; free trial | AI-powered customer service solution | Overall: 4.4 Capterra: 4.4 GetApp: 4.4 |
| FreshChat | Free; (billed annually) Growth – $15/agent/month; Pro – $39/agent/month; Enterprise – $69/agent/month; free trial available | Used as a messaging bot | Overall: 4.1 Capterra: 4.1 GetApp: 4.1 Software Advice: 4.0 |
| Salesforce Einstein | Custom price for the chatbot service | Top chatbot for CRM as a part of Salesforce Service Cloud | Overall: 4.1 Capterra: 4.4 GetApp: 4.0 Software Advice: 4.0 |
| Netomi | Not provided by the chatbot vendor | Bot conversation | Overall: 4.9 Capterra: 5.0 G2: 4.8 |
| MobileMonkey | For marketing & sales: MobileMonkey Startup – from $119/month (annual billing); MobileMonkey Team – from $299/month (annual billing); For creators & coaches: InstaChamp VIP Edition – free (temporary offer); InstaChamp Platinum – $19/month | Sales outreach automation and social media auto chatbot responders | Overall: 4.8 Capterra: 4.7 G2: 4.9 |
| Tars | Not provided by the chatbot company | Marketing and customer service management with intelligent chatbots | Overall: 4.3 Capterra: 4.4 G2: 4.1 |
| Alexa for Business | Shared devices – $7/device/month; Enrolled users – $3/user/month | Used as the best AI chatbot for voice assistance | Overall: 4.1 G2: 4.1 |
In the past few months ChatGPT by OpenAI has become one of the most popular chatbots powered by the AI technology. As the software is still in the research stage users continue to discover the full extent of its capabilities. We can state for sure, that the AI chatbot is able to provide a specific experience of human-mannered conversations. It uses machine learning and NLP technologies to recognize the context of queries and requests and picks up on the syntactic styles and even demeanors of users to write the most realistic answer. Among the most common use cases of this free AI chatbot are text translations, summarizations, and the generation of conversations.
Features:
Artificial intelligence conversation with a human-like manner
Problem-solving capabilities
Efficient natural language processing
Wide range of integrations
AI-generated responses
Tidio Chat is a top online chatbot AI platform with the live chat capability that merges messages from Facebook Messenger, emails, and website chat widgets into a single agent interface. This allows agents to handle all customer communications simultaneously and with the same set of resources, regardless of the channel they arrive from. Users of Tidio Chat can configure a variety of chatbot automation features to launch predefined actions when a specific circumstance is met. There are several possible triggers, such as when a user opens a new page on the website, first visits the site, later visits the site, and time spent on a particular page. Sending emails or chat messages, adding to or removing tags from customer profiles are all actions that might be triggered. Automation in Tidio AI chatbot is aimed at detecting when users experience problems signing in, completing forms, or making payments and taking appropriate action before the user leaves the website.
Live chat
Sales chatbots
Ticketing
Automated responses
Order management (for Shopify integration)
Messaging channels
No-code chatbots builder
Departments and analytics
Interface customization
ProProfs Chatbot is a quick and effective online AI chat tool that enables various business websites to provide prompt assistance to their esteemed clients and website visitors. With the help of ProProfs live chat software, a customer service team can respond to several clients without interfering with their browsing experience, answer a variety of questions in real time, and resolve issues more quickly. Support personnel can rapidly minimize tickets with the use of the live chat software, and customers' reaction times and satisfaction levels are also improved. Capabilities of a chat with artificial intelligence support allow agents to automate responses, collect lead info to enhance sales, and schedule meetings. The ProProfs Chatbot is also noted for its high level of customization.
Features:
Chatbot
Automated greetings
Canned responses
Proactive chat invitation
Intelligent chat routing
Visitor tracking
Customization
Analytics & Reports
Post-chat survey
A conversational AI technology called Manychat was created to assist eCommerce companies in automating text message, Facebook Messenger, and Instagram discussions. Customers can receive email and text messages from administrators with discount coupons, reservation confirmations, promotional messages, and more. With Manychat, agents get the functionality to create customized chatbot processes, run A/B testing to increase campaign effectiveness, and learn more about performance metrics. Using a drag-and-drop interface, operators can also use built-in templates for the chatbot application to create and modify marketing campaigns across numerous social media channels.
Features:
Facebook messaging bot
Automated chatbots for Instagram marketing
SMS text messages
Conversational AI chatbots for WhatsApp
Artificial intelligence conversation chat building
Integrations
A cloud-based service called Landbot.io enables small and medium-sized businesses to build the best conversational chatbots for websites, landing pages, surveys, and chatbot tools for generation of leads to engage with customers and increase conversion rates. Users can develop lead-generating forms on the conversational UI-based platform. The data gathered from the forms is sent straight to the CRM systems of enterprises for further processing. Additionally, Landbot.io has an integrated editor that enhances interaction with potential clients, keeps track of leads, and customizes messages based on visitor preferences with the help of artificial intelligence technology.
Products and platforms:
Website chatbot
WhatsApp automation
API & SDK
Chatbot platform
Integrations
DeepConverse assists companies in scaling and automating their client engagements with its features of an AI chatbot. To give your users a wonderful support experience, DeepConverse features chatbots online, conversational search, and interactive guides. With more than 50 support APIs at the disposal, DeepConverse enables quick and safe automation of processes like recurring payments, appointment booking and scheduling, client identification verification, etc. It provides an excellent self-service chatbot for resolving issues.
Platform capabilities:
AI chatbots
Interactive decision trees
Answer engine
Integrations
Haptik AI tool belongs to the best customer service chatbots for intelligent virtual assistance (IVA). Using a single platform, Haptik's conversational AI software assists in streamlining operations related to contactless shopping, FAQ automation, request routing, and other areas. Organizations can improve sales rates and handle customer inquiries, auto-detect languages, and adjust tones based on the context of interactions thanks to Haptik's natural language understanding engine. By automating procedures including service activation and deactivation, bill payment, travel reservations, booking cancellations, and purchase monitoring, the AI platform ensures better client engagement.
Features and capabilities of the chatbot platform:
Commerce assistance
Conversational SMS
Omnichannel messaging
Natural language processing chatbot
Prebuild conversation workflows
Proactive messaging
AI-powered chatbot suggestions
Zoho SalesIQ is an all-in-one live chat, analytics, customer interaction, and a first-rate AI chatbot software solution suited for small, medium and large businesses. It assists in determining the needs of website visitors while enhancing chances for sales and customer service. To discover hot prospects and priority clients and proactively encourage them to chat with a bot or an agent at the most advantageous moment, SalesIQ offers detailed visitor, contact, and company information. Companies use AI chatbots by Zoho to automate the flow of conversations, gather contact information, and respond to simple questions utilizing the data in the knowledge base. Moreover, conversation bots can be programmed to use pre-built responses, and be taught small talk as well as business keywords to use when speaking with clients. The AI-based chatbot can also be programmed to automatically record queries that go unanswered so that you can update your resources with the answers.
Features:
Visitor tracking
Smart chatbots
Resource library
Data and action widgets
Contact management
CRM integration
Targeting and routing
Helpdesk integration
Anti-spam feature
Team collaboration
Agent mobile apps
Analytics, reports and monitoring
Mobile SDK
An Intelligent chatbot, online review generation, SMS marketing, and payment processing are all included in Podium, all-in-one customer communication and payments platform enhanced by AI, which operates from a single, user-friendly inbox. Podium's operating system for small businesses helps 150,000 satisfied customers make payments via text and credit card readers, send personalized text messages, personalize outbound marketing initiatives, and produce more customer evaluations. The chatbot provider states that with the help of this messaging bot businesses can expect an increase in generated leads by up to 11 times.
Features:
Chatbot reviews management
Web chatbot
Text campaigns
Messaging
Payments
REVE Chat, an omnichannel customer interaction platform, efficiently uses natural language processing and machine learning technology in order to understand user intent, message context and reply appropriately. Among the useful functions of this AI-powered chatbot platform are screen sharing, co-browsing with a chatbot, live chat, and video chat. The chatbot can be used to automate your sales procedure, provide leads, and boost customer engagement. As one of the top chatbots platforms, REVE Chat assists in the organization of real-time interaction management and ensuring customer satisfaction.
Features:
Live chat
AI chatbots online
Video chat
Co-browsing
Multi-channel
Ticketing system
Chat API & SDK
Botsify is a live AI chat option for businesses of various size and domain. It enables companies to engage with customers in real time, deliver personalized messages, and easily provide chatbot support, delighting them and increasing sales. Botsify connects with Facebook Messenger and Skype in addition to the standard email communication channels as a chatbot integration to give the support staff a comprehensive, holistic view of the customer communication state while still delivering prompt customer support when they need it most.
Capabilities:
Website chatbot
WhatsApp automation
Facebook AI chatbot for messenger
Instagram chatbot automation
API & SDK
With the use of the online survey tool and a chatbot app, SurveySparrow, users are able to design, publish, and analyze customer surveys across a variety of media. Making surveys more entertaining and increasing survey completion rates are the goals of a mobile-first, chat-like survey experience. The AI chatbot capabilities of SurveySparrow help quickly and easily distribute customized surveys to specific audiences by using sharing buttons. To ensure efficient feedback collecting, surveys can be shared over the web, mobile, social media, and email.
Products and features:
Enterprise survey software
NPS software
Offline survey
360 assessment
Reputation management
Chatbot for website
Executive dashboards
Customer journey map
Recurring and embedded surveys
Case and audience management
Payments and customer workflows
Ada is an auto chatbot that focuses on automated customer experience, personalizes customer engagement by using extended features of AI and NLP. Ada chatbots make it simple for non-technical teams to create an enterprise-class, automated chatbot platform that responds to 80%+ consumer inquiries. It provides opportunities for automated ticketing and self-service. The platform also lets users create tailored recommendations for clients, offer client-specific discounts, and provide proper responses to queries on the basis of analytics. If some questions can't be answered from the AI chatbot's dataset, it automatically redirects conversations to the live agent with all the data.
Features:
Conversational AI
No-code chat builder
Real-time analytics and reporting
Intelligent chatbot voice automation
A cloud-based and on-premise conversational AI platform called Boost.ai was created to assist companies in creating, launching, and managing chatbots to automate customer service and internal support requests at scale. The technology lets businesses use data from current websites, chat logs, or outdated software to speed up the development of advanced virtual agents by using self-learning AI. When a user asks a question through a chatbot or applications like Skype, Messenger, or Slack, Boost.ai uses deep learning and natural language processing technologies along with its own automatic semantic understanding technology to interpret and provide an answer.
Features:
No-code conversation building
Artificial intelligence chatbot for conversations
Actionable status board and conversation analytics
Omnichannel chatbot messaging
AI-driven smart chatbot replies
Extensive integrations
Support staff members have the functionality to manage customer conversations through all channels in a single integrated agent workspace thanks to the Zendesk chatbot. Customers can be contacted using automatic triggers even before they ask a question, at the precise moment when support is required. Live chat analytics give businesses quantifiable information on client satisfaction and agent effectiveness to help them continuously enhance their customer support offerings.
Features:
Messaging
Help center
AI and chatbots
Agent workspace
Collaboration tools
Routing and intelligence
Knowledge management Integrations
Single customer view
Analytics and reporting
FreshChat is a cutting-edge messaging solution that unifies artificial and human intelligence across message channels to provide seamless customer care for the client who is accustomed to using technology first. The platform also offers the functionality of a chatbot builder to allow users to create their custom chatbots with needed features, designs, and conversational patterns. The AI-powered chatbots ensure the provision of support services 24/7 answering queries and helping clients to solve their issues. FreshChat also enhances the work of support team agents thanks to the unifying of messaging channels.
Features:
Messaging channels
AI chatbots
Web Widget
Multilingual support
Campaigns
The Freshchat SDK
In-built FAQs
Salesforce Einstein is artificial intelligence chatbot tool made to help organizations increase efficiency and customer satisfaction in a variety of internal and external business processes. The platform allows customers to create unique AI-enabled applications that can manage predictions of sales, suggestions, and data analysis from numerous sources via a centralized gateway. Businesses monitor and analyze different data patterns with Salesforce Einstein to forecast business outcomes like live time value or churn. Teams can also incorporate NLP into the applications to recognize user intent out of the context, and automatically route inquiries through simplified workflows.
Products and features powered by Einstein chatbot AI:
Einstein Discovery
Prediction of business outcomes with Einstein Prediction builder
Einstein Language (NLP)
Recommendations by Einstein Next Best Action
Einstein help bots
Intelligent image recognition with Einstein Vision
Netomi is one of the top AI chatbot platforms that enables automation of customer service ticketing process via email, chat with artificial intelligence bots, messaging or voice chatbots. The Netomi chatbot providers say that the tool is able to find solutions for around 70% of client questions. It's possible thanks to the chatbot engine assisted by natural language understanding technology. Thus, by analyzing the query context and offering the best resolution from the dataset the solution provides an improved AI customer experience.
Platform products:
Conversational AI chatbot
AI email resolution
AI chat interface
Webform
In order to engage customers in the real-time discussion, organizations in miscellaneous industries can use MobileMonkey's conversational AI marketing solution. Administrators rely on the functionality of the platform to get in touch with leads, run drip campaigns, plan messaging, share links, and see audience engagement data. In order to streamline customer support operations, it also enables firms to automate follow-up and lead routing procedures.
Tools:
Website lead gen tools
Email tools
Automation builder templates
SMS tools
Social lead capture tools
B2C prospecting database
Through the use of AI-powered chatbots, Tars assists marketing and customer service teams in streamlining their conversion funnels, automating customer support interactions, and redefining experience. Site visitors are greeted by an automated chatbot that begins a conversation that is more human-like, provides them with details about products or services, and prompts to fill in their contact information. With this strategy, consumers are focused on having a product-aimed talk with AI rather than being overloaded with all the information displayed on an ordinary landing page.
Chatbot platform capabilities:
Livechat
Geo-location keyboard
Time and date scroller
Rich media
File upload
Multilingual chatbot
No-code chatbot builder
API integration
NLP chatbot
Chatbot analytics
With the development of bespoke skills for such a voice AI chatbot as Alexa for Business, companies provide their consumers the freedom to spontaneously interact with other content, ask inquiries, order or reorder goods and services, and more. Teams can link Alexa for Business with Salesforce, ServiceNow, or any other specific apps and services. People can connect with the chatbot technology using their voice thanks to Alexa, which enables them to ask questions and receive natural answers as if they had a conversation with a real human assistant. You can enroll users, assign skills at scale, and manage other Alexa-enabled devices with the help of Alexa for Business.
Features:
Custom skill management via self-service API
Enhancement of meeting rooms experience
Shared devices management
Wide range of integrations with corporate services and other Alexa-enabled devices
Text-to-speech, audio and video responses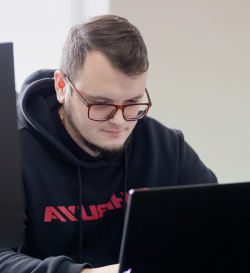 Nazarii
Lead of Software Development
Even though some development projects might appear challenging, professionals of our team take it upon themselves to create an unparalleled solution. We develop programs keeping in mind business needs and goals of our clients.
Talk to Expert
Your form has been succesfully submitted! Please, check if info you provided is correct:
AI chatbot FAQ
What is an AI chatbot?
It's only wise to start with a brief description of an AI chatbot meaning for a clearer vision of the technology. An AI chatbot is basically a software piece that provides users with the experience of human-like conversations utilizing the technology of natural language processing (NLP). While a basic chatbot tool isn't a new technology, it differs a lot from AI-powered chatbots. Old version bots are able to answer simple queries by reacting to the keywords that move the conversation forward or by some UX-defined features. AI chatbot apps have peculiar principles of operating. Read ahead to find out how exactly an AI bot chat works.
How AI chatbots work
The key point of the artificial intelligence chatbot framework is that it can read and comprehend a message context. The technology of NLP allows AI chatbots to understand tasks and questions more fully, find the correct solution in the datasets that they use for machine learning, and present users with answers in a human-like manner. As chatbots with AI research and analyze information to provide responses from sources created by people, they also learn stylistic, syntactic, lexical, and other peculiarities of human speech. Therefore, their responses come close to the realistic to a great extent. To ensure the proper functioning of chatbot solutions, AI programming specialists write comprehensive algorithms describing scenarios that can occur during real-time conversations with users. For example, if the AI chatbot program is employed in sales, among possible queries that are needed to be included in the algorithm might be some payment issues, product info, order processing, etc.
Ways to use artificial intelligence chatbots in business
FAQs
Chatbot tools can be used for providing auto-responses to frequently asked questions. Mostly, they answer queries about opening hours, schedules, prices, list of services, contact info, etc. Therefore, website visitors don't need to spend time searching for essentials through all pages. In case when they want to know something more specific, the chat with artificial intelligence can also include an option of redirecting such questions to the support team members.
Customer engagement
One of the efficient methods to increase customer engagement and boost sales is to encourage customers to communicate and provide opportunities for interaction. For example, ecommerce websites often utilize AI chatbot technology to greet visitors, offer them assistance in goods searches, and establish a productive conversation. Proactive communication helps to improve customer conversion rates accelerating the purchase decision.

Marketing
Marketing teams appreciate the capabilities of the best chatbot platforms and apps as well. Many AI chatbot solution companies offer promoting campaigns for social media to help out marketing efforts. Aside from that, an artificial intelligence chatbot enables customized recommendations, product suggestions, ads, discount offerings, etc., on the basis of the search. For instance, if a customer looks for shampoo on your ecommerce site, the AI service bot will also show related goods in recommendations and ads, like hair masks or conditioners.

Conclusion
We hope that this article helped you to realize all advantages of using modern AI chatbots for improving your business. This type of IT solutions has proven its efficiency in enhancing customer engagement rates, increasing sales, and powering promotion campaigns. In our list of top AI-based chatbots, you can find the best software to be a capable assistant for CRM, support services, marketing, and other operations.
If you have a need for further consultation on the matter of AI-powered chatbot services, don't hesitate to contact us. Atlasiko's team has far-reaching expertise in performing IT consulting and advising the best tech stacks to fulfill all projects of our clients.