The surge in demand for conversational AI solutions, particularly chatbots, is reaching unprecedented heights, riding the momentum created by notable systems like OpenAI's ChatGPT. Gartner, the leading research and advisory firm, projected a remarkable transformation in customer-agent interactions. They forecast that by 2026, one out of every ten exchanges will be automated—an impressive leap from the mere 1.6% of chats that employed chatbots in 2022.
The flourishing market for crafting conversational AI experiences is expanding exponentially. Future Market Insights predicts that by 2033, the sector will burgeon into a staggering $47.6 billion industry, an astronomical rise from its $9.6 billion value in 2023.
A significant testament to this trend is the recent announcement from Voiceflow, a prominent platform dedicated to creating conversational AI solutions. The company disclosed that it successfully raised $15 million in a funding round spearheaded by venture capital firm OpenView. This funding injection propels Voiceflow's total raised funds to an impressive $35 million and attributes a post-money valuation of $105 million to the startup.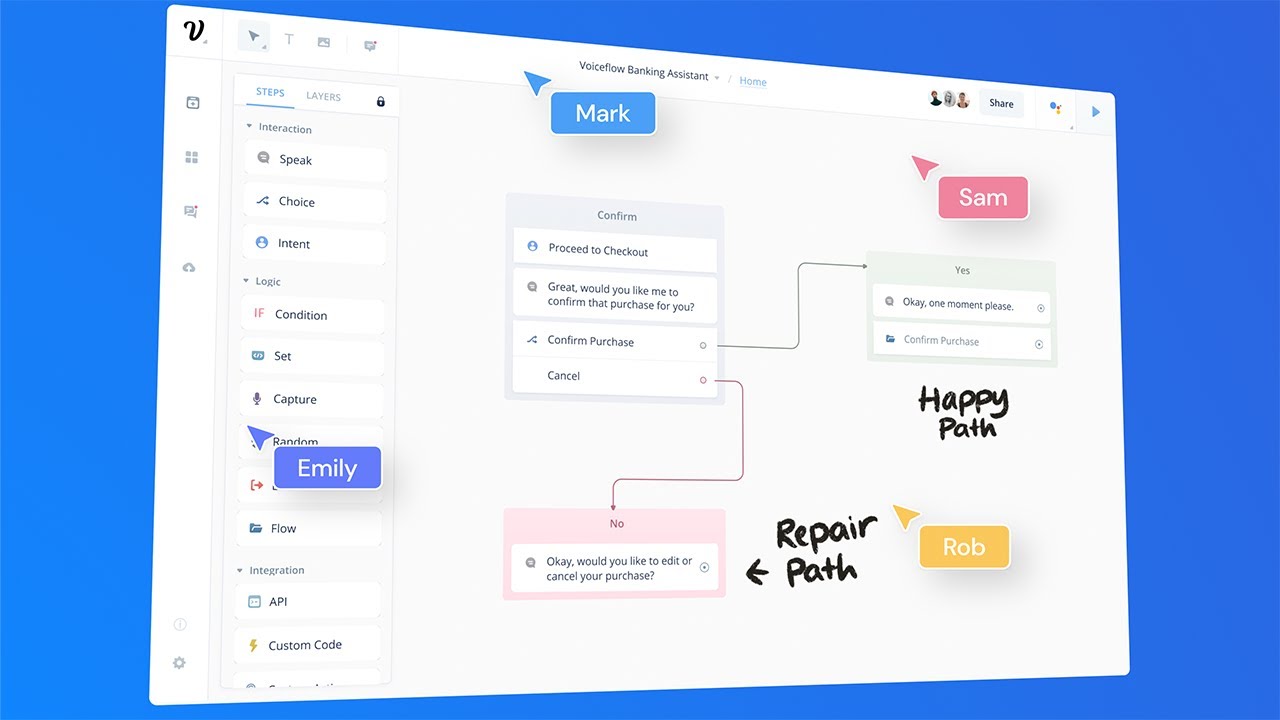 Braden Ream, the Founder, and CEO of Voiceflow, expressed his enthusiasm about the investment's implications. In an email interview with TechCrunch, Ream explained, "This recent investment will bolster Voiceflow's commitment to innovation, marked by the integration of an AI builder powered by LLM (Large Language Model). This empowering addition provides customers with the means to construct and deploy expansive agents driven by large language models, serving functions like customer support and more."
Voiceflow traces its origins to 2019 when Braden Ream, Tyler Han, Michael Hood, and Andrew Lawrence jointly founded the venture. Their journey commenced during their college years when they collaborated to design apps for Amazon Alexa. Their collective vision solidified around simplifying the creation of conversational agents tailored for streamlining specific customer service scenarios.
Ream elaborated on their initial vision, stating, "Our mission was to construct the ultimate collaborative platform, fostering teamwork to create remarkable AI agents for automation. Today, our core focus lies in automating customer support for websites and in-app assistants."
Describing Voiceflow as a high-quality collaborative design platform akin to Figma, Ream emphasized its utility in deploying agents powered by substantial language models. This includes but is not limited to OpenAI's GPT-4. With Voiceflow, companies can conceptualize, assess, and implement AI agents without being restricted to a single model or technology. The platform encourages the integration and experimentation of different models, encompassing speech recognition models, for crafting diverse conversational AI experiences.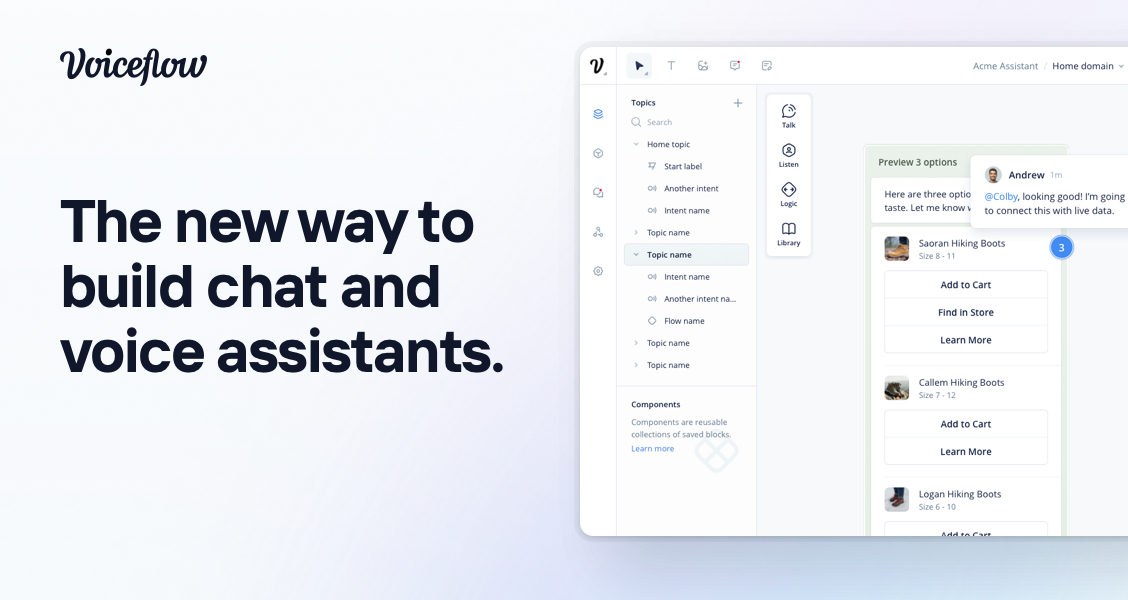 Ream emphasized, "Voiceflow seamlessly integrates with any existing natural language understanding platform or technology stack, empowering teams to enhance their design and collaborative capabilities without the disruption of costly vendor shifts or technology alterations. Additionally, enterprise clients can harness a range of large language models, both proprietary and popular, via APIs."
While Voiceflow contends with rivals like Google-owned Dialogflow, IBM Watson, AWS Lex, and Microsoft Bot Framework, it boasts a substantial customer base of 450 clients. Noteworthy names include Amazon, JP Morgan, The Home Depot, State Farm, Vodafone, and an undisclosed government agency. Collectively, these clients contribute to the platform's impressive user count of approximately 130,000.
Ream noted a substantial surge in Voiceflow's signups and usage since the introduction of ChatGPT in November. He attributed this growth to the rising interest in conversational AI. The platform's appeal lies in its ability to bridge the gap between non-technical and technical stakeholders, enabling them to collaborate efficiently in a secure environment. Consequently, enterprises can expedite the development, testing, and deployment of agents powered by large language models for diverse internal and external use cases.