The personalized news Artifact app, co-founded by Instagram's creators, is unveiling its latest AI-powered enhancement. The company has partnered with Speechify to introduce an AI-driven text-to-speech voice feature, allowing Artifact users to listen to news articles being read aloud. Unlike typical robotic-sounding voices found in other text-to-speech engines, this new feature offers a range of natural-sounding voices that can be customized with various accents and audio speeds. Additionally, users can even choose from two celebrity voices: Snoop Dogg and Gwyneth Paltrow.
To access this novel feature, Artifact app users simply tap the play button on the bottom bar of any article and then customize their listening experience by selecting their desired voice, accent, and speed. The speed settings range from a leisurely 0.1x to a rapid 4.5x, although most users will likely opt for a more moderate pace.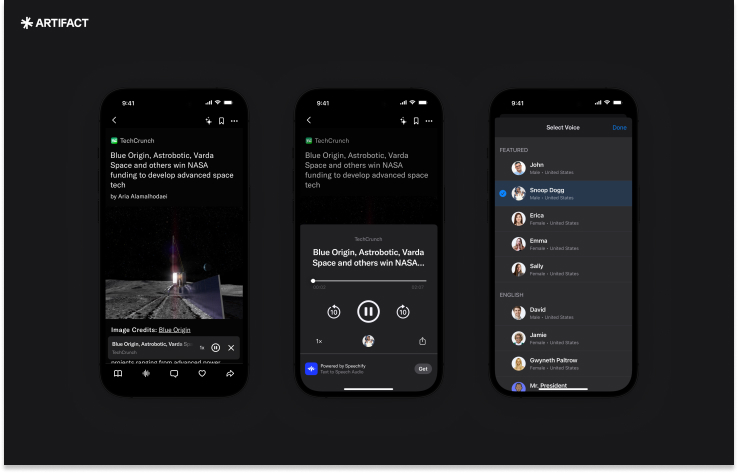 An added convenience is that users can continue browsing the news while the article they're listening to plays in the background. This way, Artifact can be seamlessly integrated into users' daily routines, whether they're working out, commuting, or doing household chores.
With more than 30 voices to choose from, all free of charge, Artifact aims to cater to diverse preferences. Although currently available in English only, users can choose accents such as U.K., Australia, Nigeria, and South Africa. In addition to the official celebrity voices, users can have some fun with choices like "Mr. President," reminiscent of Barack Obama, or "Dwight," inspired by Dwight Schrute from "The Office."
These new voices are the latest additions in a series of AI-powered features that have been introduced to the app since its public launch in February 2023. Previously, Artifact announced the use of AI to rewrite clickbait article headlines, with a GPT-4 model employed to rewrite flagged titles. These revised headlines are marked with a star icon to indicate their modified status. In April, the app started summarizing stories using AI, offering playful styles like "explain like I'm five" or a series of emojis.
The app's recommendation systems also rely on AI technologies to deliver personalized content to users based on factors like clicks, reading time, dwell time, shares, and more, rather than simply presenting what's popular across the entire user base.
While Artifact shares similarities with other news apps like China's ByteDance's Toutiao, Japan-based SmartNews, and News Break, which also offers personalized news curation, it faces tough competition in the U.S. from built-in news apps on smartphones provided by Apple and Google, as well as social media platforms like TikTok.
With the addition of the text-to-speech voice feature, Artifact is set to compete with read-it-later apps like Pocket, Matter, and Instapaper.
Although well-liked by early adopters, boasting a remarkable 4.7-star rating across 4.3K reviews on the U.S. App Store, Artifact has yet to achieve widespread mainstream adoption, currently trailing at No. 124 in the News category. However, with its ongoing commitment to AI-driven innovations and user-centric features, Artifact remains an app to watch in the dynamic and competitive tech and AI landscape.