A chatbot AI platform, Poe by Quora has unveiled a range of updates designed to enhance user experience. Among these updates is the launch of a Mac application, granting users easy access to the platform's features. Notably, Poe now empowers users to engage in multiple concurrent conversations with a single AI chatbot app—a convenience that streamlines interactions.
An exciting addition to Poe's repertoire is its integration with Meta's Llama 2 model, bolstering its AI capabilities. This strategic move aligns with the platform's overarching mission, as articulated by CEO Adam D'Angelo. D'Angelo, who also holds a position on OpenAI's board, envisions a burgeoning ecosystem of AI chatbots, akin to the current landscape of the internet. Poe aims to become the central hub for this burgeoning bot community.
"I think there's going to be this massive ecosystem similar to what the web is today," D'Angelo recently shared. "I could imagine a world in which most companies have a bot that they provide to the public." To facilitate this vision, Poe chatbot adopts a subscription model that offers unrestricted access to the entire array of bots on its platform. This subscription is available at $19.99 per month or $200 per year.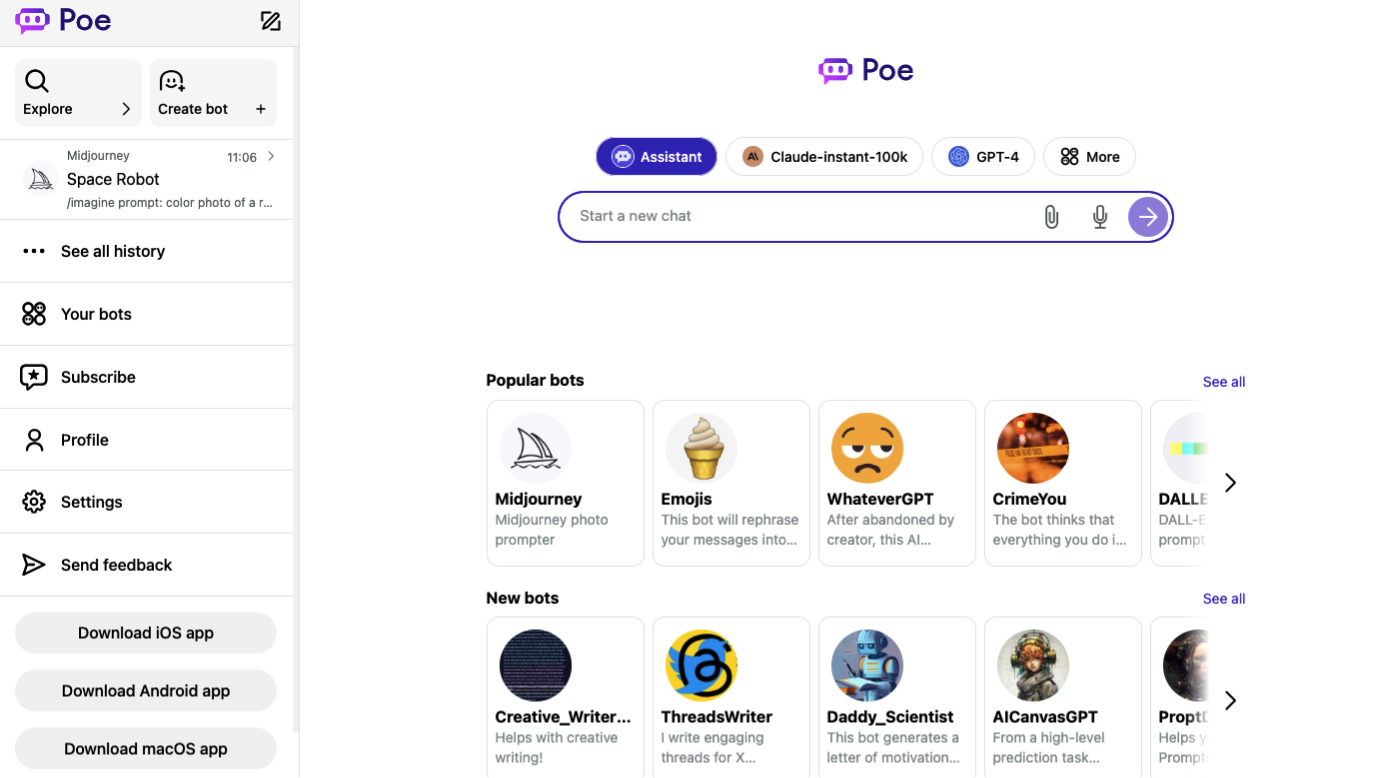 The newly introduced Mac app mirrors the functionality of Poe AI website and mobile counterparts. This ensures a seamless experience for users, allowing them to interact with an array of bots, including OpenAI's ChatGPT-4 and Anthropic's Claude. In a recent email communication detailing the product updates, Poe AI chatbot disclosed the introduction of three new bots that leverage Meta's almost open-source LLama 2 model.
Moreover, Poe AI bot has enabled users to engage in multiple simultaneous conversations with a single bot. The platform has also enhanced bot discovery by introducing a dedicated "explore" page. In a bid to cater to a broader user base, the Poe AI tool has expanded its language support to include Japanese.
Functioning not only as a bot interaction platform but also as a bot creation tool with an API, Poe AI chat has introduced a new feature enabling developers to adjust prompt "temperature." This parameter affects the variability and predictability of bot responses: higher values yield diverse but less predictable replies, while lower values yield more consistent responses.
While details about Poe's forthcoming enterprise tier remain under wraps, interested parties can secure a spot on the waitlist via a Google form. As the AI landscape continues to evolve, AI Poe stands poised to play a pivotal role in shaping the future of AI-powered interactions.