Intro
Nowadays, all of us use web-based applications and visit different websites basically every day. However, it's pretty complicated for end-users without special knowledge to distinguish them from one another. As a business owner that wants to enhance the development and enable the digital transformation of a company, you have to know the difference between a website and a web application. If you understand the correlation between web app vs website, it's easier to decide what web-based solution you need to reach the objectives. When you make up your mind, just request our services of web app development and web development to deliver your perfect IT solution. In this article, we analyzed and compiled the most significant facts and characteristics about web apps vs websites. Thus, it'll be simple for everyone to comprehend the differences and similarities of "web application vs website" and to select what suits their business needs the most.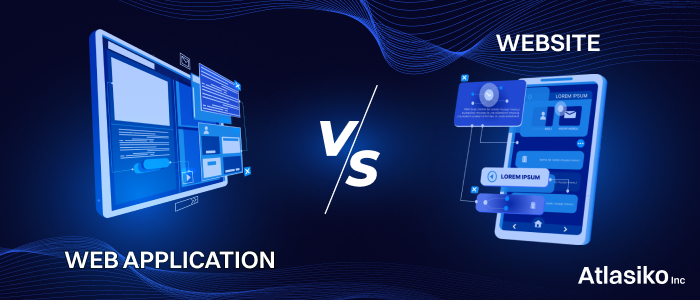 Definitions of a web-based application and a website
Undoubtedly, it's only right to start by giving an extensive explanation of the terms we're trying to delve into. First, let's define web application characteristics to understand the principles and peculiarities of its development and use. We'll also define website features to be able to compare both web-based solutions.
What is a web application?
To answer the question " What is a web app?", let's give the web-based application definition. A web-based software, also known as a web app, is one that is provided over the Internet via a browser interface and is kept on a remote server. The main purpose is to provide users with particular functionality remotely from any device. By definition, web services are web applications, and many websites (not all of them, though) contain web applications. Building a web app can be performed for a wide range of purposes and is accessible to everyone, from businesses to individuals, for a number of functions. Web-based email services, online calculators and stores are a few examples of web applications that are frequently used. While some web-based apps are only accessible through a particular browser, the majority enables access through all browsers.
What is a website?
A website is a collection of numerous web pages. Your website must be saved or hosted on a web server that is always linked to the Internet if you want it to be accessible to everyone in the world. The web pages on the website all have a similar layout and design to create the proper representation of a brand and are connected through hyperlinks and hypertext. Additional files on the website, such as pictures, video files, or other digital assets, may be included.
Each organization for which a website was designed wants its objectives to be enabled via a website as a digital ecosystem that can distribute information and encourage interaction between people, places, and things.
Core features of web applications
As with any other IT solution, web apps have their own set of features and specific characteristics that distinguish them from others and form capabilities.
Hosted on cloud and have a high level of scalability.
Work cross-platform.
Created with the modular approach and loosely coupled to increase the flexibility of module modifications.
With enabled automated testing.
Facilitated development and deployment.
Support of traditional and SPA behaviors is enabled.
Security of data.
Types of web applications
Single-page apps – operate small amounts of data and enable interactions without reload.

Multi-page applications – works similar to the traditional types of web application designs reacting to each new action from the user by loading new pages from a server.
Web app portals – contain links to different web-based apps or websites tools granting access from a homepage.
Animated web apps – web-based software with animated elements and effects aimed at representing content creatively with the help of Canvas technology.
Rich Internet apps – similar to functionalities of desktop apps but on a web basis, created to overcome typical browser restrictions with the help of user-side plugins.
Ecommerce web-based apps – examples of web apps that provide online shopping opportunities enabling secure transactions via integrations with payment systems.

How web apps work
For a better understanding and to answer the popular question "How does a web application work?", we present you with a brief description of the major functional processes of a traditional web app step-by-step.
Using a web browser or the application's user interface, the user sends a request to the web server across the internet.
The web server forwards this request to the relevant web application server.
The requested operation, such as the database query or data analysis, is completed by the web application server, which subsequently produces the requested data's results.
Web application servers deliver information or processed data to the web server as result.
The requested information is provided by the web server in response to the client, and the user's display subsequently shows it.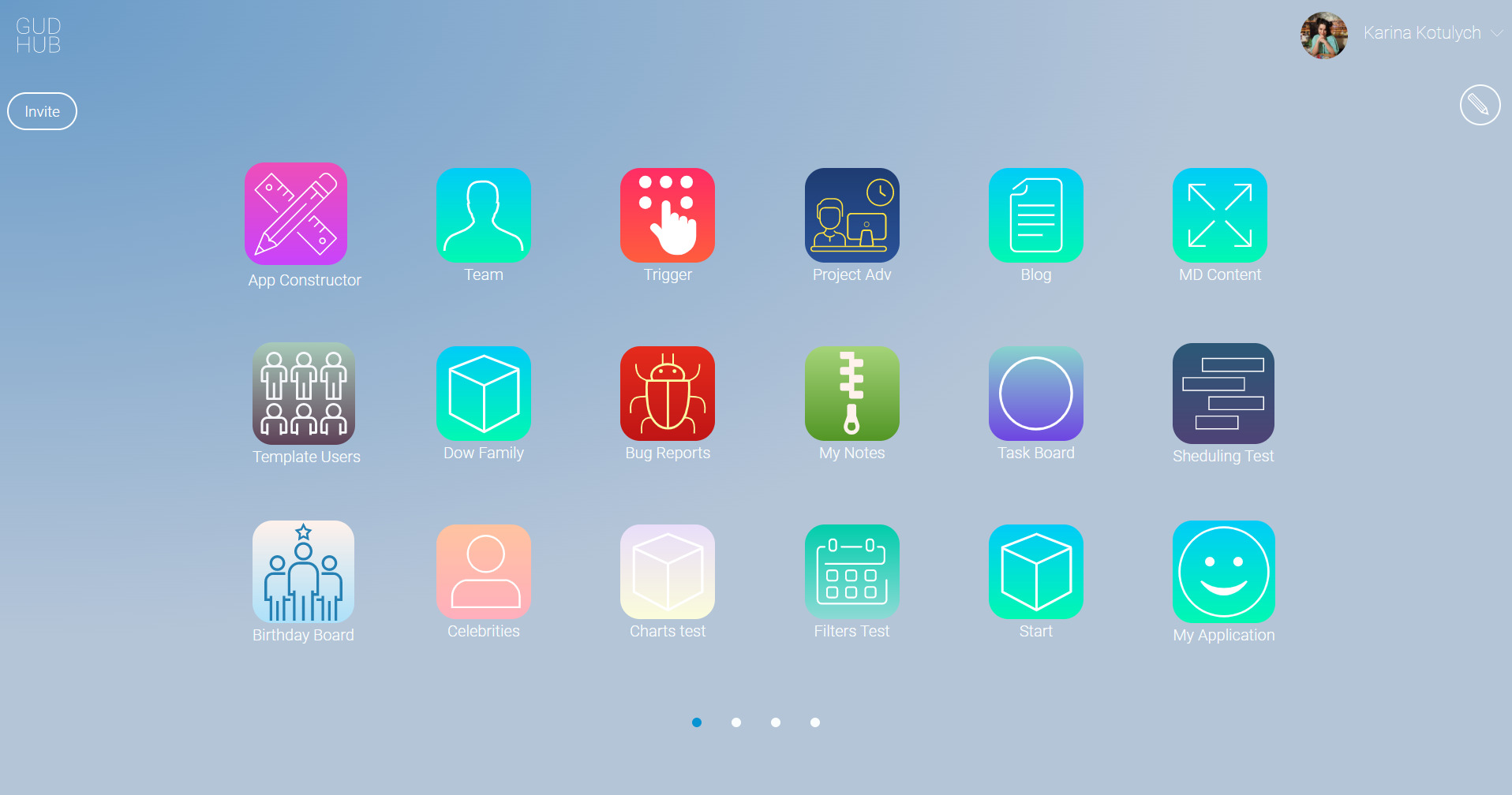 GudHub as an example of web application functionality.
Main characteristics of a website
Regardless of the industries and sizes of businesses different websites are created for, they all have generally acknowledged qualities to indicate good web-based solutions. Here, we compiled a shortlist of useful website features to pay attention to.
Simple navigation.
Stylish design in accordance with trends.
Content that represents the authority of a brand.
High-quality visuals on a website and proper descriptions of products.
Linking to social media as a website extension.
Quality blog posting.
Security of data.
Website types and purposes
Ecommerce – represents products and enables easy online shopping, but has more limited interaction capabilities than ecommerce web apps.

Personal website – such websites allow individuals to share their content, usually on personal topics.
Portfolio – contrary to personal websites, this type is used in the professional field to showcase the results of work.
Business website – mostly chosen by businesses to set contact with clients, present information about their services or goods, share pricing details, etc.
Blog – this type of website aimed at sharing content, useful information in the forms of articles, blog posts, research, and whatnot.
How websites function
To discern the difference between website and web app, let's look at distinctions in the operations of a website.
When you start a web browser and type in a domain name, your browser will show the websites associated with that domain name.
Each website has its domain name, also known as a website address, which is connected to the IP address of the web server. The Domain Name Server is used to manage and track IP addresses.
Your web browser makes some inquiries when you type in a domain name, i.e. it searches the IP address of the domain name, locates the hosting web server, requests a copy of the requested web page from that server, receives that web page from the server, and finally transcribing the web page to display the information on your screen.
Comparison chart Website vs Web app
| Characteristics | Website | Web application |
| --- | --- | --- |
| Purpose | The main purpose of any website is to deliver information to website visitors. The difference in the content will depend on what website type it is and the objectives of the website building HTML. | Web app programming's aim is to create web apps that can help users to solve challenges and tasks. Just like desktop or mobile software, web-based applications have specific capabilities for users' needs. |
| IT solution development process | Website development is considered to be easier and faster as it doesn't have extensive functionalities and basically is a set of web pages. Most of the time specialists spend on design, SEO, and content. | Comparing web-based apps and websites, web applications are more complicated to build. Despite a web-based app needing similar web design services as a website, developers also to create a web app with extensive functionality, proper responsiveness, usability, and security. |
| Time to release | Usually, the typical website creation process takes from a week to a month at maximum. This highly depends on the website types and purposes. It's faster to make a static website with HTML, while dynamic content and pages require more time and effort. | As creating web apps is more complex and multidimensional, it takes more time to develop a web-based application. In general, it has 2 phases. First, developers design a web app with basic capabilities (Minimum Viable Product) that lasts around 2–8 weeks. Then they resort to the web app scaling phase when the extension of functionalities and improvements take place. This phase doesn't have time limits as it depends on clients' demands. |
| Authentication | Most informational websites are open-source and don't require obligatory authentication. However, site owners can set it up and ask to register for extra options or regular updates. | As website applications have wide-ranging sets of capabilities, they often require authentication in different forms to access web app functionalities. |
| Hosting | Prevalently, websites don't contain a lot of data that have to be processed. This impacts the price of website hosting making it cheaper. | Undoubtedly, as a web app has more components, it needs more extensive hosting with additional capabilities or a server. It increases the price of hosting services. |
| Type of Software | Website is a final product of web development so after launching it can be easily accessed via browsers. | Creating a web application is completed with the website development. It's explained by the fact that you need a website for apps on a web basis to grant users access to the capabilities. |
| UI/UX | For the interface and architecture of a website you can use standard layouts and it'll work. Although, unique design significantly increases the website's performance and engagement. | The UI/UX design performed by a specialist is a must-have for web applications. It enables the intuitiveness of a web app and the navigation comprehensiveness for users to ensure a positive experience. |
How to decide what web-based solution is needed – website vs web application
Now, that you have an understanding of the difference between web app and website characteristics, it's easier to choose one web-based solution. We'd also like to give you some more useful tips on how to make this web app vs website decision to bring your business more opportunities for improvements. As Atlasiko Inc. has great experience in delivering web development services, we advise defining the main objectives and goals you want to reach with the help of a particular web solution before requesting its creation. If your company needs to showcase goods, services, and other info about the organization, the best-suited IT product would be a website. In case when you aspire to provide clients with an interactive web-based program that manages to solve their tasks, then request our web app development services. Either way, Atlasiko Inc. will be happy to help you in creating web applications and websites.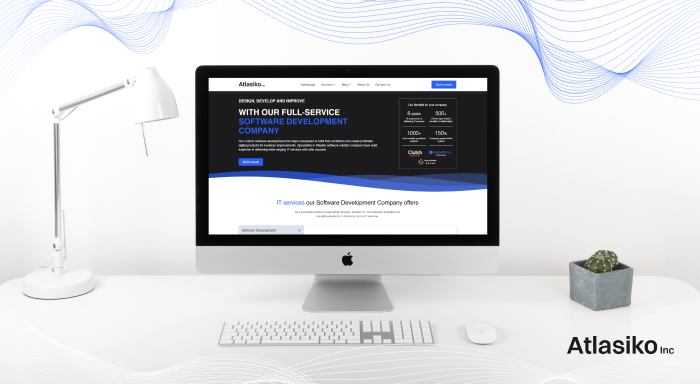 Conclusion
We hope that this article has helped you to understand the web apps vs websites difference. With the knowledge of the main characteristics, it sure will be easier to decide what web app or website type suits the best for your company. Summing up, if you want your clients to be able to interact with data and solve certain challenges or tasks automatically, choose web applications. Atlasiko Inc. will deliver you the best web app with custom design and functionality. If your main need is to display information, a website with an eye-catching design and high-quality content created by our web designing company will do its job bringing more visitors and potential clients. Contact us for more information about our services and collaboration models.