It's hard to overestimate the impact of high-quality texts on promotion and sales. After all, the entire advertising and marketing industry holds on to this pillar aside from other essential elements. Yet, after the commercial market expanded to the web, catchy slogans and persuasive taglines weren't enough anymore. You can have the most creative texts but still no clients and brand recognition without sufficient exposure via search engines. That's exactly why organizations opt for hiring a professional SEO copywriter. The combination of SEO and copywriting in one service helps to present your business to the world and attract clients.
To give you more understanding of what exactly a copywriter for SEO does, in this article, we'll delve into the characteristics of this career. Keep reading our SEO copywriting guide to know more.
What is an SEO copywriter?
Let's start with giving an SEO copywriter definition. So, an SEO copywriter is a specialist who writes original content in accordance with the rules of search engine optimization to improve a website's search engine rankings. The main objective is to assist a business enhance its online presence on the search engine results page, attract organic visitors, and drive conversions and sales through well-arranged and persuasive web content.
An SEO web copywriter creates texts for SEO copy of your website, landing pages, product descriptions, sales and promotional text. Additionally, SEO web copywriting professionals usually write short texts for check-out screens, website navigation instructions, CTA buttons, etc. Often they also take on tasks of SEO content writers getting involved in blog and social media postings and more (breaking the fourth wall, the article you're reading right now was also written by the copywriter SEO specialist).
When businesses need an SEO copywriter
There are several conditions when businesses need copywriting and SEO services. We'll take a look at the most common of them to establish reasons why the profession of an SEO copywriter is in demand.
Low traffic
Traffic is one of the cornerstones of a successful website and business in general. The more people see your web content, the more chances that they'll become your clients. A qualified copywriter SEO will assist you in increasing your brand's online presence to consumers and achieving a high search engine ranking. Without it, potential clients won't learn about your exceptional products and services when they need them most because your content will be hidden deep within search engine results. Because SEO focuses on organic (non-paid) traffic, SEO copywriter services are a practical business strategy for organizations of all sizes.
Low conversion rates
Conversion rates define how many website visitors take action that you intended them to take (contact you, fill out the form, request services, etc.). Writing copy for SEO is aimed at generating leads and sales and guarantees that users who land on your site will stay to study your offering and make their decision.
Outdated content
Out-of-date information won't rank high because of two main reasons: first, readers aren't interested in old content; second, search engines don't put it on the top of the ranking because it doesn't adhere to the E-E-A-T principle (Experience, Expertise, Authoritativeness, Trustworthiness). You'll gain both the trust of search engines and customers if you've developed a reputation for creating high-quality, search engine-friendly content with the help of a qualified copywriter for SEO.
We hope this explanation gives you an answer to the question "What is an SEO copywriter profession?" in general. Of course, a simple definition isn't enough to describe all characteristics of the job and major responsibilities. Keep reading to get a complete picture of who an SEO copywriter actually is.
SEO copywriters job description
If you're a beginner who wants to break into the field of SEO web copywriting or a business owner who wants to know what qualities a true SEO website copywriter should have, find the answers in our article. We prepared an accurate SEO copywriter job description to get you to understand this line of work better.
What do SEO copywriters do?
Proficient SEO copywriters have rather a lot on their plate having to combine skilled content writing with high-quality SEO. Here are some major tasks and SEO copywriter responsibilities.
Topic Research and Analysis
The best way to start any project is to conduct research. First, you need to study the topic. SEO copywriters provide services for businesses of various industries in which they typically don't have a degree. Therefore, it's extremely important to research the matter they're going to write about, as well as its place in the field, to deliver accurate information. It includes analyzing competitors and client base.

Identification of search intents
Based on the research of the business and client base, SEO copywriters can tell what intent users usually have while typing in certain queries in a search bar. There are four major types of user intents – commercial, informational, navigational, and transactional. Depending on the organization that requested SEO copywriting services, search intents can differ, and it's one of the SEO copywriter's responsibilities to recognize them.

Keyword research
Keywords are crucial for SEO web copywriters as their use influences search engine rankings the most. Finding keywords on particular topics usually isn't a problem, thanks to advanced tools like Google Keyword Planner or Ahrefs. However, working with them can be pretty complicated. The major difficulty is that there are many words and phrases that search engines can indicate as keywords but not all of them are good for use. For example, they can be formed based on frequent user queries which often contain grammar or spelling mistakes. Experienced SEO copywriters know that it's not right to use such keywords even if they have a high volume of monthly searches. Specialists filter bad keywords leaving in the list only those of high quality.

SEO content copywriting
Of course, writing search-engine-optimized texts is the central task of all SEO copywriting projects. A qualified SEO content copywriter creates professional texts that address the interests of website visitors, encourage actions, and describe client organization, its products and services in accordance with the project objectives. The core characteristic of this stage of work is the professional use of keywords (they have to be naturally introduced in headings, meta-tags, sentences, buttons, etc. avoiding keyword stuffing).

Collaboration with the team
Creating high-quality content is almost never an individual task. SEO copywriters are usually included in a web development team working together with other specialists to achieve expected results from web pages.
SEO copy-editing
Sometimes the initial SEO strategy needs adjustments and improvements based on the analytics provided by an SEO expert. Then, SEO copywriters change their texts, rewrite headings, conduct additional research, etc.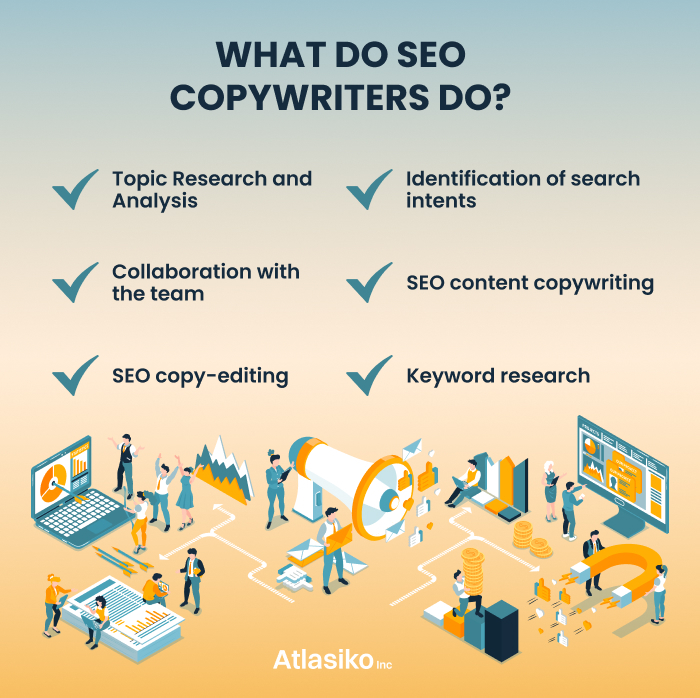 Copywriter SEO skills
Writing skills
Before you start working as a copywriter SEO professional, it's critical to have a strong foundation in fundamental copywriting techniques. Successful copywriters for SEO are typically capable of regularly producing informative, compelling, and valuable text material. They develop content that focuses on a particular problem the reader is experiencing and offers the solutions they're looking for because they have a deep grasp of the user's intent. Professionals ensure that their work is error-free and have a strong understanding of the language they are writing in. In order for readers to interact with the copy and share it on social media sites, they also know how to employ language and a tone that is appropriate for the target market. Experienced search engine optimization copywriters can modify their writing style to appeal to various audiences.
SEO expertise
Having at least basic expertise in SEO for copywriters is essential. Experts use SEO copywriting best practices throughout the material and have an in-depth understanding of SEO marketing methods. The knowledge of how bots and search engine crawlers index and rank online pages gives specialists more capacity for improving their SEO writing. These copywriters also understand how to optimize page linkages, image attribute contents, title tags, meta descriptions, and logical site layouts.
Market and topic research
To promote an SEO copy, a skilled website SEO copywriter needs to be capable of undertaking thorough research. We mentioned above that this entails doing keyword research and learning more about your target market. However, depending on the website, you could also need to study scientific papers, conduct expert interviews, or find pertinent statistics. Your work will stand out if you include unusual and fascinating information you can find about your subject.
Creativity
Qualified SEO writers need to produce new ideas all the time, whether you're creating brand-new web pages or upgrading old ones. If you have a lot of ideas naturally, this is wonderful news. However, even if you don't consider yourself to be particularly creative, you can still improve this skill greatly.
Skills in communication
Although SEO copywriting may seem to be a "stand-alone" profession, it's actually more of a "team sport". Search engine optimization copywriters need to have great communication skills to get along with other members of a bigger SEO team, as well as site designers, marketing managers, SMM experts, etc. Not to mention how important communication with clients is when you're a freelance copywriter.
Feedback analysis
Don't expect clients or your PMs to like everything you write, it's usually 100% possible they'll have edits and suggestions. Seasoned SEO writers know how to react to criticism and typically accept constructive feedback regarding their writing abilities and the effectiveness of their copy in search engines.
Managing time
Most SEO web copywriters have excellent time management abilities, which aid them in meeting deadlines. To generate high-quality writing and handle revision requests, they often understand how to prioritize assignments and successfully manage their time.
SEO copywriter requirements
Together with the skills mentioned above, there are more conditions that you need to have to meet the SEO copywriter job description. So let's look at the most common SEO copywriter requirements that you can see in a job advertisement.
A bachelor's degree in a relevant discipline, such as English, creative writing, journalism, or communications.
Experience creating SEO copy (every organization sets its own requirements of how many years of experience you should have to be hired, usually it's 2+ years).

A professional portfolio that includes your SEO copywriting examples e.g. web pages, articles, blog posts, etc., make sure you specialize in writing SEO copy.
Excellent writing, editing, research, fact-checking, and grammar skills.
Adaptable writing style for various audiences.

Advanced understanding of SEO copywriter techniques.

Self-motivated with effective time-management and planning abilities.

Having experience in working with popular content management programs and SEO tools.
How much money does an SEO copywriter make?
Undoubtedly, salary is among the most important factors in getting into a certain career. Just like with any other job, SEO copywriter salary varies depending on different aspects. Background, years of experience, skill set, employment type, industry, business size, region, and many other conditions can impact the amount of money you get paid. The best option to know your potential salary is to look at the statistics and average rates. Here are some numbers that we've found for you.
| Source | Average | Range | Hourly (average) |
| --- | --- | --- | --- |
| ZipRecruiter | $77,180 | $28,500 – $136,000 | $37/h |
| Glassdoor | $61,843 | $47,000 – $120,000 | $30/h |
| Payscale | $53,130 | $39,000 – $75,000 | $23,47/h |
| Talent.com | $58,000 | $43,875 – $82,000 | $27,88/h |
| Salary.com | $43,938 | $34,240 – $53,273 | $21/h |
Types of employment for experts in copywriting SEO
In-house copywriting jobs
You can be employed by a corporation as a full- or part-time employee. Businesses of many sizes and in a variety of sectors employ in-house SEO copywriters. Some marketing firms also employ copywriters on staff. The corporation requires many of its staff writers to work internally at its offices. However, depending on the organization, you might be able to work entirely from home, wherever you reside. Like any other professional role, this often has medical or other benefits.
Contract jobs
This type of SEO-copywriter employment refers to an official position you hold with a business or marketing firm if you are employed under contract. A contract has start and end dates because it establishes collaboration only for a defined period of time. You can be required to put in the same hours as regular employees and work on-site, depending on the business. However, as you are a contractor rather than an employee, you are not eligible for any employee benefits.
Freelance
Freelance SEO website copywriters are also employed on a contract basis, but they typically choose their own customers and work with them directly without any third party. They might simply work on one project with a company for a brief period of time, or they might work on numerous projects throughout time. They can also work with a client on a retainer basis, in which case the copywriter gets regular, monthly assignments that last as long as both sides are satisfied with them.
Copywriter for SEO: resume examples
Teal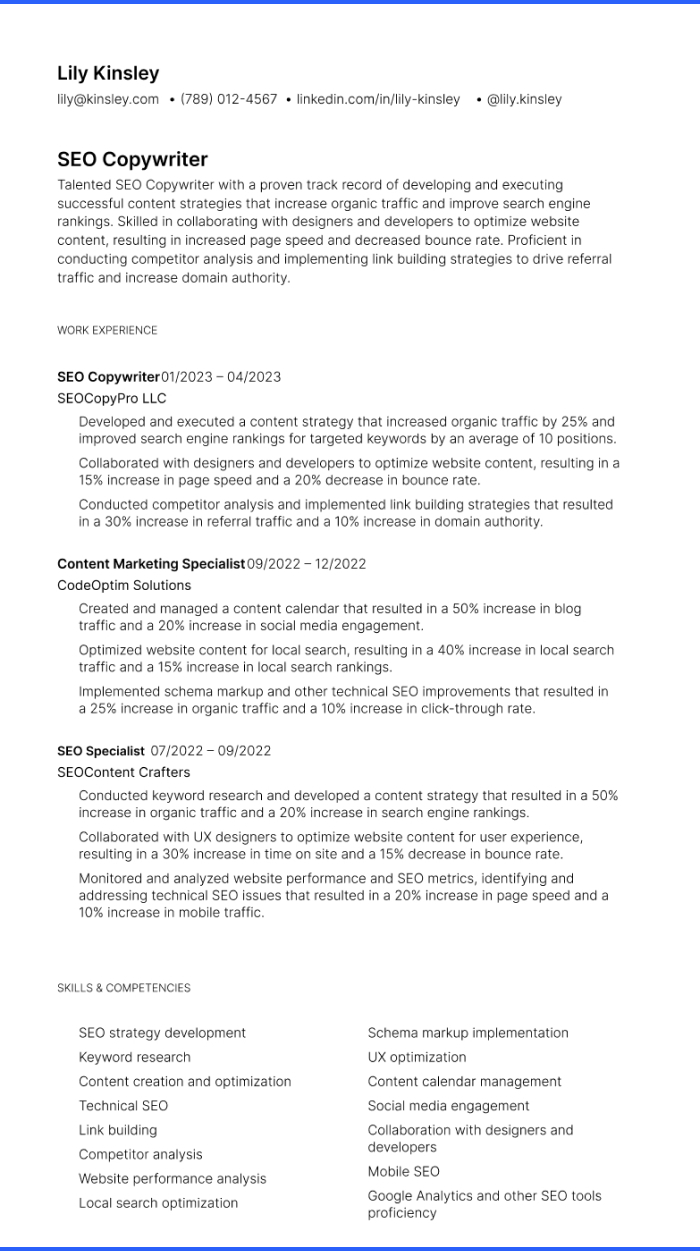 CLIMB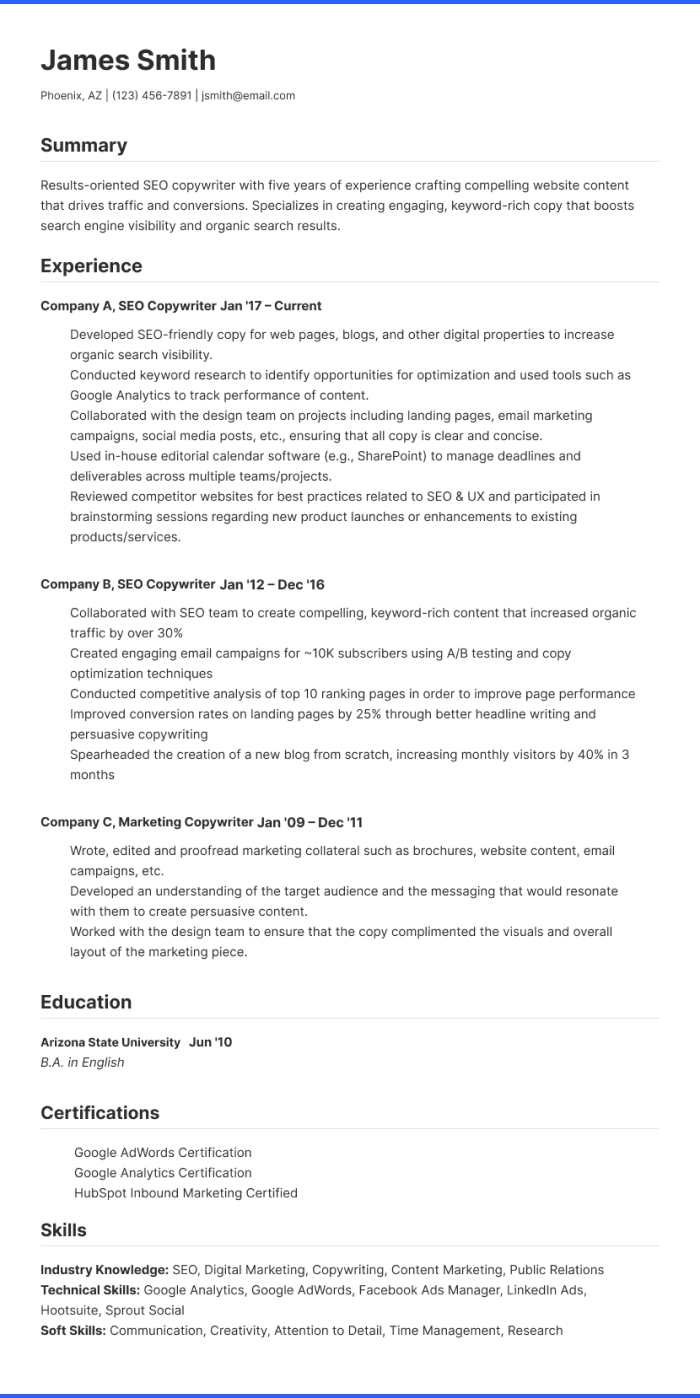 Jobscan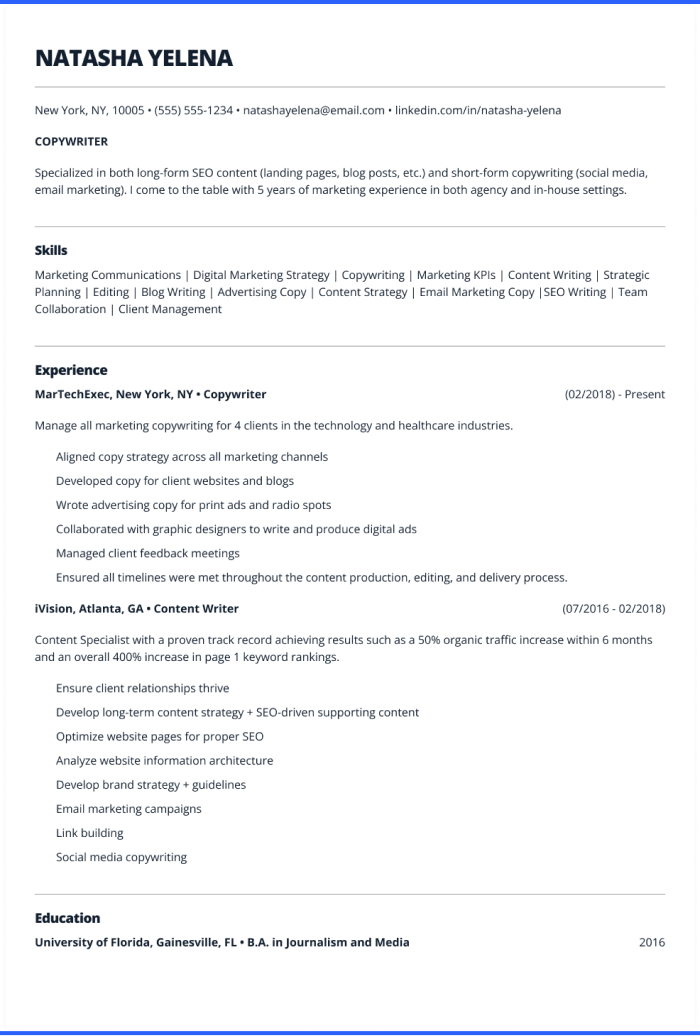 SEO copywriting tips
We want to share some SEO copywriter tips for beginners that will help them learn how to write SEO copy professionally and enhance both writing and search engine optimization understanding. Use copywriting SEO best practices proven to be effective over the years. We hope our copywriting tips will give you a point where to start in creating high-quality SEO-optimized copy.
Be audience-oriented
From keywords to the writing style, keep in mind who you are writing for. Having an extensive understanding of your target audience can help you a great deal during keyword research and writing. For example, if you target a specific age group, it only makes sense to find out their major search intent and a preferable style of information presentation. Naturally, some boomers would find it ridiculous or even rude to see slang phrases in professional texts while Gen-Z would have the opposite reaction in most cases. Focus on a certain segment of the audience might also include your conversion rates as your web pages are mostly seen by potential clients.

Use on-page SEO hacks
As we mentioned, SEO copywriting encompasses not only creating texts for the main body of your web page but also writing meta-tags, generating effective headings with proper use of keywords, adding external and internal links, optimizing URLs, file names and Alt tags. Using on-page SEO capabilities is an advanced level of copywriting best practices that helps in improving web page rankings.

Write outlines for posts
After the research, when you have a new topic, lots of information, and tons of keywords in front of you, it's easy to get everything confused and draw out the writing. One of our website copywriting tips is to make an outline for your post, whether it's an article or a web page. Define the purpose of your post, map out the main sections, divide keywords between them, and structure the information accordingly. After you have a plan, you can choose the ways and styles to present information.
Improve readability
If website visitors have to read your sentences twice to make sure they understood them correctly, your SEO copy is a lost cause. Most of the visitors won't even do that, they'll just close your page and find another one. That's why readability is important. Prefer simpler forms over complicated expressions. You can also check your readability thanks to special editor tools like Hemingway Editor, or others.

Structure your content
The right information presentation plays a key role in lifting up your website in the search engine ranking. First, structuring with the help of different levels of headings, sections, and lists, communicated to the web by HTML semantic tags, is positively viewed by Google and other search engines. Second, it's much easier for readers to comprehend structured information.
Add FAQ
Answering frequently asked questions with the use of long-tail keywords (starting with Why, What, How, etc.) in your posts opens you the possibility of directly targeting the audience via voice search and rich snippets.

Use the best SEO copywriting tools
There's a whole bunch of services offering professional assistance for SEO copywriting tips for beginners and professionals. You can use Google Search Console, Semrush Writing Assistant, Yoast Real-Time Content Analysis tool, Ahrefs Keyword Explorer, and others.
Copywriting for SEO FAQ
What is SEO copywriting?
SEO copywriting definition refers to the process of writing SEO copy that involves combining tried-and-true SEO practices for increased traffic (such as keyword research) with persuasive language. Search engine optimization copywriting influences readers to take a certain action, such as making a purchase or joining an email list. This copy can be found in emails, product pages on websites, and other marketing materials.
What are SEO copywriting statistics in 2023?
The success of 46% of respondents was attributed to SEO optimization.
SEO was a $69% investment for marketers.

Keywords accounted for 71% of SEO investments.

SEO generates 1,000% or more more traffic than natural social media.

53% of a website's traffic comes from organic traffic.

The closure rate for leads produced by SEO is 15%.

75 percent of users never scroll past the first page of Google search results.

Google's top organic search result typically receives 31.24% clicks.

What roles are related to SEO copywrite?
Copywriter
Writes mainly for marketing and commercial purposes. They produce copy for advertisements and sales mailings. Maximum exposure and search engine rankings are not important to copywriters.

SEO specialist
In order to improve search engine rankings, SEO specialists analyze and modify existing text or content and build new SEO content strategies. SEO experts don't produce texts.

SEO writer
Technically, writes content, not copy. Longer forms like blogs and articles are generally produced by SEO writers to increase visibility on search engines. Although copywriting abilities are not necessary, these writers often have strong SEO skills. In practice, SEO writers and copywriters can be interchangeable.
Conclusion
We hope this article gives you a clear answer to the question "Who is an SEO copywriter?" and a deep understanding of the role that this profession plays in the marketing and promotion of your business. High-quality SEO website copywriting can be a game-changer for your brand recognition, lead generation, and conversion rates. You can request a professional SEO copywriting service right now since it's a part of our SEO services offering. Contact experts at Atlasiko to get first-class results.