Bluesky, the Twitter alternative backed by Jack Dorsey, is making waves with the introduction of its first third-party mobile app, Graysky. While several Bluesky projects built on the company's API are in progress or testing, Graysky takes the lead by being the first to arrive at the App Store. It's available for pre-order now and set to launch on October 21, with plans for an Android version in the works. Graysky aims to deliver an enhanced Bluesky app experience with various exciting features, including GIF support, inline translation, a comprehensive view of likes, a feeds-first layout, hashtag support, and more.
The brain behind Graysky is the London-based software engineer, Samuel Newman. His initial motivation to create a Bluesky client didn't stem from a fascination with the company's decentralized networking protocol, the AT Protocol, which will eventually enable Bluesky to function more like Mastodon, where users can set up their interconnected servers.
Newman's enthusiasm for Bluesky drove him to start developing a third-party client as a fun side project. He soon realized that Bluesky lacked support for several features that his app could provide. For example, at the time, Bluesky had not yet rolled out support for viewing your likes, making this one of Graysky's early focuses, which garnered it a dedicated following as users clamored for early access.
While Bluesky has since introduced support for likes on users' profiles, Graysky remains committed to staying ahead of the official app by offering features that the Bluesky app doesn't. This includes the ability to see everyone's likes, not just your own, akin to Twitter/X. Graysky also supports sending GIFs powered by Tenor, which are backward compatible with the official app and offer inline translation within threads.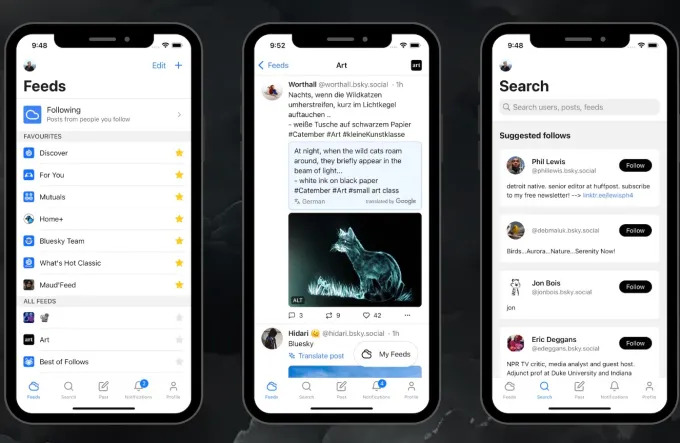 Differentiating itself from the Bluesky social app goes beyond the feature set; Graysky boasts a unique user interface that doesn't land users on their home timeline (or skyline, in Bluesky terminology) by default. Instead, the main tab directs users to their set of feeds.
One significant difference between Bluesky and the Twitter/X company is the support for algorithmic choice through custom feeds. Bluesky users can subscribe to custom feeds created by the company or other developers, allowing for various ways to filter posts across the network. Graysky simplifies this process by letting users jump directly into the feed of their choice from its main tab, with a discovery interface to explore other feeds built by users.
Additionally, Graysky features a search interface for surfacing users, posts, and feeds, unlike Bluesky's mobile app, which only supports searching for users and posts.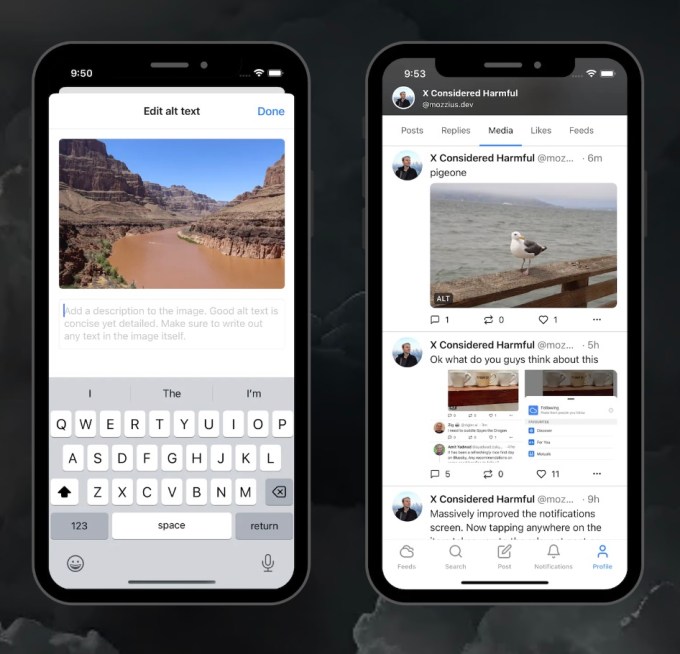 The app offers tabs for composing posts (with better alt text editing for attached images), accessing notifications, and viewing your profile. The main menu allows users to manage invite codes, switch between light and dark themes, adjust account-related settings, handle moderation and home feed preferences, and more.
Newman initially built Graysky without being inspired by the AT Protocol itself but now sees the appeal of a more open-ended, email-like approach. The decentralized aspect would allow users to handle disruptive users without outright banning them, making it a better way to manage a platform that serves as a public square.
While Graysky's feature set is somewhat limited at launch, the app's roadmap is extensive. Upcoming features include support for drafts, bookmarks, automatically generated alt text, muted words, polls, notifications, more home feed preferences, advanced content filters, tagging posts with language or content warnings, and lists—something in high demand for those who enjoyed curating groups of people on Twitter/X.
For now, Graysky is free to use without in-app purchases. However, in the future, Newman plans to introduce a subscription service priced at ~£3.99 per month (just under $5) for polls and a post-analytics service that tracks post-performance over time with graphs. You can also support the development by sponsoring Newman on the GitHub platform. Graysky offers a promising new perspective on the evolving world of social networking and user engagement.