Zoom, the videoconferencing juggernaut, is ramping up its AI-powered features and undergoing a significant rebranding to maintain a competitive edge in the bustling virtual meeting landscape. One of the highlights of this transformation is the evolution of their AI meeting assistant, formerly known as Zoom IQ, now reborn as the "AI Companion."
This strategic move by Zoom follows a recent controversy surrounding changes to its terms of service. The initial changes implied that Zoom AI could utilize customer videos for training its AI tools, causing a significant backlash. In response, Zoom revised its policy to explicitly state that "communications-like" customer data would not be employed in AI training, assuaging concerns raised by privacy advocates and the Software Freedom Conservancy, a nonprofit supporting open-source projects.
Zoom's core objective with these changes is to invest in AI-driven innovations that enhance user experiences, and productivity while emphasizing trust, safety, and privacy. They have clarified that customer audio, video, chat, and other communication-like content will not be used to train AI models, both for Zoom and its third-party partners.
The AI Companion, formerly Zoom IQ, remains powered by a blend of Zoom's in-house generative AI and AI models from notable vendors such as Meta, OpenAI, and Anthropic. However, its scope has expanded to various facets of the Zoom ecosystem, including Zoom Whiteboard, Zoom Team Chat, and Zoom Mail.
Perhaps the most exciting addition is a ChatGPT-like bot integrated into Zoom's arsenal. Expected in spring 2024, users will gain a conversational interface enabling direct interactions with the AI Companion. This interface will facilitate queries about past meetings and chats, empowering users to take actions such as project status checks, support ticket creation, and drafting responses to inquiries. It also retains the capability to summarize meetings, identifying action items and next steps, much like Zoom IQ.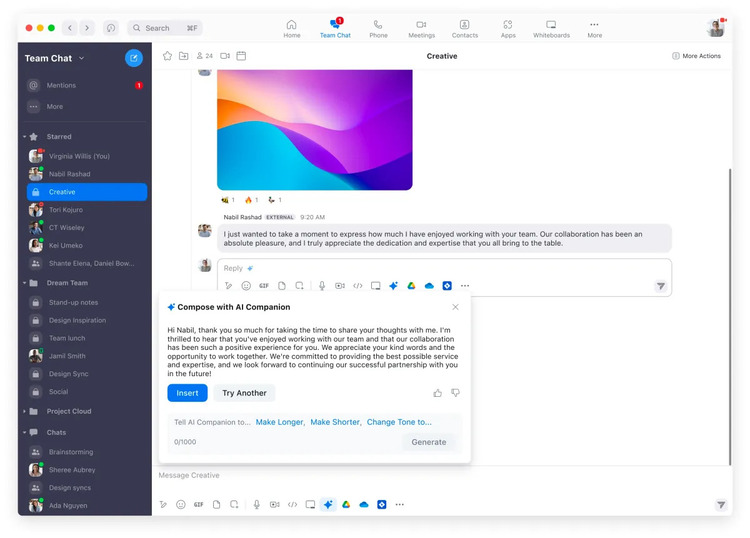 Starting in spring 2024, the AI Companion will offer real-time feedback during meetings, aiding users in improving their presence, conversational skills, and presentation abilities. Zoom acknowledges that not all users may embrace this feature, but they assure users that it can be deactivated at any time by account owners or administrators.
In Zoom Team Chat, users will soon have the option to summarize chat threads through the AI Companion, and by early 2024, auto-complete chat sentences will become available, akin to features in Microsoft Teams and Google Meet. Users will also be able to schedule meetings directly from a chat.
Zoom Whiteboard, the collaborative whiteboarding tool, will harness the AI Companion's capabilities to generate images and populate templates, slated for spring 2024. The image generation model's specifics remain undisclosed, but it is expected to align with text-to-image technologies like OpenAI's DALL-E 2 and Midjourney, though content filters and bias mitigations are still uncertain.
Zoom Mail users can expect AI-generated email suggestions, a feature reminiscent of Zoom IQ, arriving in early fall. In spring 2024, Zoom users will gain the ability to add meeting summaries to the platform's note-taking app, Notes, and summarize text message threads and calls from Zoom's VoIP service, Zoom Phone.
While many AI Companion features will be accessible from the Zoom app's side panel, it's important to note that only paying Zoom customers will have access to these enhancements once they go live.
Zoom rebranding involves transforming Zoom IQ for Sales into Zoom Revenue Accelerator. Initially met with criticism due to sentiment analysis issues, Zoom IQ for Sales has shifted its focus to more practical use cases. The newly announced capabilities for Revenue Accelerator include a "virtual coach" to simulate sales conversations, assess performance, and provide training. Additionally, deal risk signals will alert sales teams if a deal stalls, and the "discover monthly" feature will track competitor mentions on calls, summarizing trends.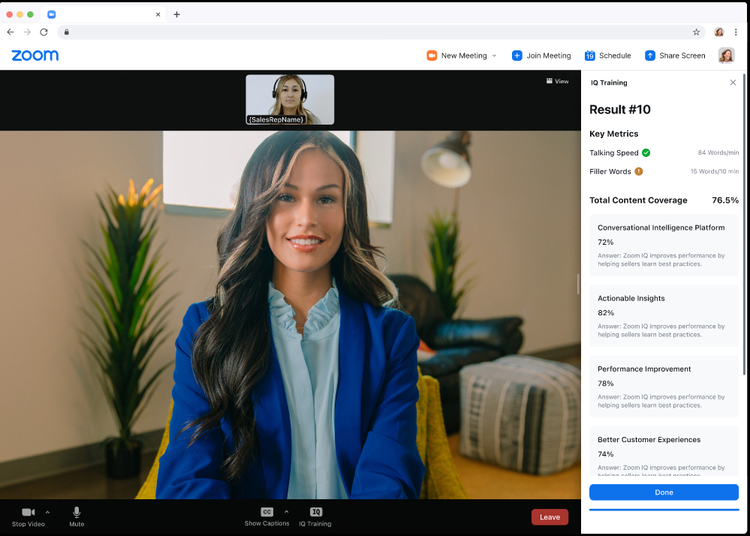 These strategic overhauls come at a crucial juncture for Zoom. Despite facing its first quarterly loss in years in the fourth quarter of 2023, Zoom has managed to tighten its belt and raise its annual revenue forecast slightly. The pandemic-induced boom in videoconferencing has evolved into a competitive landscape, with rivals like Microsoft, Cisco, Webex, and Slack vying for dominance. Zoom is gearing up to meet these challenges head-on as it strives to maintain its leadership position in the market.