The recent report by Dresner Advisory Services, Palantir Technologies is at the pinnacle of AI vendors, sharing the first-place spot with companies like Dataiku, DataRobot, and Domino Data Lab, all of which are privately held and backed by venture capital. Palantir's success in the AI space can be attributed to its cutting-edge Artificial Intelligence Platform (AIP), which has gained substantial recognition and demand.
This achievement highlights the company's rapid ascent in the tech world, particularly since its 2020 IPO. Notably, Palantir outperformed major industry players like Microsoft, Alphabet, C3.ai, SAP, Oracle, Tableau, and Databricks.
Palantir ranks as the #1 top vendor in the 2023 AI, Data Science, and Machine Learning Market Study published by Dresner Advisory Services.

To view the full report, visit: https://t.co/TPVjqgKgfc

Learn more: https://t.co/Jh2H3H9obA

Copyright 2023 – Dresner Advisory Services pic.twitter.com/OZmHpAYQ7g

— Palantir (@PalantirTech) October 26, 2023
Palantir's growth is evident not only in its AI rankings but also in its expanding customer base. During the second quarter earnings call, the company reported a 38% year-over-year increase in customer count, adding over 100 new clients. While this customer acquisition growth is impressive, the company is focused on fully monetizing these clients in the long term. Palantir is offering product boot camps to attract potential customers, providing them with insights into its software platforms.
Another exciting development is Palantir's foray into virtual and augmented reality with the release of Palantir Mixed Reality. This software is designed for VR headsets and simulates military operations, further showcasing the company's innovative approach to technology.
Palantir's strategic shift towards increased visibility and outreach is a deliberate move to differentiate itself from traditional Big Tech companies. The company is positioning itself for exponential growth in its customer base, which is expected to result in meaningful top-line acceleration and increased profits as clients increasingly rely on its full-spectrum AI ecosystem.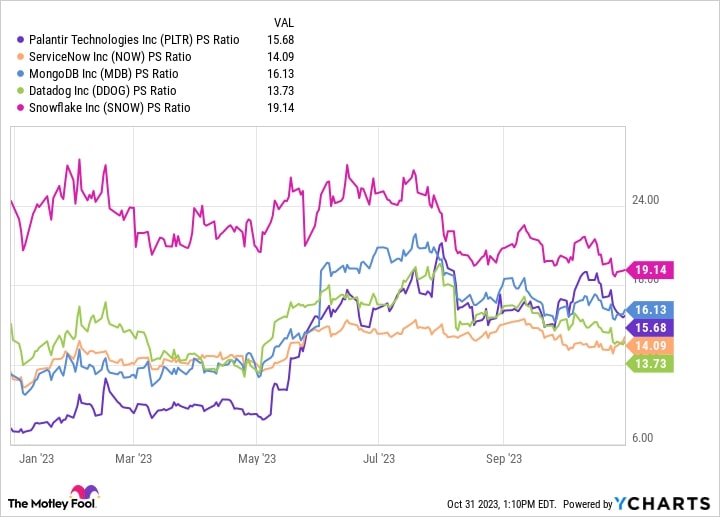 From an investment perspective, Palantir presents an interesting opportunity. While it is already profitable by generally accepted accounting principles (GAAP), it faces competition from peers with varying financial histories. Comparing Palantir using the price-to-sales (P/S) ratio, it falls within a range that is competitive when measured against similar growth stocks. Palantir's valuation, when viewed alongside the Dresner report's positive sentiment, suggests that it may be an attractive investment opportunity.
In conclusion, Palantir Technologies offers an enticing opportunity for investors, as it continues to lead in the AI field, data science, and machine learning while expanding its customer base and exploring new frontiers in technology. With a competitive valuation and a strong AI-focused approach, Palantir is worth consideration for both existing and new investors.
If you have a strong interest in AI and technologies, explore the news on Atlasiko to discover these fascinating topics!