Google Bard, the renowned generative artificial intelligence engine developed by Google, has announced a new feature that enhances its capabilities. In a recent blog post, Google revealed that Bard can now incorporate images into search queries, providing users with a visual aid to improve their understanding of the search results.
How does it work? When users pose questions to Bard, the AI engine retrieves relevant images sourced from the Internet. It should be noted that these are images that already exist on the Internet, not those generated by artificial intelligence. Unlike its competitor, Microsoft's Bing AI, Google's Bard cannot create images on its own yet. However, according to the company, Google is actively working on implementing this feature. Furthermore, Google is preparing to go further in expanding the functions of its engine:
"We'll also integrate Adobe Firefly into Bard so you can easily and quickly turn your own creative ideas into high-quality images," one of the Google representatives said.
Additionally, Bard can now provide you with images on direct request and show you the source of the image. If you are planning a trip and want to visit notable landmarks or certain scenic spots, this feature will be handy. In the near future, users will also have the option to utilize Google Lens to prompt Bard with related images, offering a more comprehensive and intuitive search experience.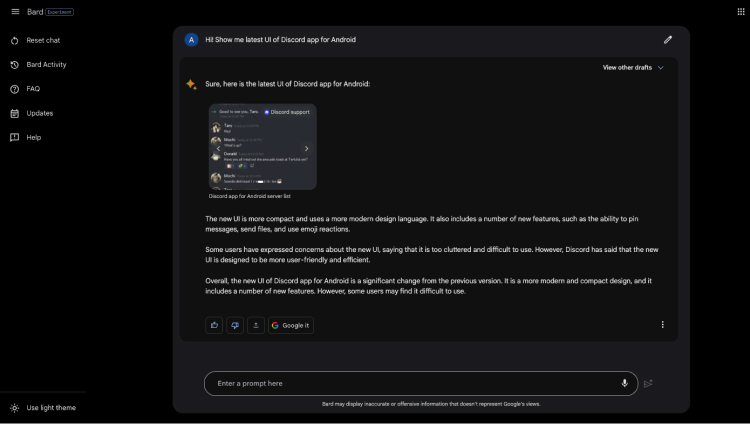 To remind, during the recent Google I/O, the company's annual developer conference, AI took center stage, with over 140 mentions of the term throughout the two-hour keynote presentation. Google not only unveiled new hardware like the Pixel Fold phone but also made Bard accessible to the public and demonstrated an experimental version of search with integrated AI capabilities.
If Google successfully integrates AI into its search engine, it could revolutionize the online information retrieval experience for billions of people worldwide. However, such a transformation may necessitate a reevaluation of the existing ad-driven Internet economy. Following the Google I/O event, the company experienced a 4.1% surge in its stock, indicating a boost in investor confidence.