Manufacturing is one of the biggest industries that needs constant transformation to keep up with innovative tendencies and inventions. Industry 4.0 has already proven its productivity and profitability for businesses and the global market. Such a sensible change in production organization and execution process was possible thanks to the adoption of IoT in manufacturing. Industrial IoT can help the organization reorganize business and management operations making them more effective and economical at the same time.
Atlasiko Inc. has great experience in the development and implementation of the Internet of Things in manufacturing. We provide companies of different sizes with IoT solutions for manufacturing, ensuring their quality and responsiveness. Find out more about all Industrial IoT benefits and request IoT services by Atlasiko Inc.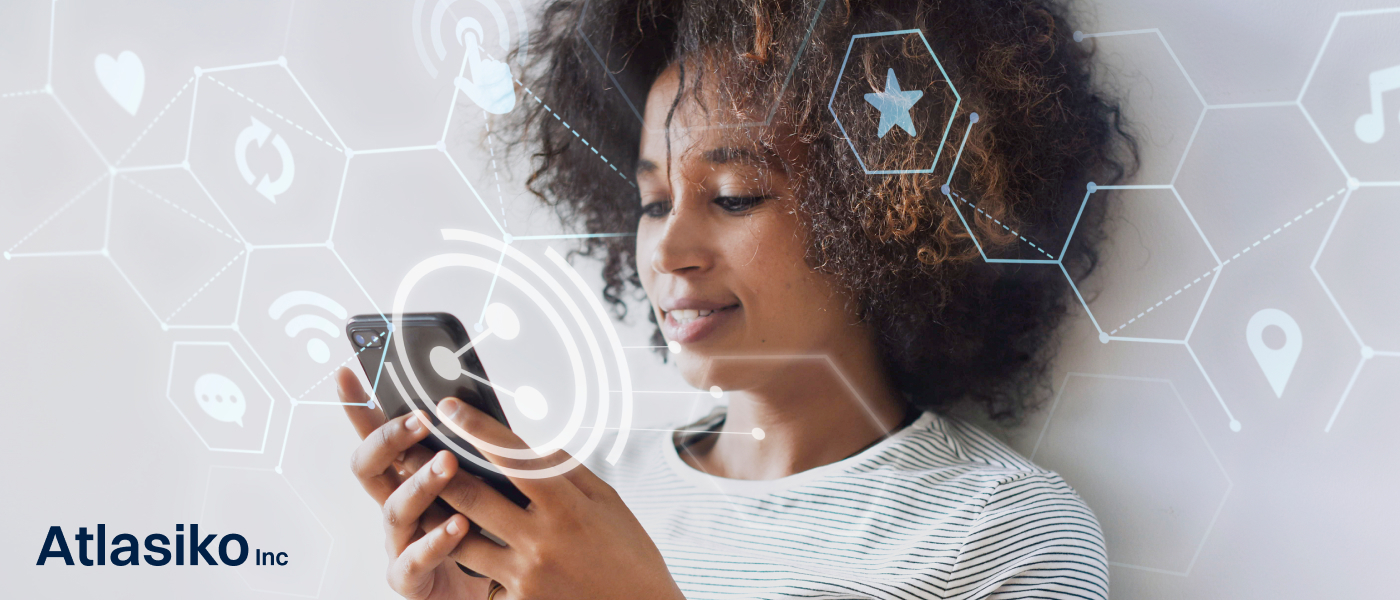 IoT in Manufacturing Industry
IoT manufacturing solutions are aimed to accelerate work efficiency and business productivity, improve working conditions and make them safer. Industrial IoT manufacturing technologies also grant evident competitive advantages to companies that use Industrial IoT devices and IoT machines.
The Internet of Things Manufacturing statistics
Nowadays a lot of statistics research is carried out that proves the benefits of Industrial IoT. Let's take a look at the numbers that show the popularity of IoT solutions for manufacturing industry and gauge the impact smart industrial devices make on businesses.
| | |
| --- | --- |
| Source | Statistics |
| Precedence Research | The global IoT in manufacturing market size is predicted to grow from $201.8 billion in 2021 to $1,5 trillion by 2030 with a Compound Annual Growth Rate of 24.9%. |
| Mordor Intelligence | • 34% of manufacturers in the US believe in the extreme necessity of IoT adoption in the industry. • In the USA, 35% of manufacturers use smart sensors to receive and share data for improvement of manufacturing processes. |
| IoT Signals report by Microsoft | In 2021, 90% of organizations (more than 3,000 businesses that participated in the survey) stated that the adoption of the Internet of Things in manufacturing is crucial for achieving success. |
| PWC | 91% of European manufacturing companies make investments in the creation of smart factories with the use of the IIoT. |
| GE Digital | 58% of IoT manufacturers confirm that the IIoT in manufacturing is important for the successful digital transformation of businesses |
| Accenture | 46% of manufacturing business owners use IoT solutions to boost employees' productivity and efficiency of the work proces |
As you can see, many companies request IoT development services to improve their production and management operations. Atlasiko Inc., as a qualified software engineering company, can provide you with the best IoT solutions for manufacturers on your request. Contact us to get more information.
Why Manufacturing Internet of Things
The main reason why companies have the need of IoT in manufacturing is that such technologies are highly advantageous. Let's take a look at some most significant points of improvement that can be gained with the IoT for manufacturing.
Reduce cost
Industrial IoT development can help the organization to reduce the cost of production and management operations and provide new sources of profit. It assists in enabling the agility of operations and inventory management. IoT devices for manufacturing allow monitoring of the proper use of products and post-sale services to analyze the experience and rearrange expenses.
Improve planning and scheduling
Smart manufacturing IoT technologies are aimed at automating processes. Digital transformation allows companies to organize automated production planning and operations scheduling as well as real-time monitoring instead of manual inspection.
Quicken commercialization
Businesses tend to use IIoT to shorten the time of the product cycle, so the manufactured goods are delivered to the market for sale times faster. It's possible thanks to the manufacturing IoT solutions that make the production process and supply chain operations more efficient.
Improve safety
A high-quality IoT device assures workplace safety. Contact Atlasiko Inc. to get your special IoT solution for manufacturing that can monitor employees' health state and conditions of the work environment.
Boost production quality
Industrial IoT sensors allow quick detection of any flaws in products so clients won't happen to get goods with problems. It significantly increases the overall quality of released production.
Facilitate mass customization
Automation of processes enables the mass production of customized goods in accordance with the set standards, increasing their variety. As IoT manufacturing is a flexible system, companies using IoT in factories can easily set up mass customization.
Enhance customer satisfaction
The better quality with which companies manufacture goods, the more satisfied clients are with their purchases. IoT manufacturing solutions, devices, and software provide maintenance tools and assessment systems to assist in quality improvements.
3 aspects of the Internet of Things for Manufacturing
Manufacturing Internet of Things bring innovations to old production operations making them more efficient, economical, and simplified. There are 3 main areas where you can improve manufacturing processes with IoT that specialists in any IoT factory usually define.
Shop floor operations
Implementation of the Internet of Things in manufacturing processes allows companies to ensure transparency of shop floor operations. IoT sensors for manufacturing embedded into machines assist in collecting real-time data and metrics about operations and the quality state. After this, all gathered information is transferred to the cloud-based software that analyzes and manages it. Then shop floor managers see the analytics results with details in a special user application, which is also a part of the manufacturing IoT system. Such an IIoT cycle provides managers the opportunity to control shop floor operations in the most efficient way, quickly detect issues in the production process and apply new technologies and strategies without interrupting the workflow by simply adding new specifications to IoT machines.
Supply chain
Alasiko Inc. provides businesses with high-quality IoT services for manufacturing to enhance supply chain management. Our responsive IoT software can monitor and track the delivery of supplies, their distribution within the manufacturing plant, and detailed info on their characteristics, conditions, pricing, etc. All these capabilities help to organize accurate calculations of materials and reserves of goods and keep in check their transportation and storage conditions. Internet of Things manufacturing devices assist managers in establishing and managing supply operations as seamlessly as possible.
Remote and third-party operations
Modern enterprise companies mostly have more than a single location, and they might outsource some operations. To establish the connection with separate branches and control all operations together, factories use Industrial IoT solutions. The utilization of the manufacturing IoT ensures that managers and contractors can monitor production activities and procedures that are remote or outsourced by third-party companies. This way it's easy to regulate distributed manufacturing processes, quality standards, and transparency of business operations.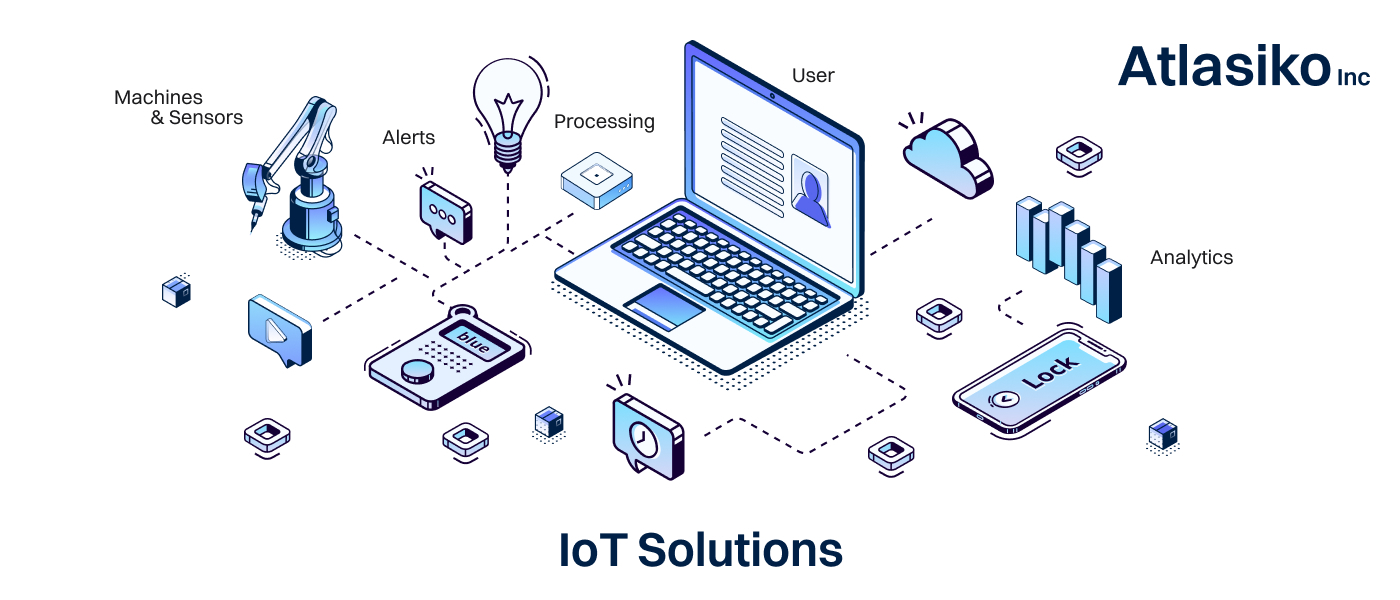 Challenges of IoT for Manufacturing Industry
Issues of data security
Despite the increasing number of devices connected with IoT technology, a number of concerns have emerged about the security of their data. About 60% of IIoT adopters believe that the risk of cyberattacks is increasing, albeit 30% of them don't have the plan to strengthen their cybersecurity systems to prevent losses. As the number of devices continues to rise, the number of security threats that are expected to affect Industrial IoT devices will also increase.
A gap in employees' skills
A survey conducted by satellite communications company Inmarsat revealed that almost 70% of businesses have a shortage of qualified employees who are able to handle the various aspects of the development and implementation of IoT in manufacturing. Another study by Ubuntu revealed that 80% of companies lack skills in the areas of security, analytics, and embedded software development. These skills are in demand due to the increasing number of manufacturing Internet of Things devices and the complexity of the data they collect.
Significant investment requirements and lack of assurance of ROI
There are many factors that businesses have to consider when it comes to investing in IoT manufacturing. Some of these include the cost of hardware, connectivity, and technical support. In addition to these, there are also other factors that businesses have to think of such as the time it takes to roll out new IoT solutions for manufacturing and the revenue they can expect to generate.
Issues with the integration of IoT in manufacturing
Integrating IoT applications in manufacturing industry without data loss or security lapses is a complicated task. Nowadays, the growing use of web-based user interfaces and Ethernet protocols at the machine level is facilitating the integration process, but the problem still has to be solved. Only experienced professionals, like Atlasiko Inc., can perform integration services successfully.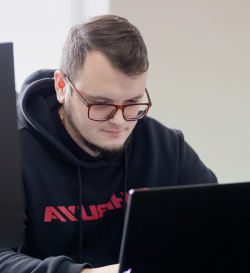 Nazarii
Lead of Software Development
Even though some development projects might appear challenging, professionals of our team take it upon themselves to create an unparalleled solution. We develop programs keeping in mind business needs and goals of our clients.
Talk to Expert
Your form has been succesfully submitted! Please, check if info you provided is correct:
IoT use cases in Manufacturing
For a better picture of the technology, let's give a comprehensive answer to the question "How is IoT used in manufacturing?". We believe the best way to do this is to present you with the most common IoT manufacturing use cases, which you can find below.
Remote Monitoring and Production Control
Leaders with industrial assets may benefit significantly from investments connected with IoT and manufacturing. Remote monitoring is a fantastic IoT use case in manufacturing as smart IIoT devices can track the conditions and utilization of the equipment, which aids in performance assessment. The equipment-as-a-service model also opens up new avenues for IoT manufacturing companies.
Digital Twins
IoT technology, artificial intelligence, machine learning, and cloud computing serve as the foundation for Digital Twin technologies. The usage of digital twins, which are virtual replicas of actual products, on the production line many consider highly beneficial. Engineers and administrators may replicate various processes, run experiments, identify problems, and get the data they need without endangering or harming tangible assets by using virtual duplicates of machinery and replacement parts.
Logistics Management
Since manufacturers have no control over the weather, logistics can be dangerous. There are a lot of assets that require to be properly maintained during distribution. Businesses, that depend heavily on transportation, tend to choose Industrial IoT software and device integration. Industrial IoT devices in logistics can handle a variety of tasks in a typical distribution chain, including cargo tracking, fleet management, and warehousing. Therefore, the IoT manufacturing use case is a major driver of the digital transformation of the logistics sector.
Manufacturing KPIs
Key Performance Indicators are quantifiable measurements that provide vital information about the operation's performance. Industrial IoT sensors help to determine perfect metrics for high-quality standards, and machine shop IoT automatically applies them in the mass production process. IoT solutions in manufacturing also assist in monitoring and controlling KPIs' application on products.
Predictive Maintainance
Embedded IoT sensors in the machines can detect any operational issue (concerning temperature, turning number, pressure, voltage, etc.) and notify responsible staff about the deterioration of hardware, leaving workers to only fix problems. Predictive maintenance is a technique enabled by manufacturing IoT devices that helps technical support teams to identify problems before they can cause serious damage.
Industrial Asset Management
Manufacturers can use online or mobile applications to get and keep track of real-time data regarding all of their assets. Through the use of Industrial IoT solutions, managers and employees can monitor and improve assets at every stage of production, from the supply chain to the finished product. Asset monitoring enables the quick and precise identification of defects that have a detrimental impact on time-to-market or product quality.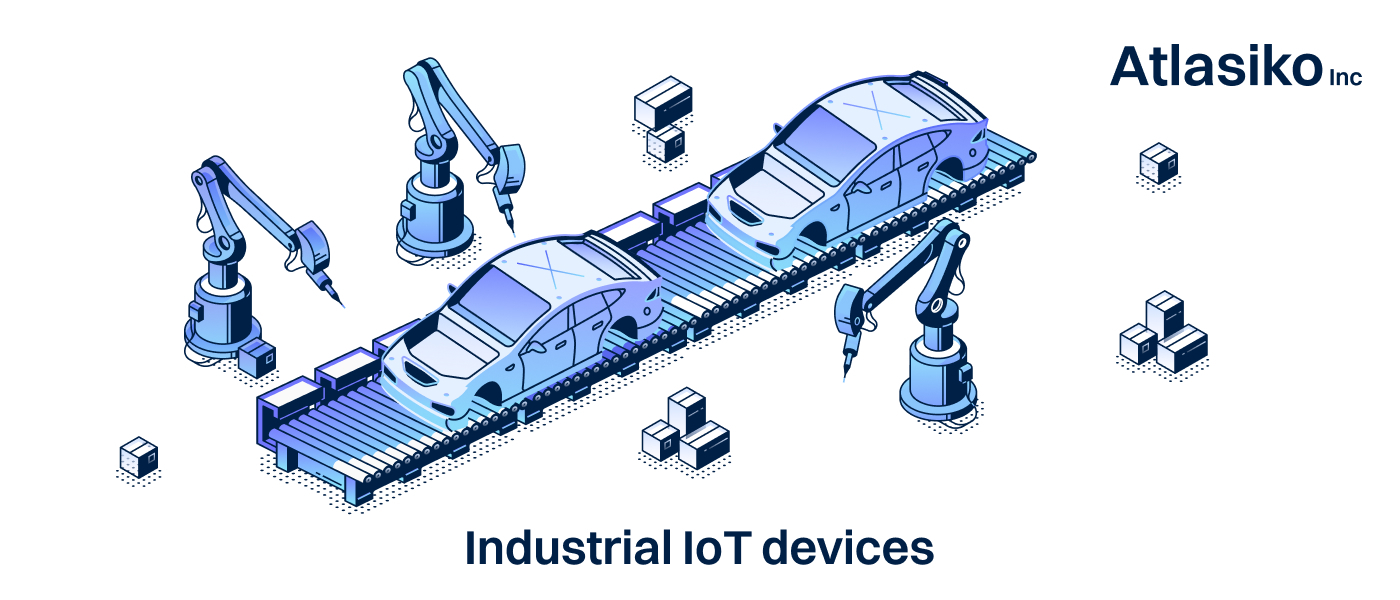 IoT manufacturing FAQ
What is IoT definition?
It's important to outline the IoT meaning. So, when we talk about the Internet of Things we refer to the network which consists of physical objects with installed software, and sensors to receive the data and its exchange between different devices and components of the IT system online.
IoT devices might be used in any industry or even in everyday life. To answer the popular question "What does IoT do?" and for a better understanding of IoT work principles, let's take a look at a simple example of the Internet of Things solution – a fitness tracker. Such a gadget is able to measure your heart rate and count steps thanks to the special sensors, track your location with inbuilt GPS, share this info with connected devices, etc. As you can see, it's a physical object with installed software that can receive data from the real world via sensors and pass it through the network. This example describes the general way IoT solutions work. In the production process, factories use special IoT devices and software that have the same principles of work but also some specific features to meet production needs.
What is the Industrial Internet of Things definition?
Along with the manufacturing IoT, they also use the IIoT definition which is the abbreviation for Industrial Internet of Things. The Industrial IoT definition is almost the same at its core as IoT but has a more specific meaning. It regards only one particular industry with its manufacturing IoT use cases and other peculiarities. So, IIoT meaning is to describe solutions for manufacturing used in the industry to enable the quick and successful digital transformation of the production process. Industrial IoT in manufacturing industry has special sensors and embedded software to provide manufacturers with exclusive capabilities and automate the workflow.
Conclusion
Now you know what the Internet of Things value is and how IIoT works. IoT in manufacturing helps industrial businesses run more efficiently by ensuring steady workflow and reducing costs, and expenses. However, organizations still need to consider the size and complexities of Industrial IoT implementation and ensure precise coordination of Industrial IoT software development and execution segments for the effective use of IoT in manufacturing.
Atlasiko Inc. offers IoT development services that can help manufacturers boost production and management processes. Our IoT solutions for manufacturing will assist you in achieving your business goals faster and with fewer expenses. Contact us to get more details about our IT services.