Qualcomm, a major player in the technology and semiconductor industry, has recently announced its groundbreaking Snapdragon X Elite platform. This highly anticipated launch introduces the most robust processor in Qualcomm's arsenal to date. The new chips, including the Qualcomm Oryon, are fabricated on an advanced 4nm process and boast an impressive 136GB/s of memory bandwidth. These powerful components are set to ship in PCs around mid-2024, promising to revolutionize the computing landscape.
Qualcomm asserts that its Snapdragon X Elite will surpass the performance of multiple Intel Core i7 processors when evaluated using the Geekbench 6 benchmark, a standard for measuring multi-threaded performance. While Qualcomm has presented a chart as supporting evidence, it is worth noting that the chart lacks clear labels and, therefore, may be challenging to interpret. The scale on the y-axis remains ambiguous, leaving room for interpretation as to whether it is linear or logarithmic and where it begins. Strikingly, there is no mention of single-thread performance, an area where Intel's processors have traditionally excelled. Additional charts indicate that the X Elite chip outperforms AMD's Ryzen 9 7940HS on GPU benchmarks, though the "relative performance" metric on the y-axis remains similarly vague.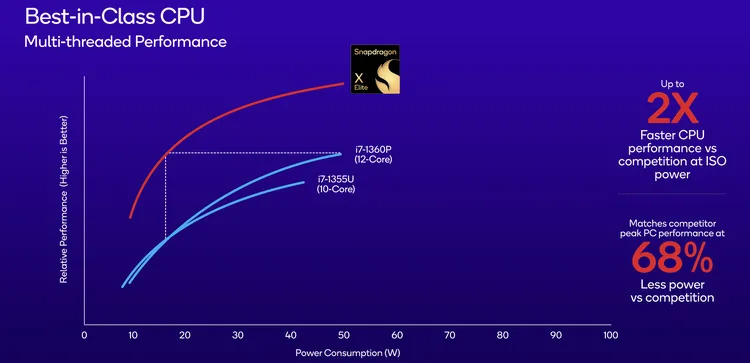 Qualcomm's claims extend to their chip delivering "50% faster peak multi-thread performance" when compared to Apple's M2 chip. However, this claim comes with a caveat – the X Elite boasts 50 percent more cores than the M2 and consumes significantly more power. This naturally leads to a stronger performance on the Geekbench "peak multi-thread performance" metric. It's akin to a professional sprinter competing against marathon champions in a 100-meter dash. The real showdown between the two chips remains to be seen, and only time will tell if Qualcomm's bold assertions hold up.
In addition to the Snapdragon X Elite platform, Qualcomm has also unveiled a revolutionary technology called Snapdragon Seamless. According to Qualcomm, this innovation represents a cross-platform solution that facilitates seamless collaboration between Android, Windows, and Snapdragon devices utilizing different operating systems. It enables these devices to work harmoniously as an integrated system, with capabilities such as drag-and-drop functionality for files and windows across multiple devices, screen sharing, and automatic earbud switching.
The Seamless technology has already garnered the support of prominent industry partners, including Microsoft, Google, Dell, Lenovo, Honor, and Oppo. This cross-platform innovation is undoubtedly intriguing, but its widespread adoption will largely depend on the success and popularity of Qualcomm's PC chips in the market.
To conclude, Qualcomm's unveiling of the Snapdragon X Elite platform, with its remarkable performance claims, has undoubtedly piqued the interest of tech enthusiasts. The competition between Qualcomm and industry giants like Intel and Apple promises to deliver exciting advancements in computing technology. Meanwhile, Snapdragon Seamless, with its cross-platform capabilities, hints at a more connected and integrated future for technology users.
To learn more about significant leaps in technology, visit the Atlasiko IT News!