Last year, OpenAI made waves with its revolutionary generative AI technology, ChatGPT, a chatbot that offers an unprecedented level of natural interaction. This breakthrough sparked competition between companies to develop their own game-changing AI-based features. Tik Tok decided to enter this race without much delay. One of its main rivals is Snap Inc, which has recently released its "My AI" chatbot based on ChatGPT technology. What will Tik Tok offer now?
TikTok is currently testing an AI chatbot named Tako that has the capability to provide video recommendations based on user queries. According to the company's representatives, Tako is designed to help users find "entertaining and inspiring content" in the app. It is not yet known which artificial intelligence model TikTok uses for Tako.
Watchful Technologies, an Israeli company that monitors similar upcoming changes in applications for Fortune 500 companies, shared screenshots and a video showing that the Tako chatbot looks like a ghost icon and is located above the TikTok profile icon, to the right of the video. Clicking on it opens a chat screen that allows users to interact with the bot and get help in finding the right content.
Daniel Buchuk, an expert at Watchful Technologies, said that if TikTok decides to roll out this feature widely, the chatbot could "fundamentally change search and navigation" in the app. The company also claimed to have discovered Tako in some versions of the TikTok app on Apple Inc. mobile devices.
Tako will also present users with suggested prompts to initiate conversations with the chatbot. According to Buchuk, if a user is watching food videos and asks for a recipe, Tako will recommend TikTok videos related to the recipe. Or if the users inquire about art exhibitions in Paris, it will provide videos along with a list of suggestions in response. One of the prompts shown in the screenshots is, "What is the significance of King Charles III's coronation?"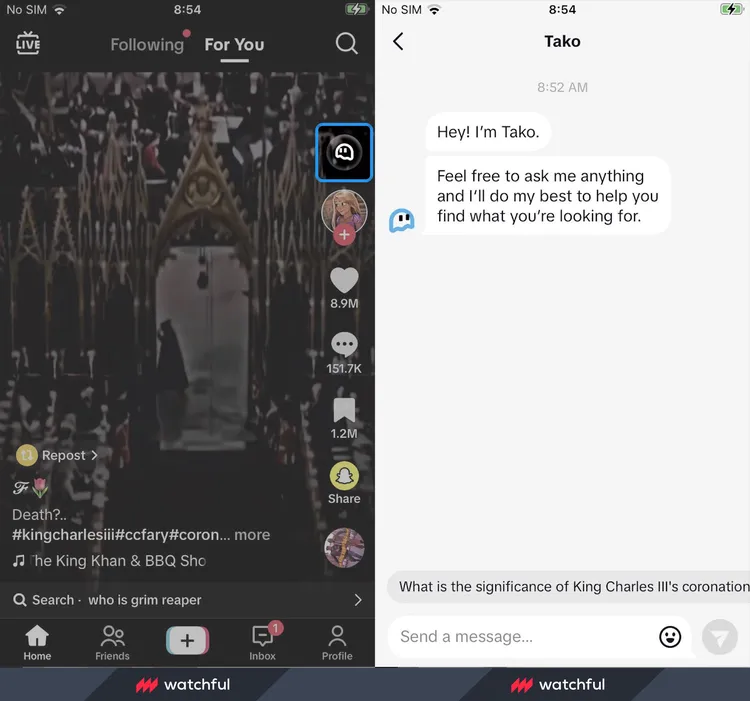 Zachary Kizer, a spokesperson for TikTok, referred to the chatbot as "a limited experiment" and clarified that it is not currently available to users in North America or Europe. In a tweet, the company said that the test is being conducted only in the Philippines.
1/ We're in the early stages of exploring chatbot tools with a limited test of Tako with select users in the Philippines. Tako is an AI-powered tool to help with search and discovery on TikTok.

— TikTokComms (@TikTokComms) May 25, 2023
Kizer also noted, "We're always exploring new technologies that add value to our community. In select markets, we're testing new ways to power search and discovery on TikTok, and we look forward to learning from our community as we continue to create a safe place that entertains, inspires creativity, and drives culture."
We learned that TikTok recently filed a trademark application for a "chatbot software" called Tako. This likely indicates that the company is preparing for a wider release of this AI feature. This is not surprising, given that TikTok is following in the footsteps of other social media platforms in embracing chatbot technology. Companies such as Snap and Meta are constantly looking for ways to outperform their competitors using AI.